Military Life
November 09, 2017 12:03:07 EST
The military has very talented photographers in the ranks, and they're always capturing what life as a service member is like during training and at war. Here are the best military photos of the week:
---
Air Force:
Firefighters from Moody Air Force Base, Ga. put out a blaze during nighttime live-fire training, Nov. 9, 2017, at Moody AFB, Ga. Moody and the Valdosta Fire Department joined forces to prepare for the possibility of nighttime aircraft fire operations.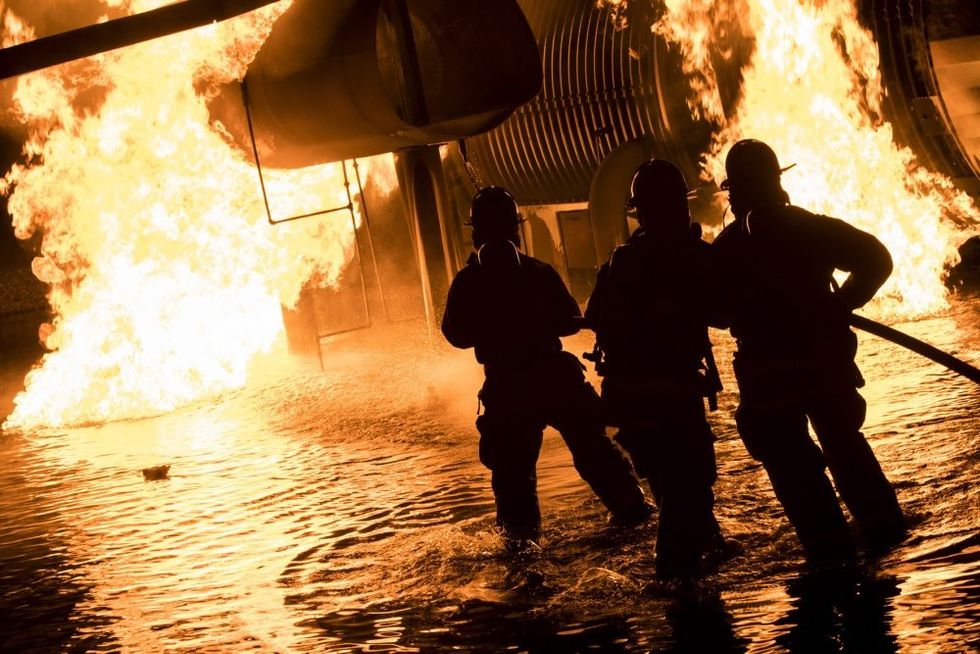 U.S. Air Force photo by Senior Airman Janiqua P. Robinson
An F-15E Strike Eagle from the 492nd Fighter Squadron, takes off from the flight line for a training sortie at Royal Air Force Lakenheath, England, Nov. 6. The 492nd FS recently returned from a six-month deployment to an undisclosed location in Southwest Asia.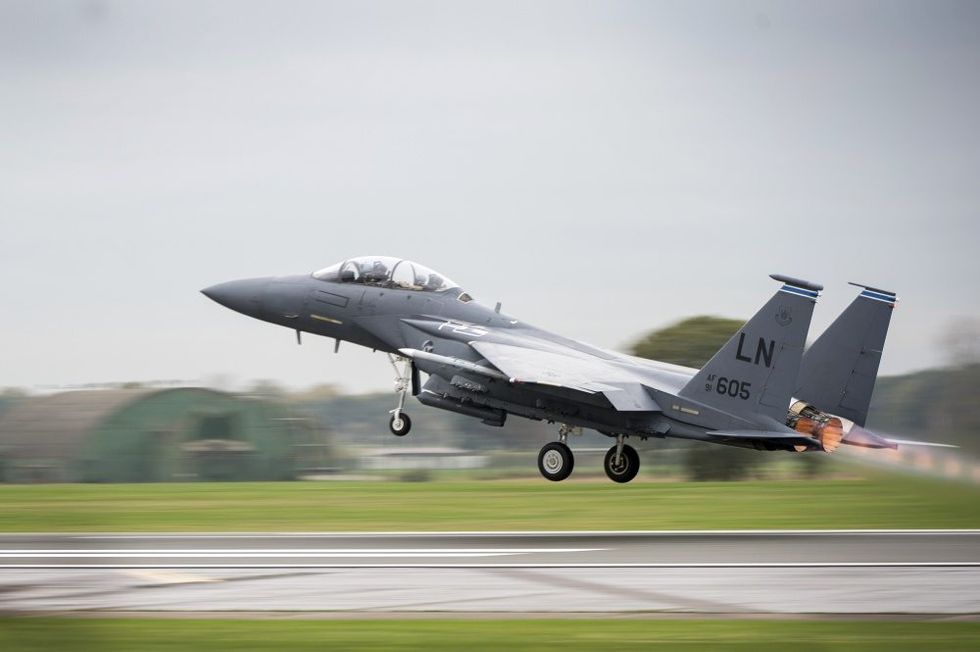 U.S. Air Force photo by Staff Sgt. Emerson Nuñez
Army:
A Soldier from the 1-214th Aviation Regiment checks his aircraft during a simulated crash exercise Nov. 6 in the Wackernheim training area.
A UH-60 Black Hawk helicopter from 1-214th GSAB was used as a prop to add realism to the environment with around 70 personnel responding to the incident, including elements of the Mainz civilian fire and rescue services and Wiesbaden Army Airfield fire and rescue services.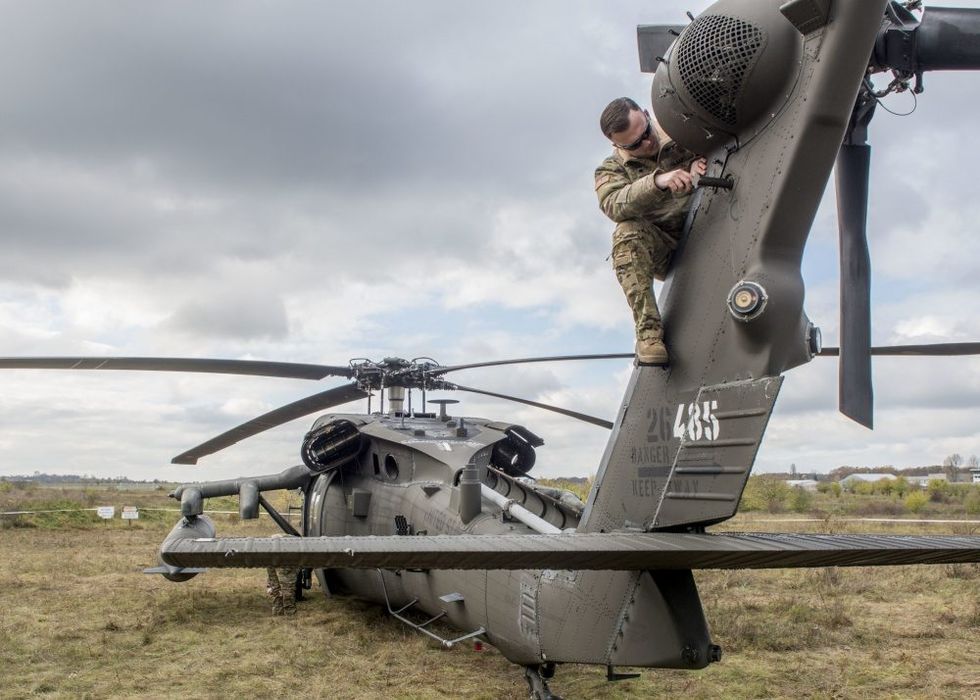 Photo by Paul Hughes
Spc. Matthew Williams, a cavalry scout assigned to 2nd Cavalry Regiment fires a Stinger missile using Man-Portable Air Defense Systems (MANPADs) during Artemis Strike, a live fire exercise at the NATO Missile Firing Installation (NAMFI) off the coast of Crete, Greece Nov. 6, 2017.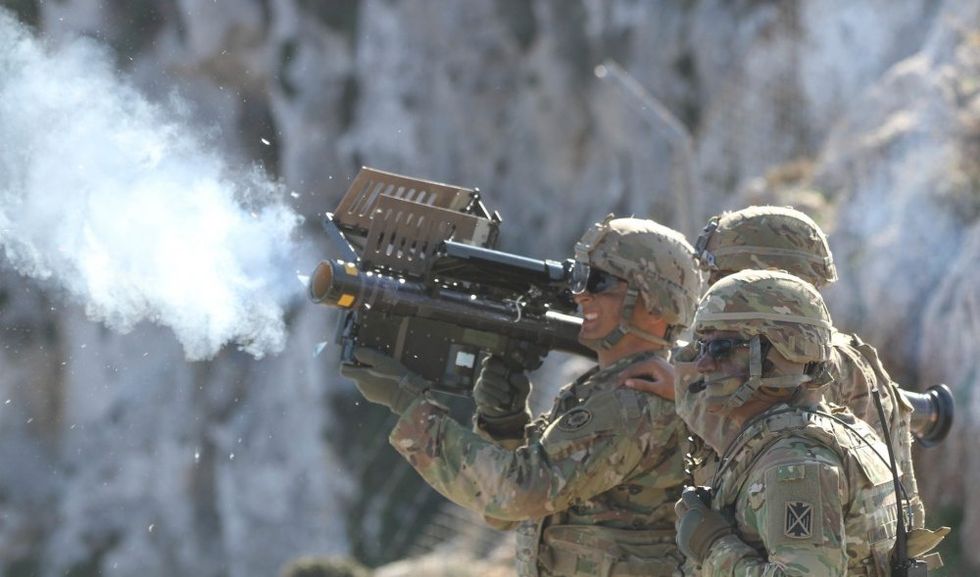 (Photos by Sgt. 1st Class Jason Epperson, 10th AAMDC PAO)
Navy:
The guided-missile destroyer USS Oscar Austin (DDG 79) transits the Atlantic Ocean Nov. 7, 2017. The Oscar Austin is on a routine deployment supporting U.S. national security interests in Europe, and increasing theater security cooperation and forward naval presence in the U.S. 6th Fleet area of operations.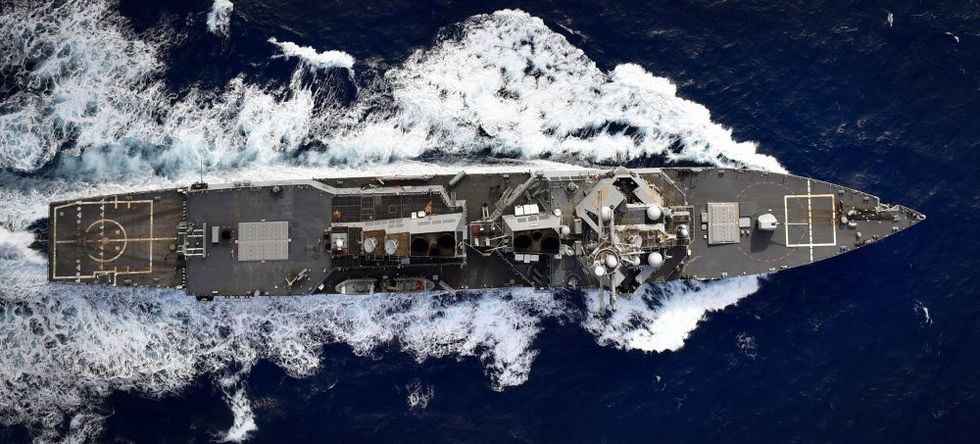 U.S. Navy photo by Mass Communication Specialist 2nd Class Ryan Utah Kledzik
Sailors attached to the U.S. 7th Fleet flagship USS Blue Ridge (LCC 19), participate in the Damage Control Olympics, a command training event promoting knowledge and safety. Blue Ridge is in an extensive maintenance period in order to modernize the ship to continue to serve as a robust communications platform in the U.S. 7th Fleet area of operations.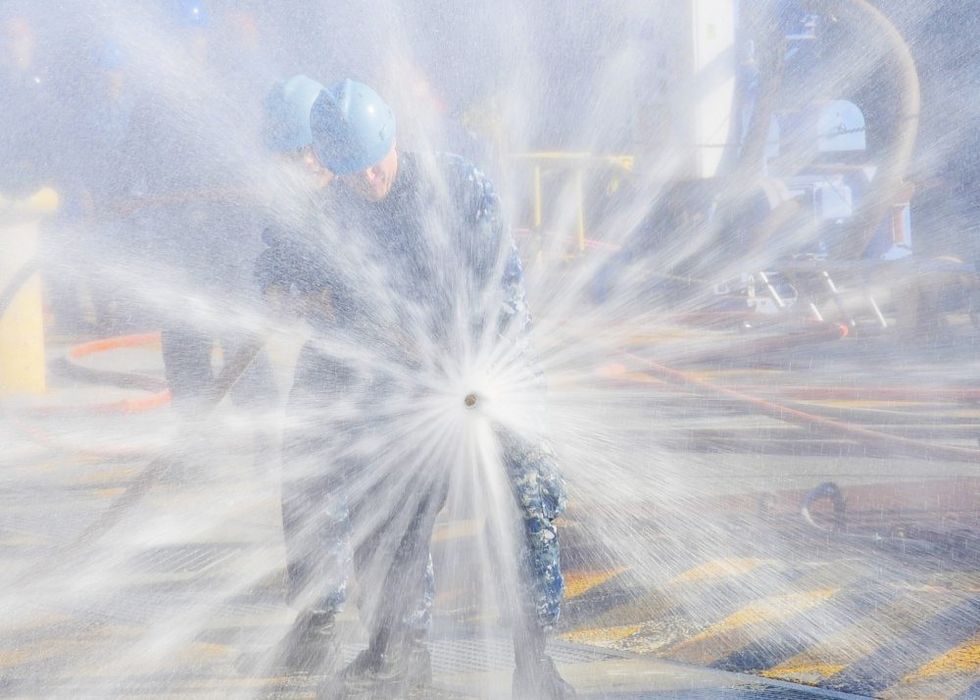 U.S. Navy photo by Mass Communication Specialist 3rd Class Patrick Semales
Marine Corps:
Commandant of the Marine Corps Gen. Robert B. Neller cuts a cake at a Marine Corps birthday ceremony at the Pentagon, Arlington, Va., Nov. 9, 2017. The ceremony was in honor of the Corps' 242nd birthday.
Happy Birthday, Marines!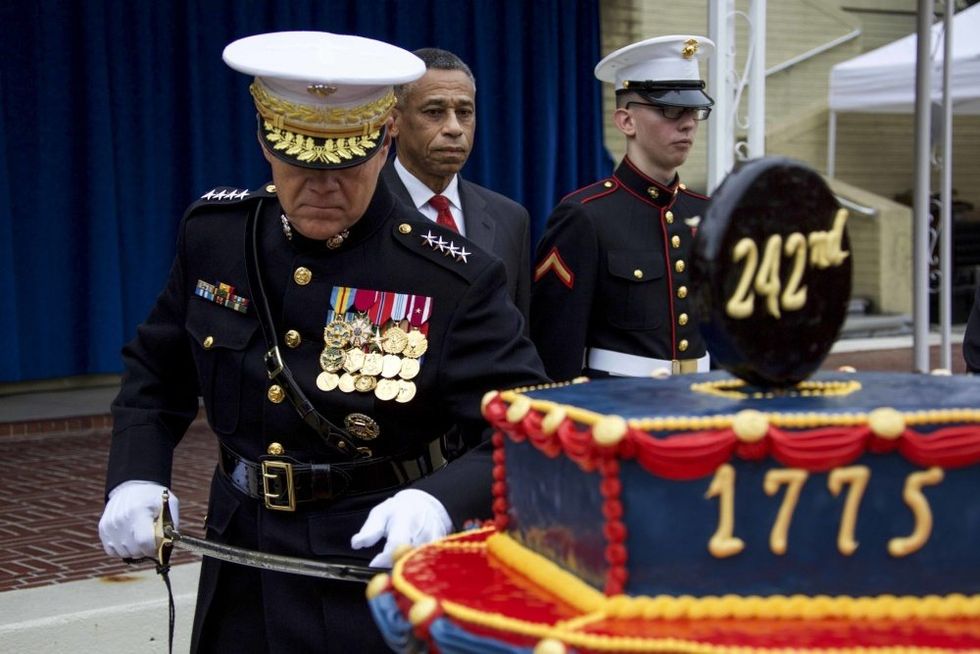 U.S. Marine Corps photo by Sgt. Olivia G. Ortiz
U.S. Marines with Bravo Company, 1st Battalion, 6th Marine Regiment, Marine Air-Ground Task Force-5 (MAGTF), integrated with 3rd Assault Amphibious Battalion, exit an amphibious assault vehicle while conducting their final exercise during Integrated Training Exercise 1-18 (ITX) on Marine Corps Air Ground Combat Center Twentynine Palms, Calif., November 3, 2017. The purpose of ITX is to create a challenging, realistic training environment that produces combat-ready forces capable of operating as an integrated MAGTF.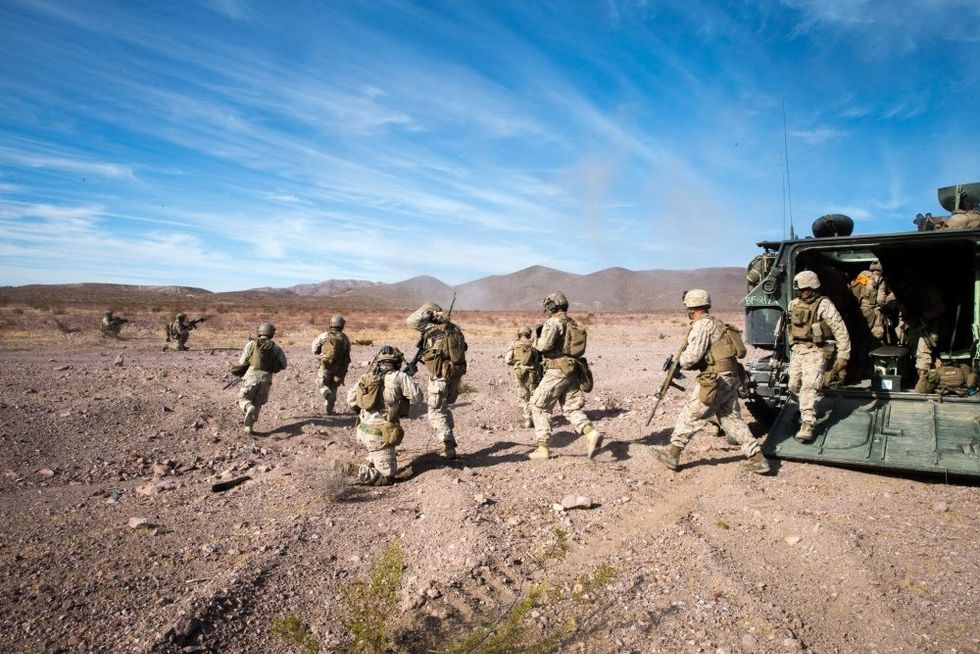 U.S. Marine Corps photo by Lance Cpl. Angel D. Travis
Coast Guard:
U.S. Coast Guard Chief Petty Officer Rich Bassin, a machinery technician on the National Strike Force's Atlantic Strike Team, observes local Puerto Rican boat owners attempting to salvage a vessel in Fajardo, Puerto Rico, Nov. 6, 2013.
The Maria ESF-10 PR Unified Command, consisting of the Department of Natural and Environmental Resources, U.S. Coast Guard, in conjunction with the Puerto Rico Environmental Quality Control Board, Environmental Protection Agency and the U.S. and Fish & Wildlife Service, is responding to vessels found to be damaged, displaced, submerged or sunken.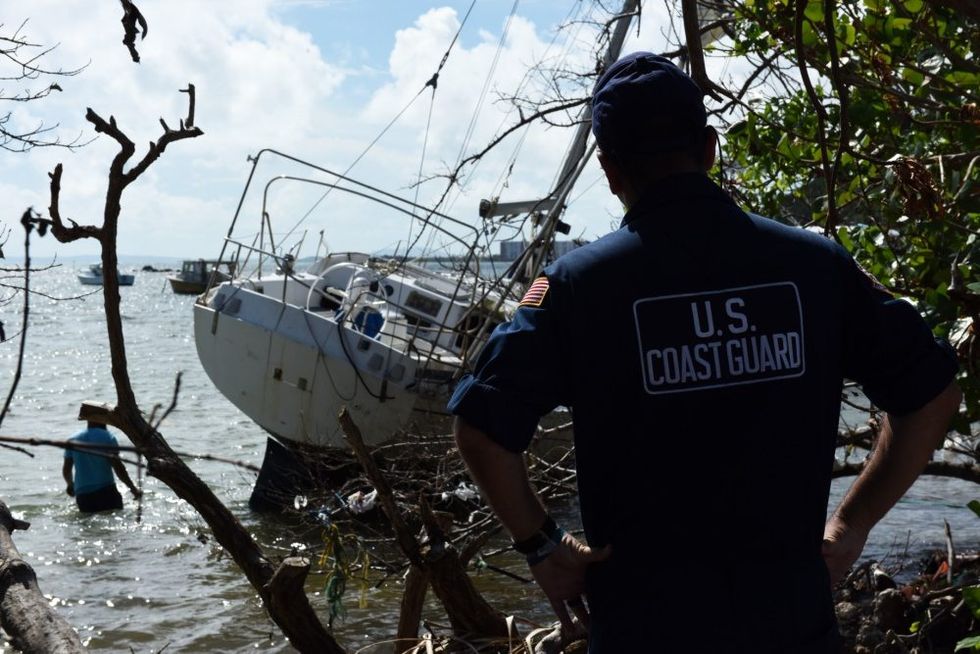 U.S. Coast Guard photo by Petty Officer 2nd Class Ali Flockerzi.
Coast Guard members from Station Venice, Louisiana, medevac a cruise ship crewmember who was experiencing appendicitis symptoms near Venice Nov. 6, 2017. The crewmember was taken to to emergency medical services at Station Venice in stable condition.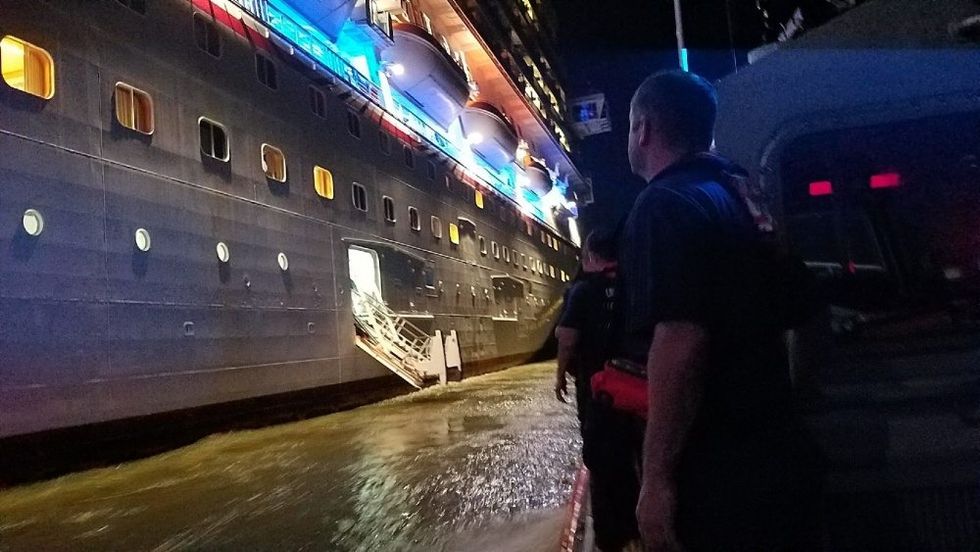 Photo by Petty Officer 3rd Class Travis Magee