Military Life
December 15, 2017 13:42:34 EST
Marines traditionally carry out their attacks from the sea. In fact, their most legendary battles started with amphibious assaults: Guadalcanal, Tarawa, Iwo Jima, and even Chosin.
---
Practicing for such assaults was a regular thing, but between the War on Terror and budget cuts, the 1st Marine Division and 3rd Marine Air Wing hadn't carried out an exercise like this in a while. According to a report from the Orange County Register, though, that has since changed.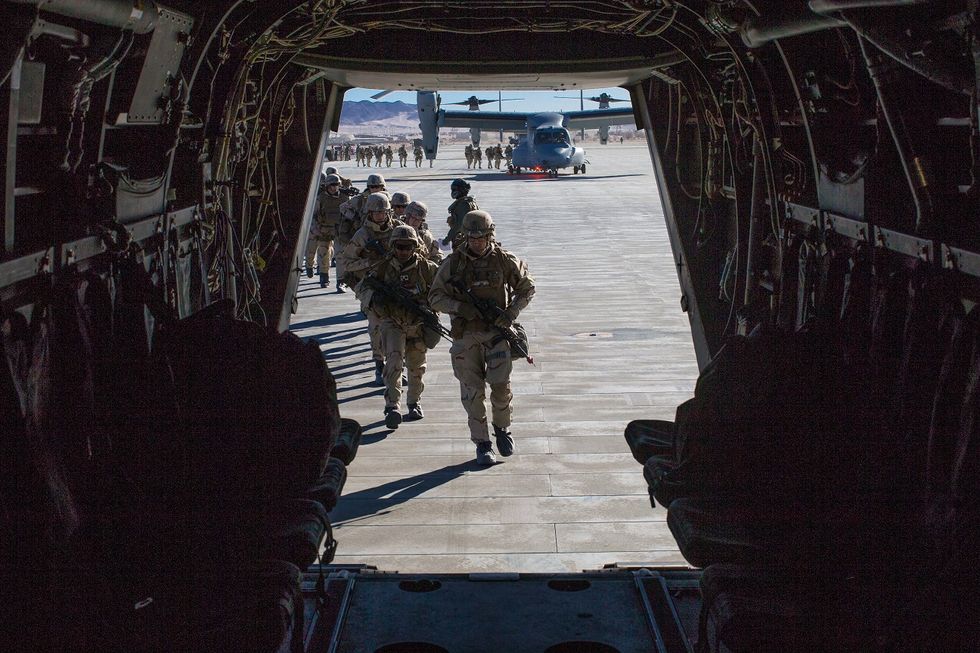 Marines with 2nd Battalion, 5th Marine Regiment (2/5), 1st Marine Division, prepare to board an MV-22B Osprey with Marine Medium Tiltrotor Squadron (VMM) 364 during a training mission in support of Exercise Winter Fury 18 at Marine Corps Air-Ground Combat Center Twentynine Palms, Calif., Dec. 7. (U.S. Marine Corps photo by Lance Cpl. Nadia J. Stark)
The 3rd Marine Air Wing's "Winter Fury" exercise, involving AV-8B Harriers, F/A-18 Hornets, AH-1Z Vipers, UH-1Y Venoms, CH-53 Sea Stallions, MV-22 Ospreys, and KC-130J Hercules tanker/transports alongside drones, like the MQ-9 Reaper and MQ-21 Blackjack, has been combined with the 1st Marine Division's "Steel Knight" exercise, which involves a battalion of infantry and supporting assets. This is the first time in a decade that these exercises have been combined.
The exercise simulates storming ashore to create an air field and refueling point behind enemy lines. In essence, it's a smaller-scale version of the 1950 Inchon landing, a key battle in the initial United Nations counter-attack of the Korean War that saw nearly all of North Korea liberated from the regime of Kim Il-Sung.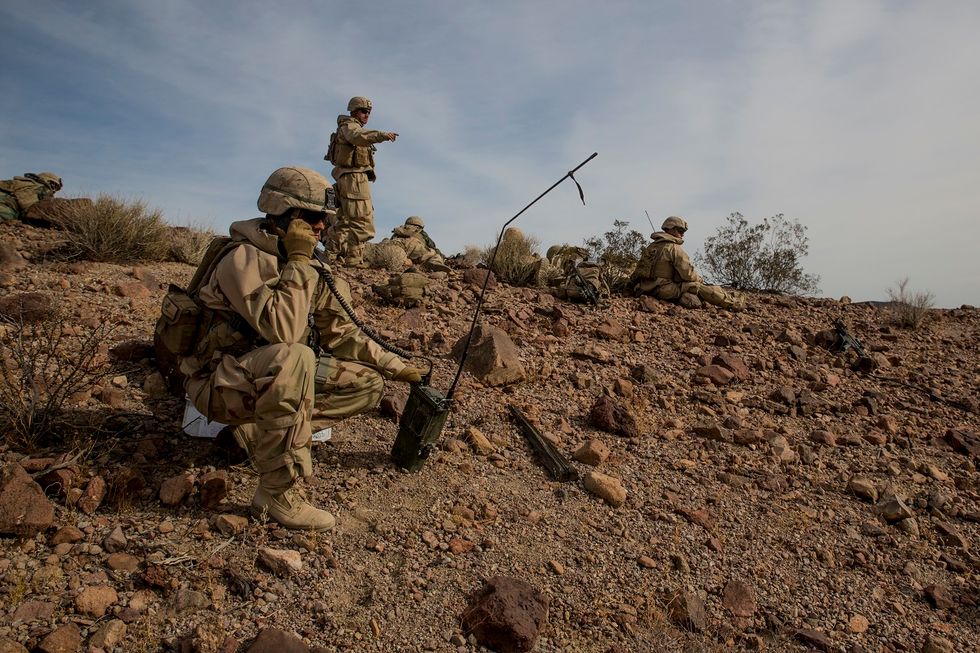 U.S. Marine Corps Capt. Benjamin Brewster, company commander of Company K, 3rd Battalion, 4th Marine Regiment, 1st Marine Division (MARDIV), directs his fire support team during exercise Steel Knight (SK) 18 at Marine Corps Air Ground Combat Center Twentynine Palms, Calif., Dec. 10, 2017. SK-18 is a division-level exercise designed to enhance the command and control and interoperability with the 1st MARDIV, its adjacent units, and naval support forces. (U.S. Marine Corps photo by Cpl. Joseph Prado)
In World War II, the Marine Corps carried out similar operations throughout the "island hopping" campaign, often bypassing large numbers of Japanese troops, leaving the outposts to "wither on the vine." During the Cold War, the Marines practiced similar operations for use in Norway against a Soviet invasion. Even in the War on Terror, the Marine Corps carried out a similar operation when they seized Camp Rhino from the Taliban.