September 19, 2017 09:26:02 EST
Informally referred to as "The Air Force Song," the composition "U.S. Air Force" is a work of lyrical beauty and musical majesty — and it's the one thing that can melt this cold, dark, veteran heart of mine.
---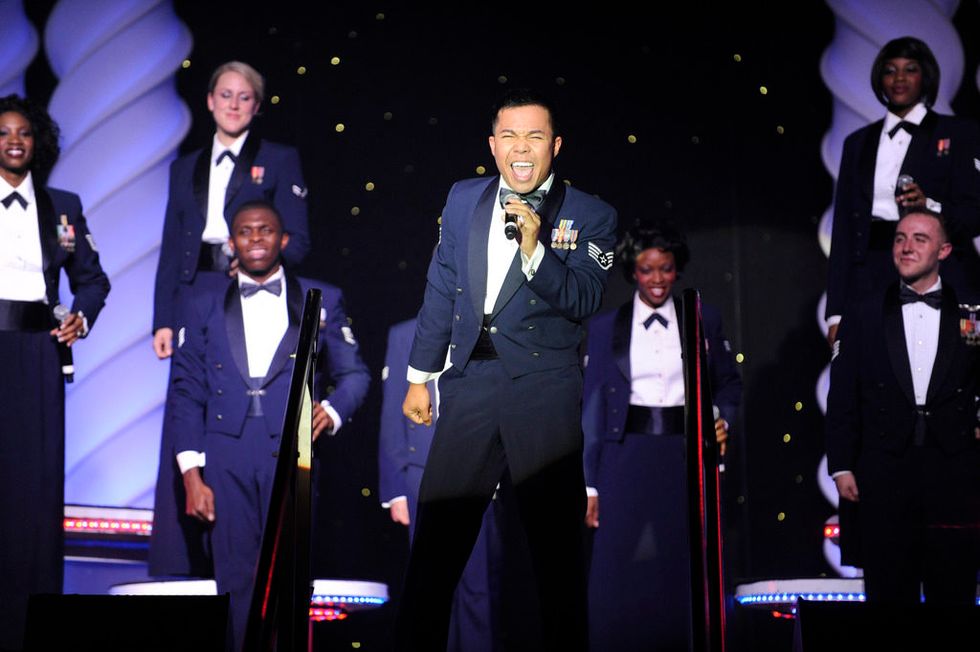 Literally the enthusiasm with which I sing this song. Every time. (U.S. Air Force photo by Staff Sgt. Dana D. Hill)
Here are some fun facts about it:
1. It originated because of a competition, per Brig. Gen. Henry Harley "Hap" Arnold's suggestion
Liberty magazine sponsored a musical contest for a spirited composition to become the official Army Air Corps song. Over 700 scores were submitted, but the judging committee (consisting of military spouses) selected Robert MacArthur Crawford's as the winner.
2. The legendary Irving Berlin submitted an entry
Patriotic composer and lyricist Irving Berlin submitted an entry after flying in a B-1B bomber for creative inspiration. His wasn't selected, but his work was later pieced into Moss Hart's Broadway show "Winged Victory," which helped raise funds for the Army Emergency Relief Fund during World War II.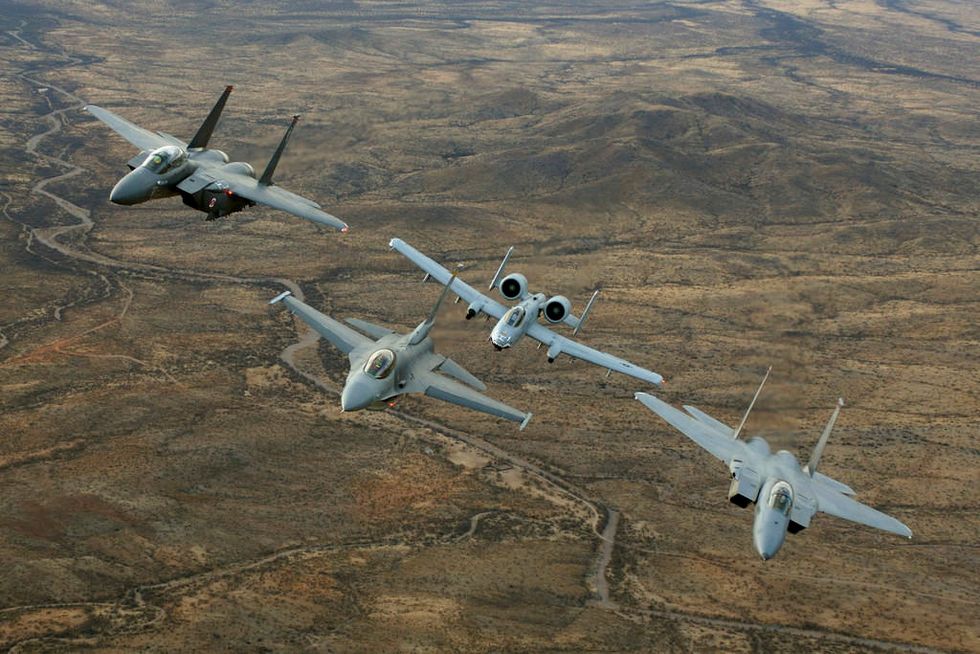 Airpower is sexy and you know it. (U.S. Air Force Photo by Tech. Sgt. Ben Bloker)
3. Crawford himself first debuted it
The song was first introduced at the Cleveland Air Races on Sept. 2, 1939, and was performed by Crawford himself.
4. It has evolved along with the Air Force
The U.S. Air Force wouldn't become its own branch until 1947. At that time, "U.S Air Force" replaced "Army Air Corps" in the lyrics. You can see the full lyrics with original changes below.
5. It made "yonder" happen
Crawford's use of the word "yonder" prompted the Oxford English Dictionary to expand the word's definition to include "the far and trackless distance."
6. It went to the moon on Apollo 15
Air Force Colonel David R. Scott and Lieutenant Colonel James B. Irwin carried the original first page of Crawford's score to the moon on July 30, 1971.
7. It was a helluva rebel
For original radio and television versions, the scandalous use of  "helluva" was stricken and "terrible" was substituted instead.
SAGEmovieproductions | YouTube
Here are the original and current lyrics. The words in brackets are shouted with gusto and the italicized words replace the parenthesized words of the 1939 original:
Verse 1 (main melody)
Off we go into the wild blue yonder, climbing high into the sun;
Here they come, zooming to meet our thunder, at 'em, boys, give'er the gun! [give'er the gun, hey (now)!]
Down we dive, spouting our flame from under, off with (on) one helleva roar (course),
We live in fame or go down in flame, hey! Nothing'll stop the US Air Force (Army Air Corps)
Verse 2 (main melody)
Minds of men fashioned a crate of thunder, sent it high into the blue;
Hands of men blasted the world asunder; How they lived, God only knew, hey! [God only new, then!]
Souls of men dreaming of skies to conquer, gave us (our) wings, ever to soar (every resource)!
With scouts (jets) before and Bombers (Bombs) galore, Nothing'll stop the US Air Force (Army Air Corps)
Verse 3 (bridge)
Here's a toast to the host of those who love the vastness of the sky,
To a friend we send a message of his brother men who fly,
We drink to those who gave their all of old:
Then down we roar to score the rainbow's pot of gold.
A toast to the host of the men we boast, the US Air Force (Army Air Corps). ZOOM.
Verse 4 (main melody)
Off we go into the wild sky yonder, Keep the wings level and true;
If you'd live to be a gray haired wonder, keep the nose out of the blue [out of the blue, hey!].
Flying men, guarding our nation's borders, we'll be there followed by more (ever on course)!
In each echelon, we carry on, Hey! Nothing'll stop the US Air Force (Army Air Corps)