September 21, 2017 13:14:09 EST
The United States Marine Corps has bravely served our country since 1775, and The Marines' Hymn reflects that legacy.
---
Here are five things you might not know about the iconic song:
1. The tune derives from an aria in a 19th century comedic opera
The melody originally came from Jacques Offenbach's opera Genevieve de Brabant in the mid-1800s.
2. The lyricist is unknown
No one seems to know who wrote the lyrics to the hymn, but they have shifted slightly over time to reflect the evolution of the Corps. In 1942, the final changes were made to reflect the addition of aviation to the Marine Corps mission. The first verse's fourth line, "On the land as on the sea" became "In the air, on land, and sea."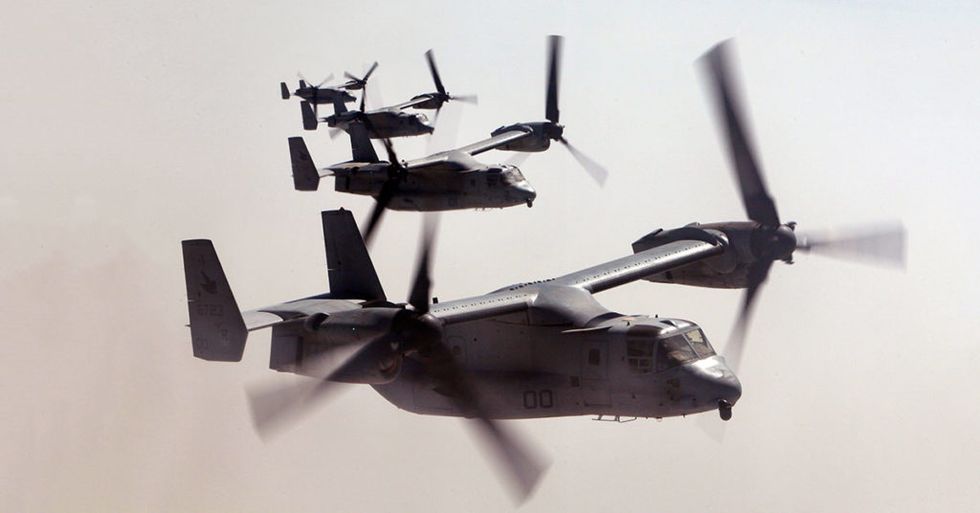 Marine Corps MV-22 Ospreys fly over the Arabian Sea. (U.S. Marine Corps photo by Sgt. Keonaona C. Paulo)
3. It specifically mentions battles from the 1800s
The opening line "From the Halls of Montezuma" refers to the capture of Mexico City and the Castle of Chapultepec in 1847 during the Mexican-American War.
4. The American flag was first flown in an overseas victory at Tripoli
"To the Shores of Tripoli" pays homage to the First Barbary War, when U.S Marines helped capture the Tripolitan city of Derna in modern day Libya in 1805. It was the first time Old Glory was raised in victory on foreign soil.
5. It'll tell you everything you need to know about the Marines
The lyrics aptly reflect the spirit of the Corps, mentioning the "fight for right and freedom," the importance of honor, and even a bit of branch rivalry: "If the Army and the Navy ever look on Heaven's scenes; they will find the streets are guarded by United States Marines."
SemperFiOorah1 | YouTube
From the Halls of Montezuma
To the shores of Tripoli;
We fight our country's battles
In the air, on land, and sea;
First to fight for right and freedom
And to keep our honor clean;
We are proud to claim the title
Of United States Marine.
Our flag's unfurled to every breeze
From dawn to setting sun;
We have fought in ev'ry clime and place
Where we could take a gun;
In the snow of far-off Northern lands
And in sunny tropic scenes;
You will find us always on the job
The United States Marines
Here's health to you and to our Corps
Which we are proud to serve;
In many a strife we've fought for life
And never lost our nerve;
If the Army and the Navy
Ever look on Heaven's scenes;
They will find the streets are guarded
By United States Marines.