Around midnight on Jan. 30, 1968, Vietcong and North Vietnamese Army troops began a massive surprise attack on U.S., South Vietnamese, and allied forces across South Vietnam.
---
The Tet Offensive, as it came to be known, was actually a three-phase campaign, lasting from Jan. 30 - March 28, May 5 - June 15, and Aug. 17 - Sept. 23.
"The event really defined the course of the rest of the [Vietnam] war and how it ended, which was a pretty inglorious ending," said former Secretary of Defense Chuck Hagel.
Hagel, who was with the 47th Infantry Regiment in Vietnam during Tet, spoke at the "Vietnam: The Tet Offensive" panel discussion, Jan. 25, at the National Archives.
Then a 21-year-old private first class, Hagel, just two months in country, said his mechanized infantry unit sustained heavy casualties in the vicinity of Long Binh.
The attack was a complete surprise, he said. What happened in Long Binh was typical of what was happening across the country.
The U.S. had completely underestimated the strength of the North Vietnamese Army and Vietcong guerrilla forces from South Vietnam, he said. It came as a shock to the American public and turned public opinion against the war.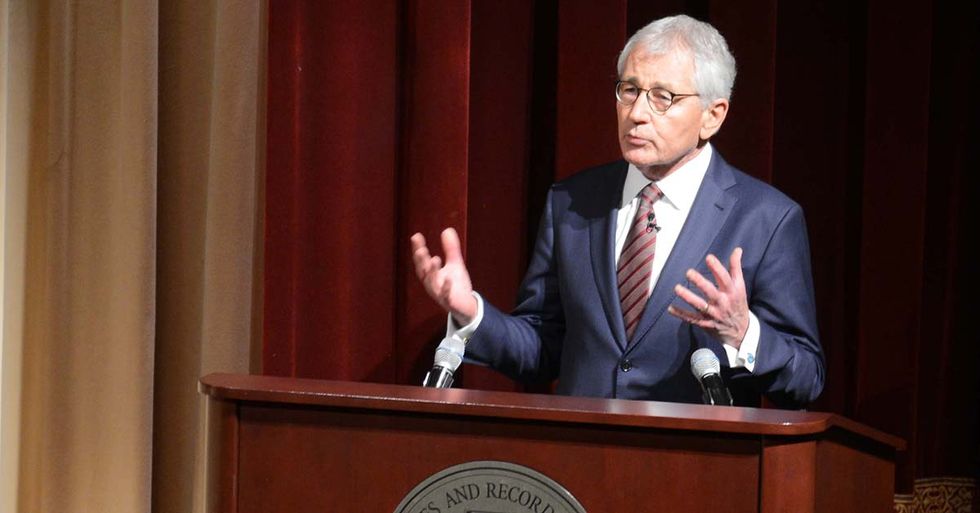 The 47th Infantry Regiment takes the offensive May 1968 in South Saigon. Former Secretary of Defense Chuck Hagel was with the 47th Infantry in Vietnam during the Tet Offensive and he spoke about it at the National Archives Jan. 25, 2018. (Photo from Kenneth Pollard)
The biggest problem, he added, was that shortcomings were not reported up the chain of command and authorities refused to listen to subordinates.
As a result of the assessment, he said the military leadership of Vietnam decided on a new approach. From then on, leaders were instructed to encourage subordinates to tell the truth, even if it wasn't something they wanted to hear or went against their own thinking.
Gregory Daddis, an associate professor of history and director of Chapman University's Master of Arts program in War and Society, said another myth was that the U.S. media was to blame for the lack of political will after the Tet Offensive.
There's a tendency, he said, to find someone to blame when a bad outcome occurs.
Looking back 50 years ago to the Tet Offensive gives everyone an opportunity to gain a better perspective on everything that took place, he said.
An important takeaway from Tet, he said, is that sometimes military action might not be the best tool in all situations to achieve the desired political effect.
Hagel added that "in the end, war is determined not by military might but by the support of the people. We found ourselves on the wrong side of that."
He concluded: "The sacrifices made by over 56,000 Americans who lost their lives and hundreds of thousands of individuals who were wounded, and all who served, were never really given much recognition for an assignment they didn't choose. But they served and they served honorably, and did what their country asked them to do. And I think that's a part of this story that needs to be told more often."