Mexican marines and federal police on Feb. 8 captured Jose Maria Guizar Valencia, known as "Z43," taking down a high-ranking figure in the Zetas cartel who was considered one of the 122 most wanted people in Mexico.
---
Mexico's government minister, Alfonso Navarrete, praised Mexico's naval forces for their investigation and coordination with civil intelligence that led to the arrest.
Mexico's national security commissioner, Renato Sales, said Feb. 9 that Guizar, a dual U.S.-Mexican citizen, was arrested in the Roma neighborhood of Mexico City, a trendy section of the capital known for its restaurants and safety.
Born in Tulare, California, in November 1979, Guizar eventually joined the Zetas, which was formed in the mid-1990s when members of Mexico's military and special forces joined the Gulf cartel as muscle. The Zetas broke away to form their own organization around 2010.
After the death of Heriberto Lazcano Lazcano, a founder of the cartel, in late 2012 and the arrest of his successor, Miguel Angel Treviño, in the summer of 2013, Guizar assumed control of his Zetas faction based in southern Mexico, according to the U.S. State Department, which offered up to $5 million for his arrest in 2014.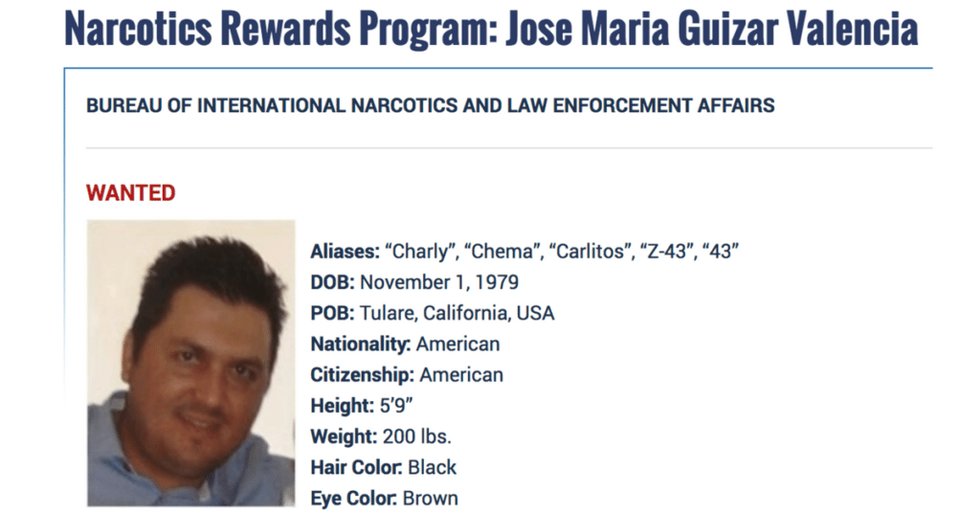 Omar Garcia (Z-42), who headed up the Zetas before Guizar took over, being arrested on March 4, 2015. (Image via Vimeo)
As in northern Mexico, Guizar's arrest could lead to more violence if a leadership vacuum opens and causes more internal feuding. It is likely to further erode an organization that Vigil described as already "pretty well crippled."
"It'll probably cripple Zetas' ability to smuggle drugs through southern Mexico," Vigil said.
Guizar "was a trusted member of the cartel," he added. "He was probably going to rise to Zetas leadership," given his stature within the cartel and his knowledge both of drug trade with Colombia and of the Zetas' internal structure.
"He would've been a formidable leader with a little bit of time if he had been allowed to consolidate his power," Vigil said.