The US Navy announced on Oct. 25 that the USS Nimitz aircraft carrier had left the Middle East, where it was conducting operations against ISIS, and heading to the Pacific on a previously scheduled visit.
---
The Nimitz will join two other US aircraft carriers, the USS Ronald Reagan and the USS Theodore Roosevelt, amid ongoing tensions with North Korea.
North Korea has not test launched a missile in over a month, but has continued its threats on Guam and even threatened to detonate a nuclear weapon above ground in late October.
Here's what the three carriers are bringing to the Pacific.
The USS Nimitz, USS Roosevelt, and USS Reagan are all Nimitz-class aircraft carriers.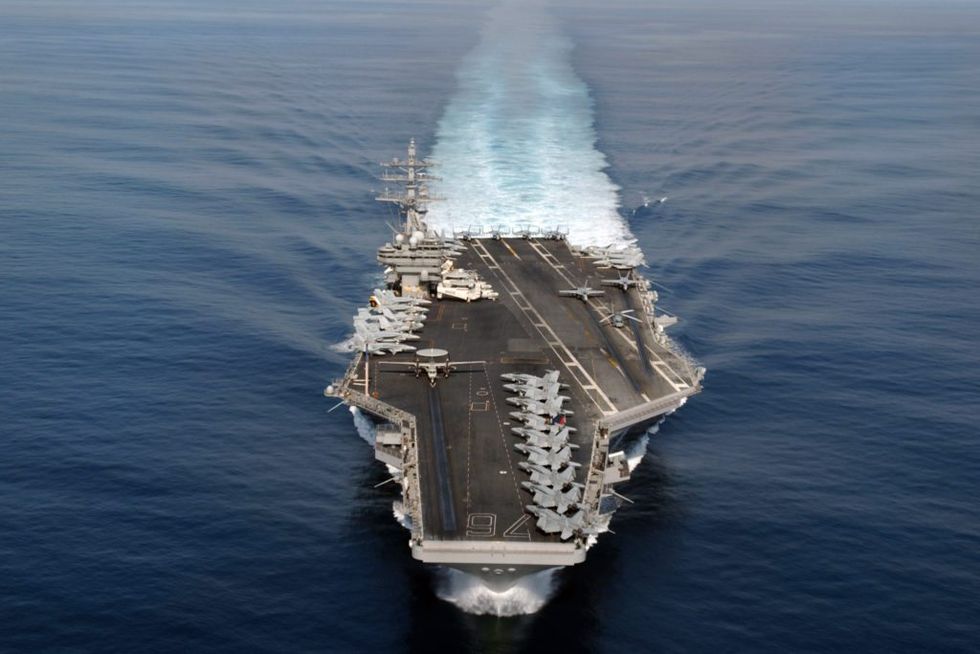 The Nimitz-class aircraft carrier USS Ronald Reagan (CVN 76) performs a high speed run during operations in the Pacific Ocean. Reagan and embarked Carrier Air Wing Fourteen (CVW-14) are currently underway conducting Tailored Ships Training Availability (TSTA). U.S. Navy photo by Photographer Mate 1st Class James Thierry (RELEASED)
The Nimitz, which is the US's oldest aircraft carrier, was commissioned in 1975, while the Roosevelt was commissioned in 1986 and the Reagan in 2003.
Each carrier is about 1,092 feet long, 252 feet wide, and 134 feet from waterline to flight deck.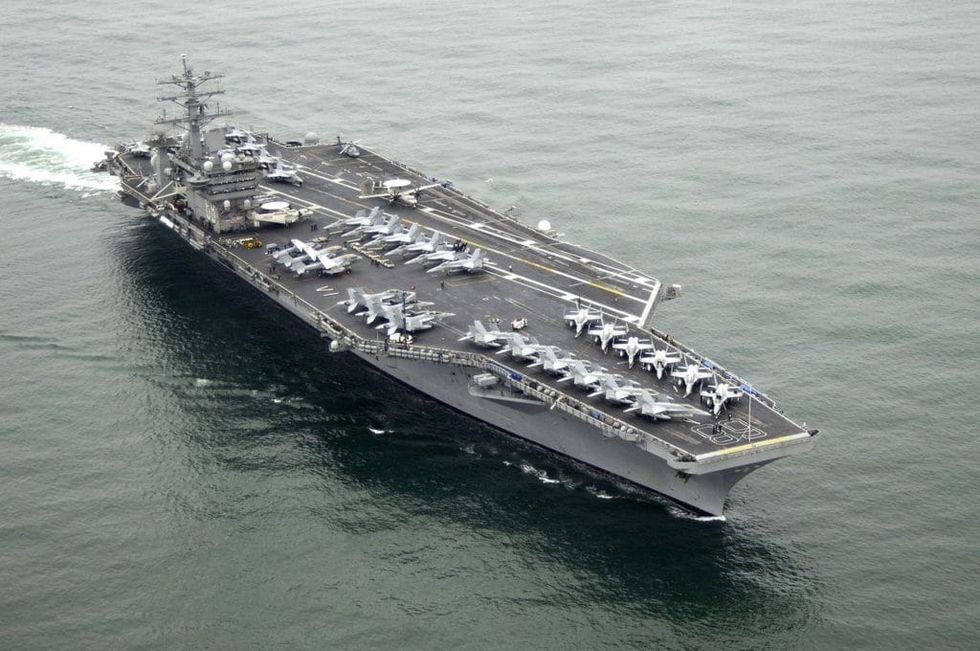 Each carrier has two nuclear reactors that power four steam turbines and shafts that bring the carriers to speeds of more than 34 mph.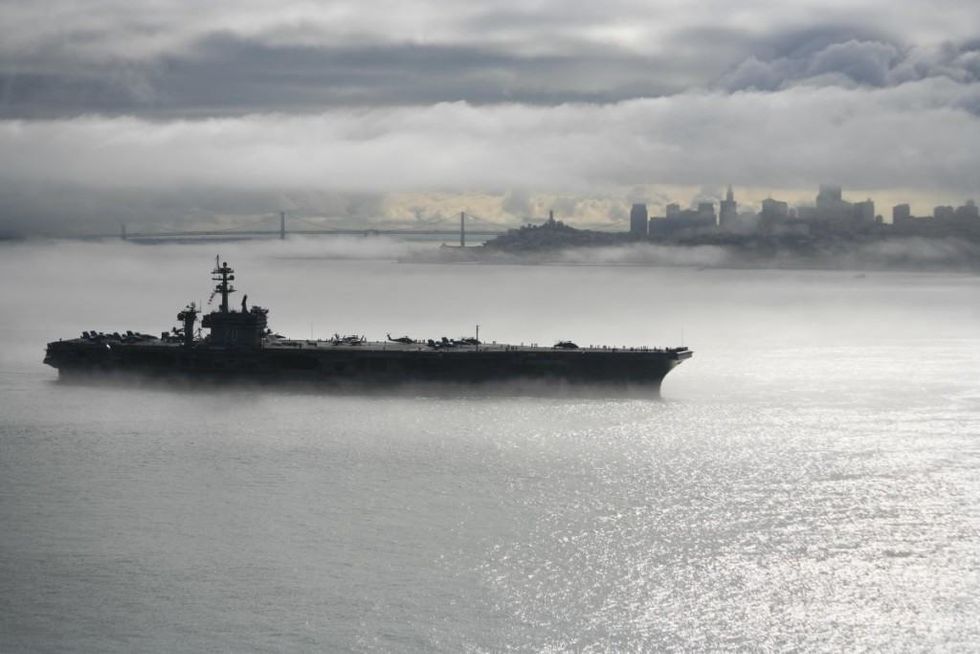 The Nimitz-class aircraft carrier USS Carl Vinson (CVN-70) departs San Francisco. (U.S. Navy photo by Lt.j.g. Pete Lee)
They are each assigned a Carrier Air Wing, which generally consists of about nine squadrons and five different kinds of the following aircraft.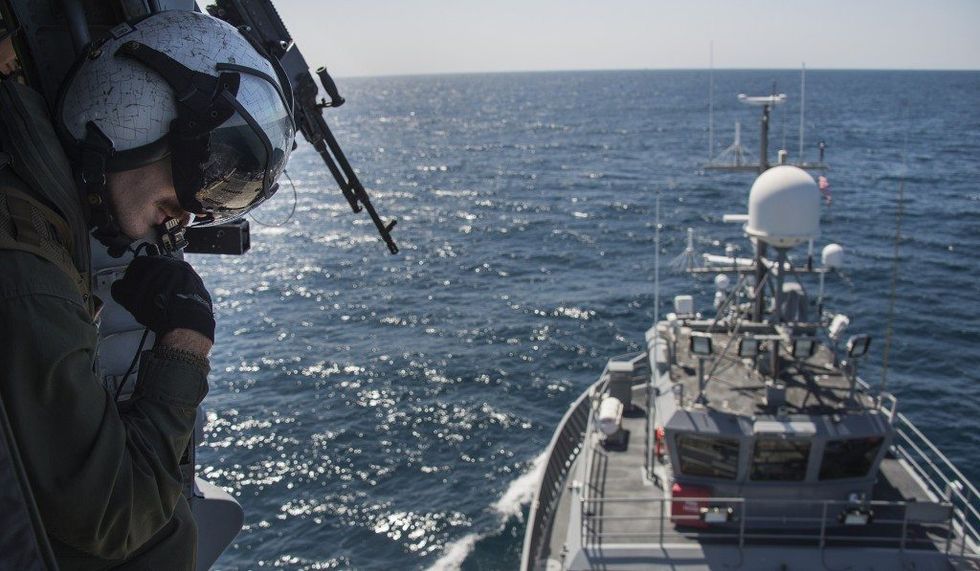 Naval Aircrewman (Helicopter) 2nd Class Corey Turner, assigned to Helicopter Sea Combat Squadron (HSC) 8, participates in a Helicopter Visit, Board, Search, and Seizure (HVBSS) training exercise with a Range Support Craft (RSC) 1 in the Pacific Ocean off the coast of San Diego, April 16, 2015. (U.S. Navy photo by Mass Communication Specialist 2nd Class Daniel M. Young)
Four squadrons of different F/A-18 Hornet and Super Hornet variants.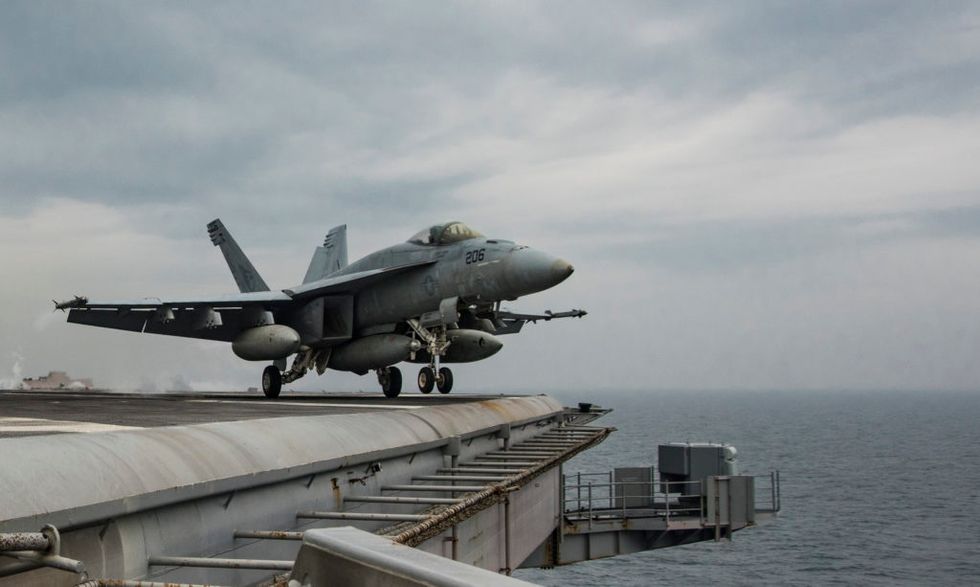 An F/A-18E Super Hornet assigned to the "Bounty Hunters" of Strike Fighter Squadron (VFA) 2 launches from the Nimitz-class aircraft carrier USS Carl Vinson (CVN 70) in the Pacific Ocean. The U.S. Navy has patrolled the Indo-Asia-Pacific routinely for more than 70 years promoting regional peace and security. (U.S. Navy photo by Mass Communication Specialist 2nd Class Z.A. Landers)
One squadron of E-2 Hawkeyes.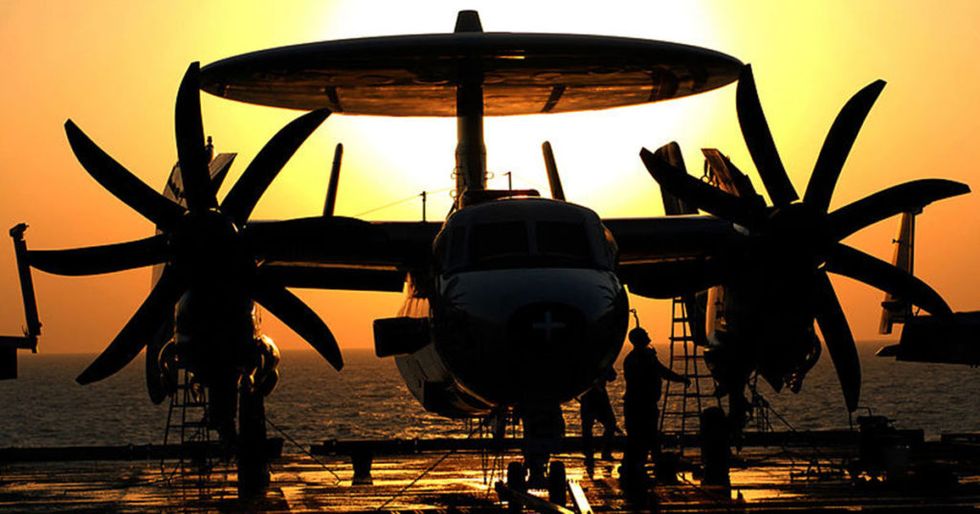 ARABIAN GULF (Nov. 12, 2010) Sailors assigned to the Sun Kings of Airborne Early Warning Squadron (VAW) 116 work on an E-2C Hawkeye at sunset aboard the aircraft carrier USS Abraham Lincoln (CVN 72). VAW-116 is part of the Abraham Lincoln Carrier Strike Group, which is deployed to the U.S. 5th Fleet area of responsibility supporting maritime security operations and theater security cooperation efforts. (U.S. Navy photo by Mass Communication Specialist 3rd Class Spencer W. Mickler/Released)
One squadron of EA-18G Growlers.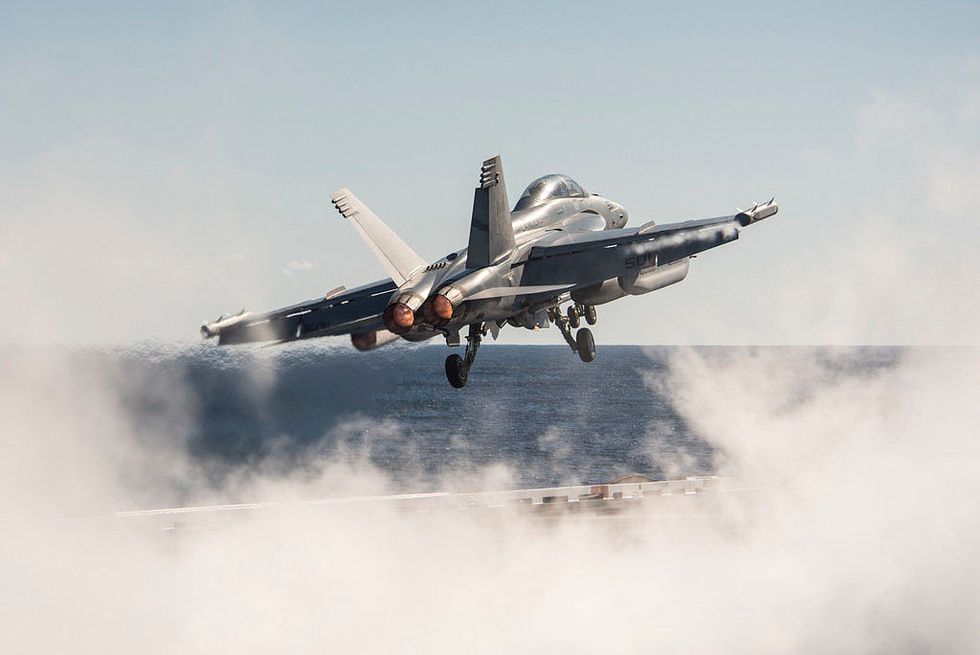 An E/A-18G Growler assigned to the Lancers of Electronic Attack Squadron (VAQ) 131 launches from the aircraft carrier USS George H.W. Bush (CVN 77). The ship's carrier strike group is conducting naval operations in the U.S. 6th Fleet area of operations in support of U.S. national security interests. (U.S. Navy photo by Mass Communication Specialist 3rd Class Christopher Gaines/Released)
One squadron of C-2A Greyhounds.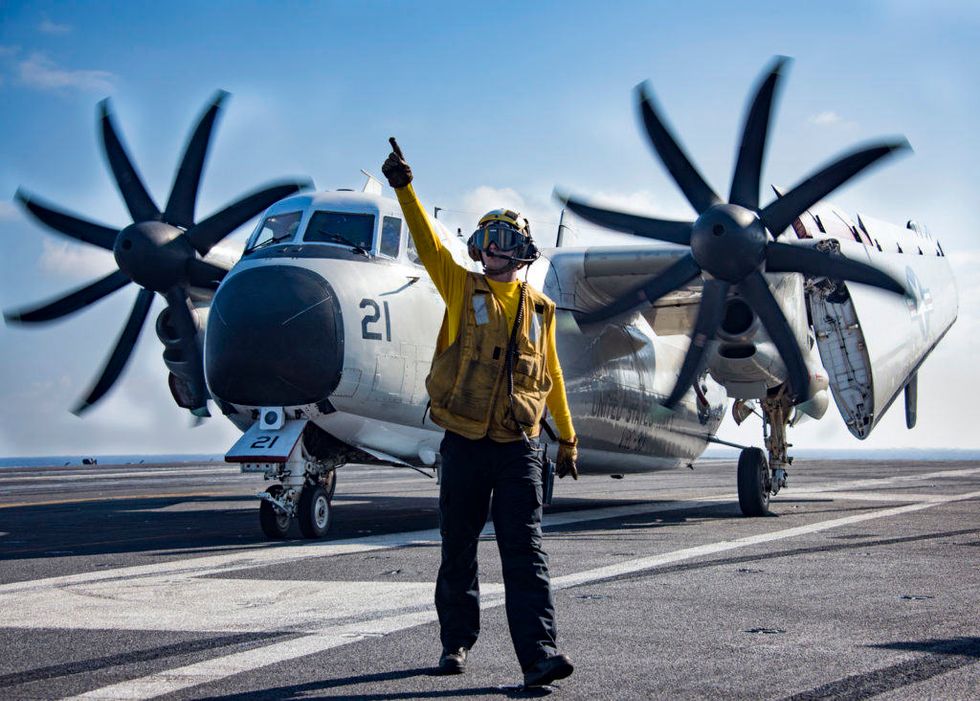 Aviation Boatswains Mate (Handling) 3rd Class Dylan Mills directs the crew of a C-2A Greyhound from Fleet Logistics Support Squadron (VRC) 30 aboard the aircraft carrier USS Carl Vinson (CVN 70). The ship is on a deployment with the Carl Vinson Carrier Strike Group as part of the U.S. Pacific Fleet-led initiative to extend the command and control functions of U.S. 3rd Fleet into the Indo-Asia-Pacific region. (U.S. Navy Photo by Mass Communication Specialist 2nd Class Sean M. Castellano/Released)
And two squadrons of Seahawk helicopters.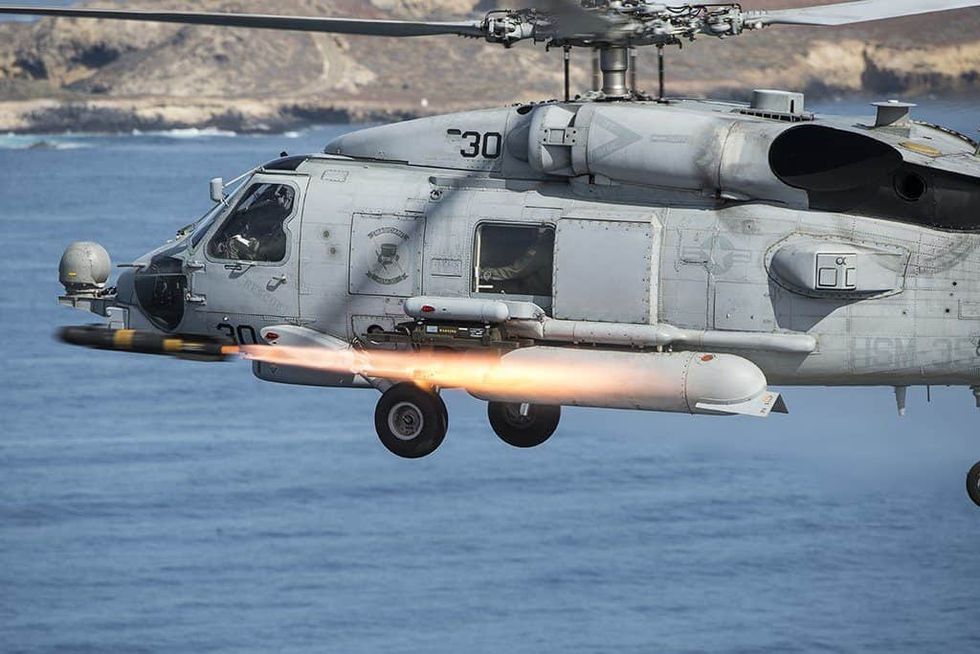 An MH-60 Seahawk. (U.S. Navy)
Carrier Air Wing 11 is currently assigned to the Nimitz, Carrier Air Wing 17 is on the Roosevelt, and Carrier Air Wing 5 is on the Reagan.
The only real offensive weapons aboard carriers are the aircraft, but they do have two main defensive weapons.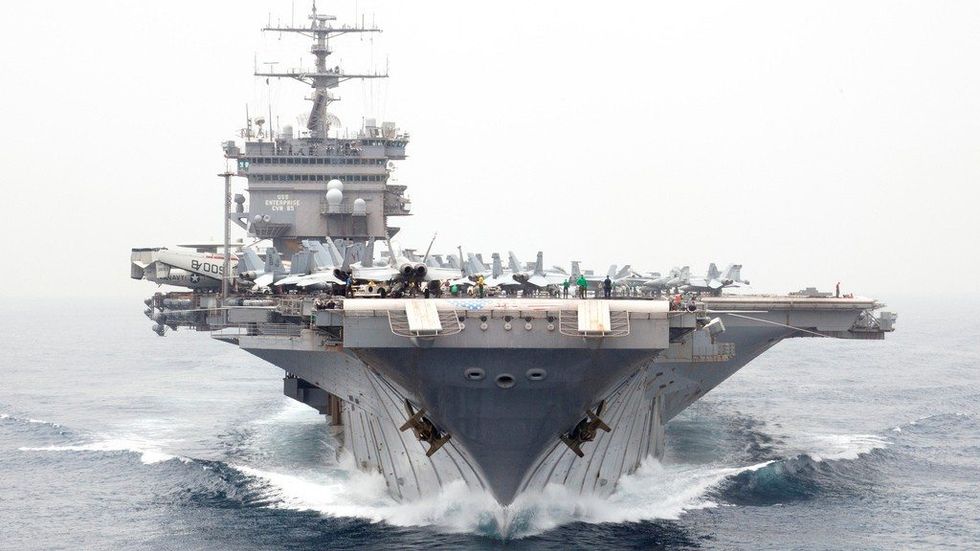 One is the NATO Sea Sparrow missile system, which is a short-range antiaircraft and anti-missile weapon system that fires RIM-7M missiles.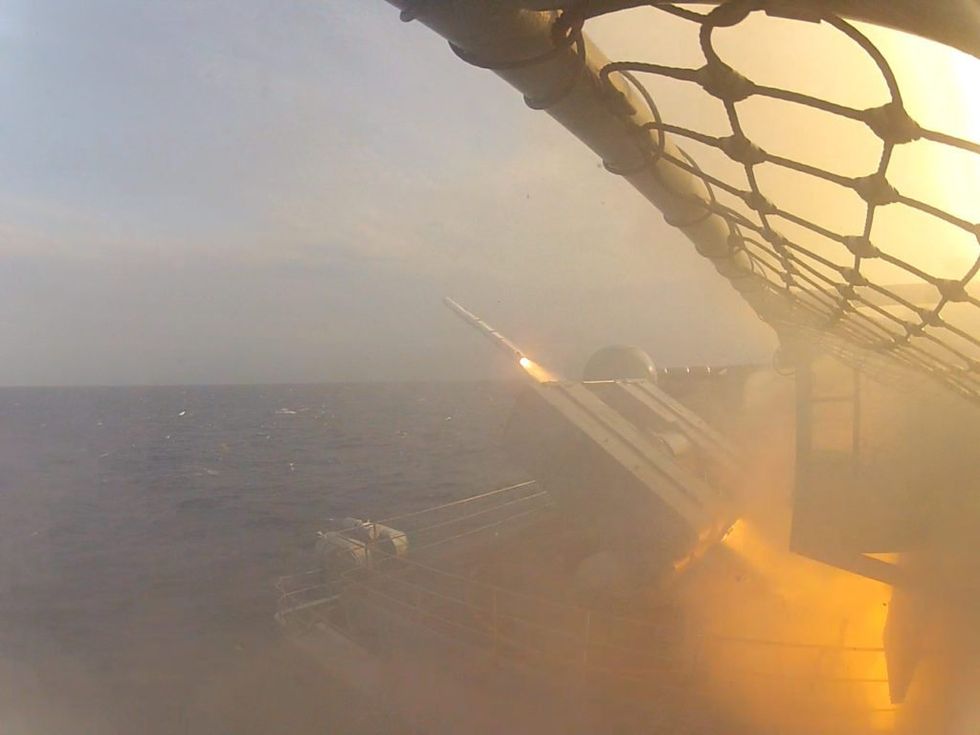 The aircraft carrier USS Theodore Roosevelt (CVN 71) test fires its NATO Evolved Sea Sparrow Missile System during a combat system ship qualification trial. Theodore Roosevelt is underway preparing for future deployments. (U.S. Navy photo)
The other is a 20 mm Phalanx Close-In Weapon System, which is the last line of defense against an incoming missile.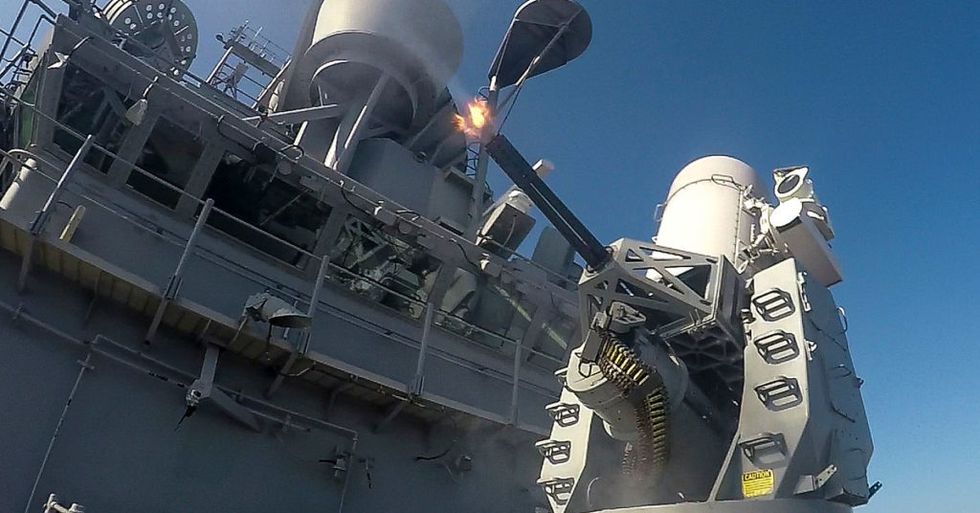 An MK15 Phalanx close-in weapons system (CWIS) fires during a live-fire exercise aboard the amphibious assault ship USS WASP (LHD 1). Wasp is currently underway acquiring certifications in preparation for their upcoming homeport shift to Sasebo, Japan where they are slated to relieve the USS Bonhomme Richard (LHD 6) in the 7th Fleet area of operations. (U.S. Navy photo by Mass Communication Specialist 3rd Class Michael Molina/Released)
Read more about what the CIWS can do here.
Carriers often travel in formations called Carrier Strike Groups, as seen below.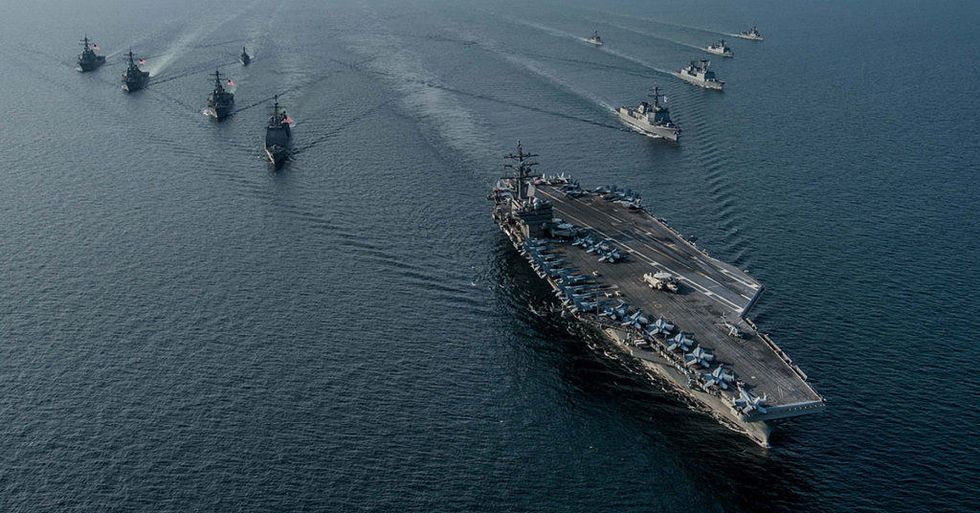 (U.S. Navy photo by Petty Officer 3rd Class Nathan Burke/Released)
A Carrier Strike Group consists of at least one cruiser, six to 10 destroyers and/or frigates, and a Carrier Air Wing. The carriers are used for offensive operations, while the other ships defend the carrier.
The Nimitz, Roosevelt, and Reagan are all currently accompanied by a Carrier Strike Group in the Pacific.
The last time three carriers were together in the Pacific was in June, and Navy Cmdr. Ron Flanders said it was rather unusual to have three carriers in the Pacific theatre.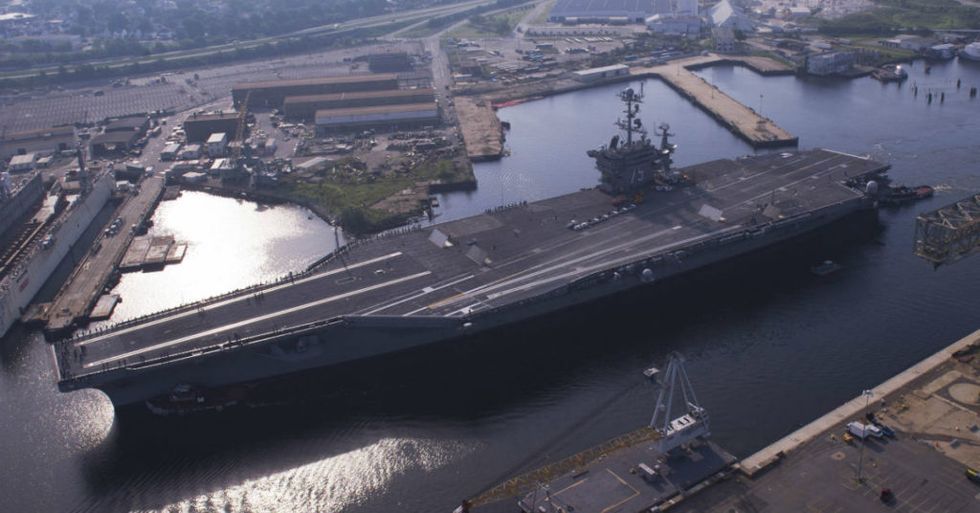 The aircraft carrier USS Harry S. Truman departs Norfolk Naval Shipyard. Photo from US Navy.
The Pentagon also recently said that the three carriers are "not directed toward any particular threat," and Flanders said the Nimitz's visit had been planned for months, as it has to cross the Pacific to reach its home port at Naval Station Bremerton in Washington state.
When asked if the Nimitz would head straight home or stay in the Pacific for any given period of time, Flanders said only that when the Nimitz travels through the Pacific, it falls under the command of the 7th Fleet.