A new African military force to counter growing extremism in the Sahel region should see victories "in the first half of 2018," France's president said Dec. 13 after hosting a summit to boost support for the five-nation effort.
---
President Emmanuel Macron announced new pledges for the force known as the G5 Sahel, one from Saudi Arabia of $100 million and another of $30 million from the United Arab Emirates, in a bid to speed up the full deployment of the military effort by Mali, Niger, Burkina Faso, Chad, and Mauritania.
Nearly five years after France intervened to route Islamist extremists in northern Mali, then controlled by an al-Qaeda affiliate, the threat has spread to neighboring countries in the volatile Sahel, the sprawling, largely barren zone south of the Sahara desert. The growing extremism has also spawned new jihadi groups, including one claiming affiliation with the Islamic State group.
In recent months, local security forces and the 12,000-strong United Nations peacekeeping mission in Mali have been prime targets. Attacks often occur in the border regions of Mali, Burkina Faso, and Niger, where four U.S. soldiers were killed earlier this year.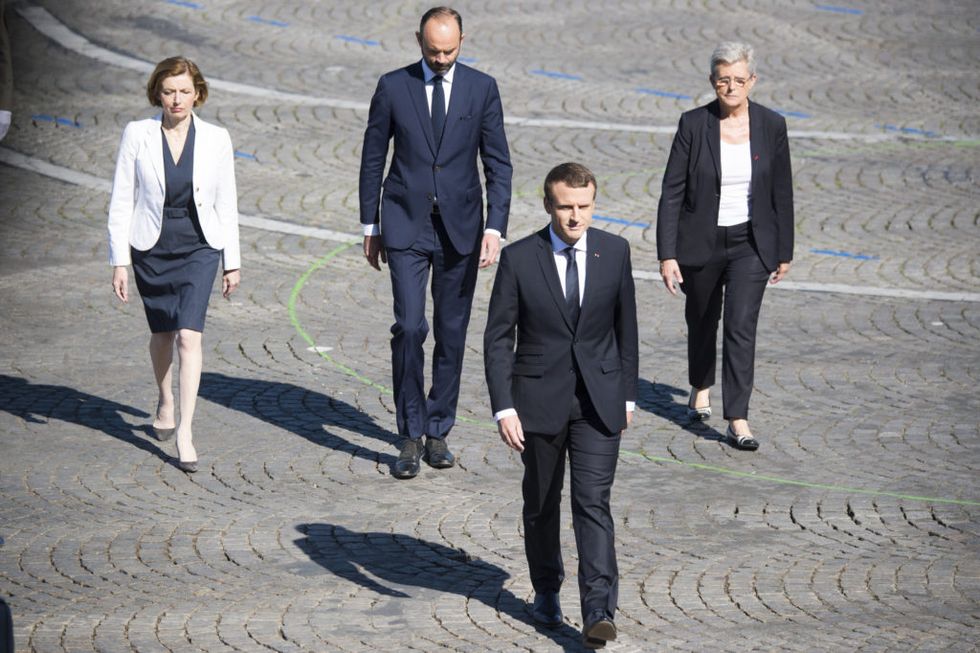 French President Emmanuel Macron arrives at the reviewing stand for the Bastille Day military parade in Paris, July 14, 2017. Macron and Trump recognized the continuing strength of the U.S.-France alliance from World War I to today. (DoD photo by Navy Petty Officer 2nd Class Dominique Pineiro)
Besides the leaders of the five-nation force, delegations representing Europe, the African Union and international organizations were in attendance.
German Chancellor Angela Merkel stressed the urgency of making the force fully operational.
"Islamic extremism is propagating. We can't wait," she said.
The G5 force is expected to grow into a 5,000-strong army by March but needs soldiers, training, operational autonomy, and funding. Macron said he sees it at full strength as planned.
France's 4,000-strong counterterrorism force in the region since 2014, known as Barkhane, will help the G5 with critical air, intelligence, and other support, Macron said, and "we will win victories in the first half of 2018."
"We need to win the war against terrorism in the Sahel zone and it's in full swing," Macron said. "There are attacks every day."
The force launched in Mali in July with Macron present. He has taken the lead in persuading partners to help make it viable, arguing that the fate of the Sahel region affects Europe.
"Terrorists, thugs, and assassins" must be eradicated, he said in July.
Mali President Ibrahim Boubacar Keita on Wednesday evoked the possibility that Islamic State group fighters fleeing a collapsed "caliphate" in Iraq and Syria would turn up in the Sahel.
"We know that our time is running out," Keita said.
The new force carried out a single test operation in early November involving 350 forces from Burkina Faso, 200 from Niger and 200 from Mali, according to the French Defense Ministry.
The budget to launch the force is 250 million euros ($293 million), with 400 million euros ($470 million) needed down the road, French Defense Minister Florence Parly said on RFIradio.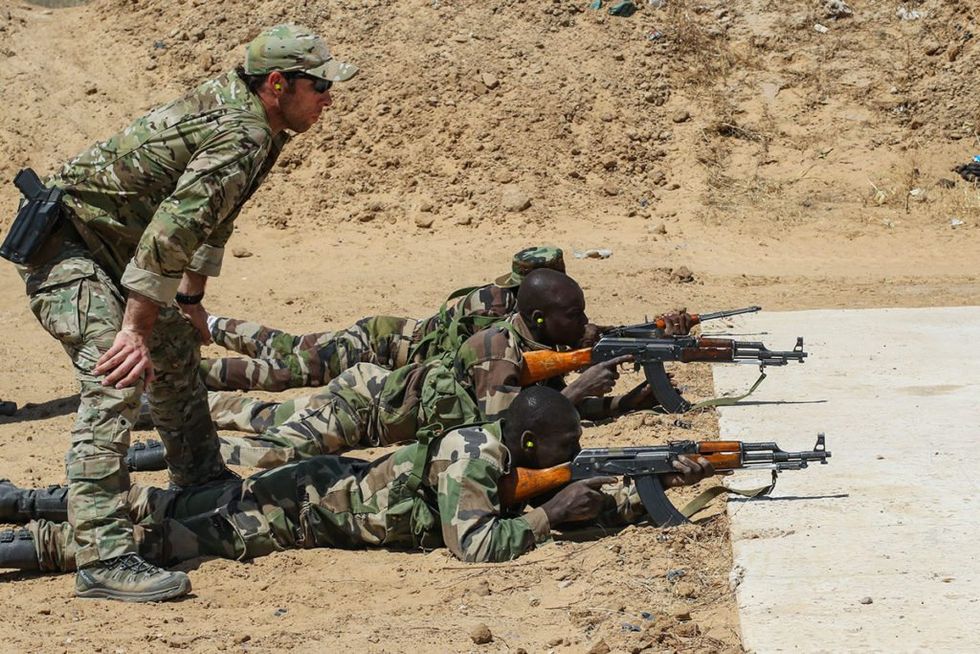 A U.S. Army Special Forces weapons sergeant observes a Niger Army soldier during marksmanship training as part of Exercise Flintlock 2017 in Diffa, Niger, Feb. 28, 2017. Niger was one of seven locations to host tactical-level training during the exercise while staff officers tested their planning abilities at a simulated multinational headquarters in N'Djamena, Chad. (U.S. Army photo by Sgt. 1st Class Christopher Klutts)
A special funding conference is planned for February. The United States earlier this month said it has pledged $60 million, though the Trump administration has opposed putting in U.N. resources.
French officials estimate that the extremists in the Sahel region number no more than 1,000, compared to several thousand in northern Mali in 2013, when France intervened. But the numbers are deceptive, failing to reflect the danger and difficulty of hunting down an enemy in region the size of Europe.
Moussa Faki Mahamat, chair of the African Union Commission, raised the specter of the chaos in Libya, which has become a base for extremists and a popular route for the trafficking of migrants, many of them coming from the new force's five member countries.
"This is a fight against terrorism, against trafficking of all kinds, and what happened in Libya is an illustration," Mahamat said.