A team of Fort Bragg soldiers set their sights on one of the top officials within warlord Joseph Kony's Lord's Resistance Army late last year.
---
The soldiers, working with government agencies and nonprofit organizations, tracked down the family of the official — communications chief Michael Omona.
He played a key role in the Ugandan warlord's cultish militant group, which was built on the backs of former child soldiers abducted from their homes in Uganda, South Sudan, the Central African Republic and the Democratic Republic of Congo.
The Fort Bragg soldiers – part of a regional psychological operations team deployed to Africa – weren't targeting Omona with firepower. Instead, it was a campaign fueled by facts and meant to counter the misinformation Kony spread across his force.
Speaking at the annual meeting of the Association of the U.S. Army in Washington, Col. Bethany Aragon, the commander of the 4th Military Information Support Group at Fort Bragg, described what happened next.
"If you can envision yourself walking through this dense jungle," she said. "… As he's walking through the jungle, he hears his mother's voice begging him to come home."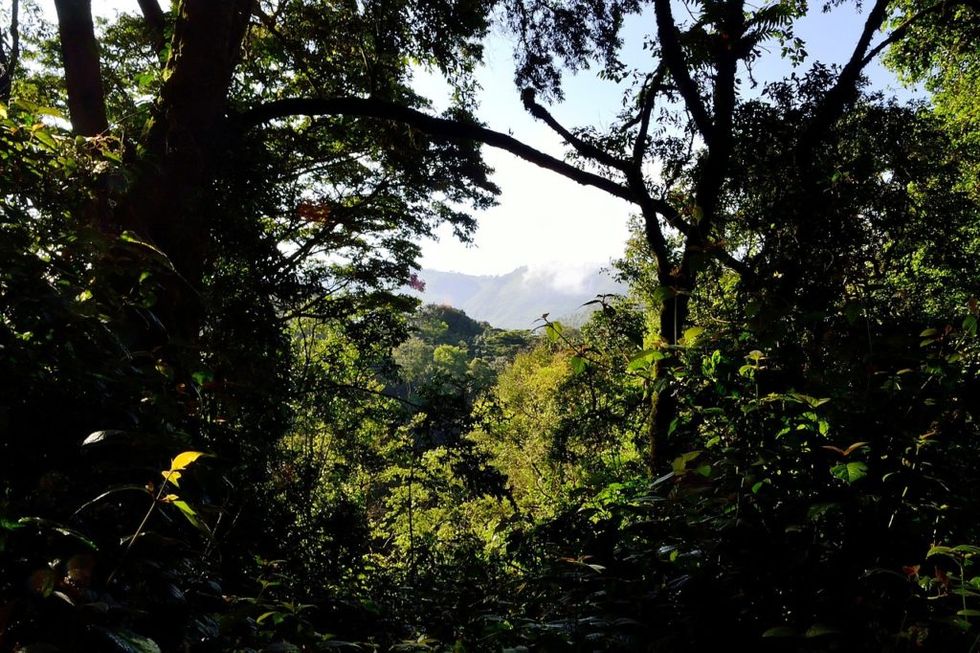 Michael Omana, the communications chief for Kony's Lord's Resistance Army, walked for two weeks to defect after hearing his mothers voice piped through the jungles begging him to come home.
The voice came from a U.S. Army loudspeaker team, piping voices into the countryside.
A little while later, leaflets dropped from the sky. On them, images of Omona's uncle, who raised him as a father, and his daughter; both pleading for Omona to turn himself in to authorities.
"We targeted him," Aragon said. "And in January 2017… he walked for two weeks to defect."
Omona's defection gave authorities key information in the search for Kony and the LRA. He provided access to codes used by the group and inside information on the higher workings of the LRA.
It was one of the highest profile defections in the long-running effort to dismantle the LRA. And Aragon used the example to show the value psychological operations soldiers played in those efforts.
"For over two decades, they abducted over 60,000 children, massacred tens of thousands of civilians, displaced two million people and then really destabilized a region the size of California," she said of the LRA.
Today, Aragon said the LRA has been rendered irrelevant. And a generation of stolen Uganda children have been returned to their homes as the LRA has dwindled from an army of thousands to less than 100 members.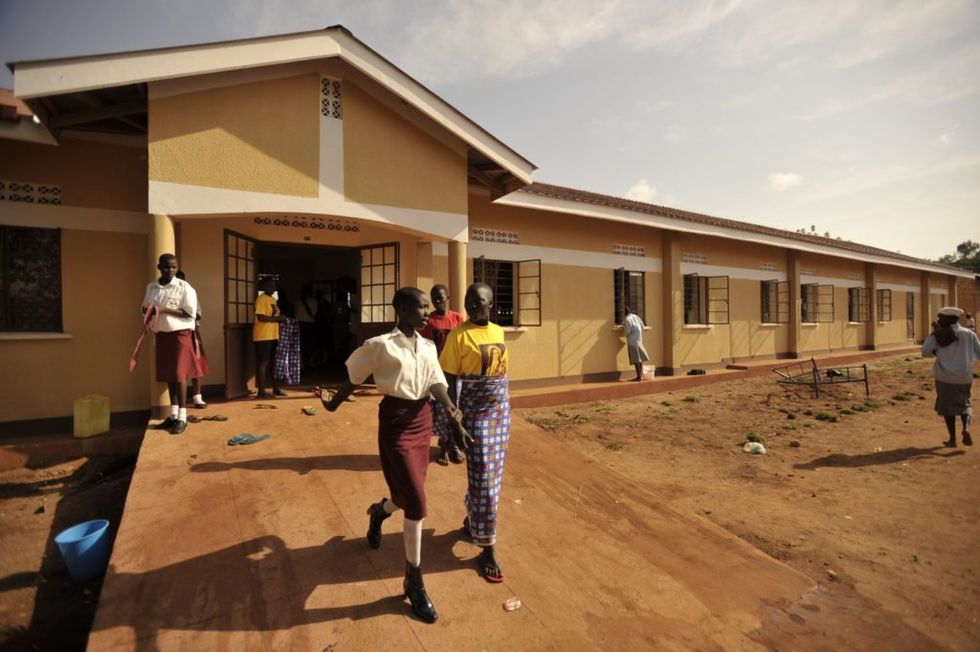 Students walk in front of a recently constructed building before a dedication ceremony at St. Theresa secondary school in Lira, Uganda, Feb. 23. Service members from the Combined Joint Task Force - Horn of Africa attended the ceremony, marking the the completion of a $500,000 project funded by CJTF-HOA. In October of 2002, regional instablitity forced the school's students and faculty away from its current location in the village of Alanyi. The Lord's Resistance Army, a rebel force, attacked civilians and attempted to seize control of villages throughout northern Uganda.
At AUSA, Aragon and other special operations leaders presented case studies on the value of their forces during a panel led by Lt. Gen. Kenneth E. Tovo, commanding general of U.S. Army Special Operations Command.
Often working with foreign partners, conventional forces and other government agencies, Tovo said the Army's special operations forces provide a set of unique capabilities that can't be easily reproduced.
They are complementary skills, Tovo said, that when mixed with other capabilities and forces form a "symbiotic whole" to fuel national objectives.
"To quasi-quote Tom Cruse in 'Jerry Maguire,'" he said. "We complete each other."
Tovo said there are about 4,300 special operations soldiers deployed around the world in 78 countries. That includes Special Forces, psychological operations, civil affairs, Army Rangers and other special operations troops.
While the more violent aspects of special operations tend to make the most headlines, Tovo's panel largely focused on the more unheralded aspects of the force – what he called an "indigenous approach" to operations around the world.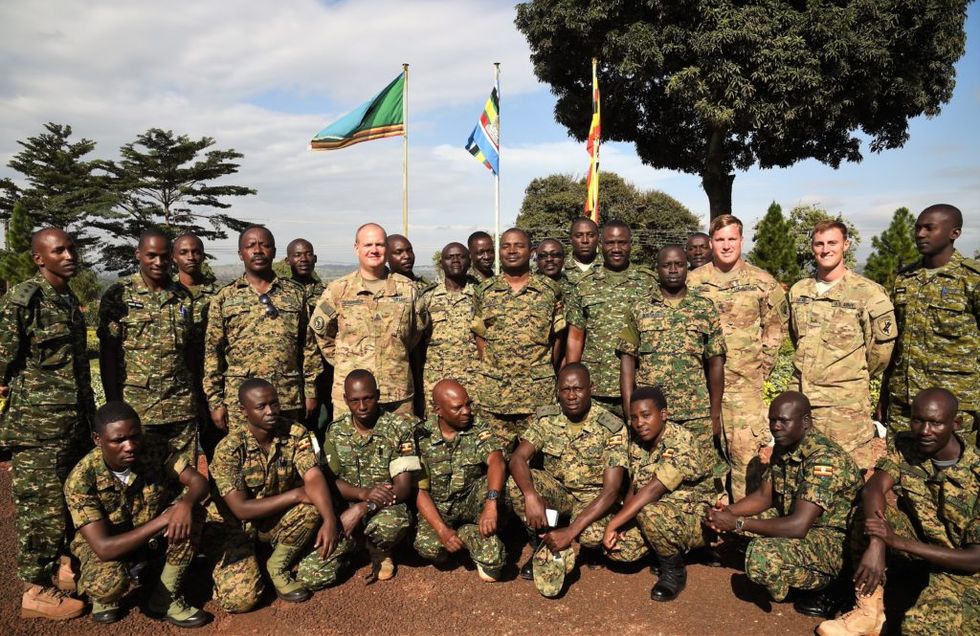 Members of the Uganda People's Defence Force and the 346th Tactical Psychological Operations Company (Airborne) Soldiers deployed to Combined Joint Task Force – Horn of Africa stand for a class photo after the UPDF graduated from the third of a four-phase psychological operations training held at the Uganda Junior Command and Staff College, Jinja, Uganda, Aug. 15, 2017. The training was part of the U.S. mission of strengthening partner nation defense forces. (U.S. Air National Guard photo by Tech. Sgt. Andria Allmond)
"We live among, train with, advise and fight alongside people of foreign cultures," Tovo said. "We think this indigenous approach provides a low-cost, high-impact option."
Joining Tovo on the panel were Aragon; the former ambassador to Ukraine and current ambassador to Greece Geoffrey Pyatt; Brig. Gen. David Komar, director of the requirements integration directorate at the Army Capabilities Integration Center; 75th Ranger Regiment commander Col. Brandon Tegtmeier; and Lt. Col. Tom Craig, commander of the 1st Battalion, 5th Special Forces Group.
Tegtmeier discussed how the Rangers are working with Afghan partners. And Craig, who left Northern Syria about a week ago, discussed the task force comprised of Special Forces A-teams, special operations and conventional troops working to train and support Syrian Democratic Forces fighting the Islamic State.
"The indigenous approach is absolutely working," he said, explaining how special operations forces are uniquely suited to the ongoing fight against ISIS.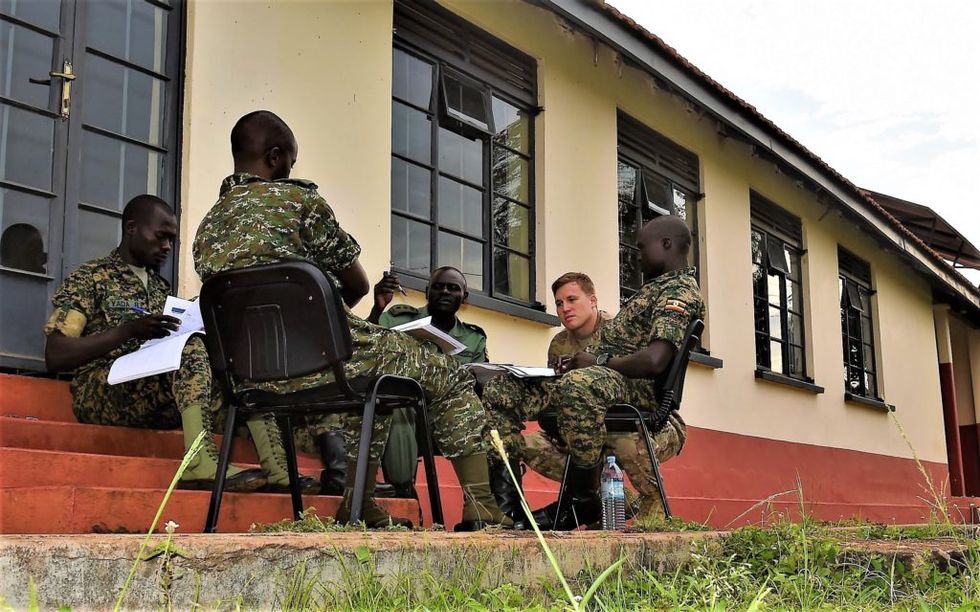 U.S. Army Staff Sgt. Ryan Hurst, 346th Tactical Psychological Operations Company (Airborne) noncommissioned officer in charge, deployed to the Combined Joint Task Force-Horn of Africa, serves as an observer, controller and trainer to members of the Uganda People's Defense Force during a four-phase course that trains the UDPF to secure objectives through influencing attitude and behaviors. The training took place at the Uganda Senior Command and Staff College in Jinja, Uganda, Aug. 14, 2017. As the region continues to contend with multiple VEOs, a sustained international working relationship will only further efforts of global stability. (U.S. Air National Guard photo by Tech. Sgt. Andria Allmond)
Craig said his Special Forces soldiers have language skills and cultural understanding built up over multiple deployments that allow them to have influence on the nation's Syrian partners.
"In Syria, it's important to note," he said. "We are advising a partner who is in the lead."
He said the relatively light footprint of U.S. forces in Syria allow them to be agile and flexible, while also providing important support.
Craig said troops are training, equipping, advising and providing air support and intelligence to their partnered forces.
Pyatt said that in a world of diffuse power and shifting threats, most challenges to American national security will happen in so-called "gray areas" between diplomacy and hard power.
Those are the areas in which special operations forces thrive, officials said.
Pyatt said the relationships between SOF and diplomats were critical.
"There's a very, very high return on investments," he said. "They don't cost a lot of money, but they get a lot done."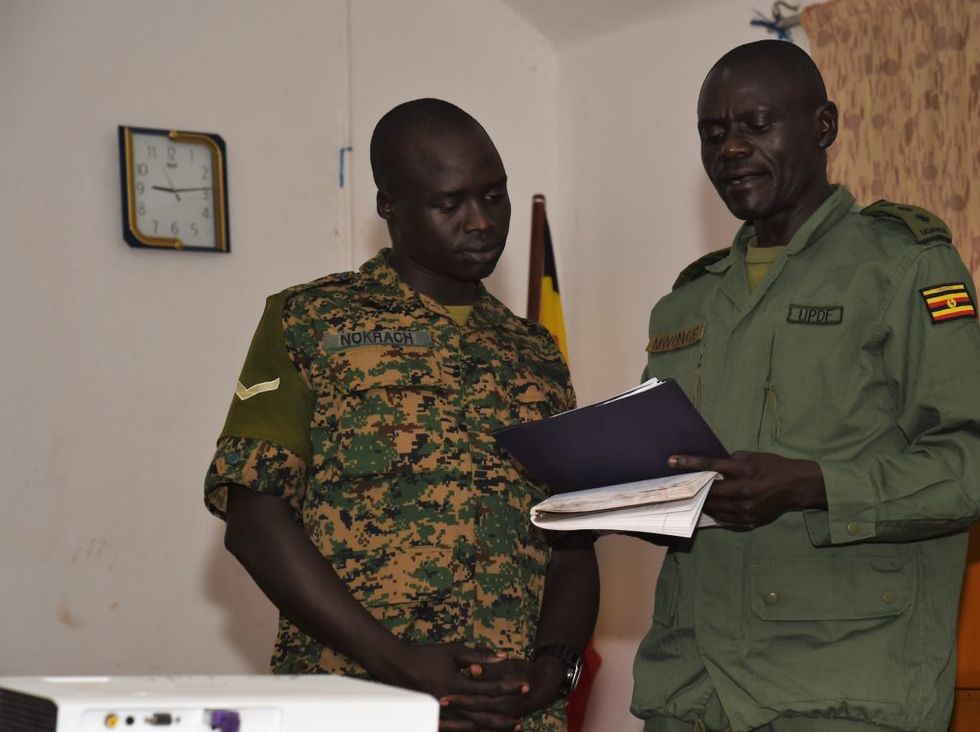 Lance Cpl. Denis Nokrach and Capt. John Robert Mwonge, both Marines in the Uganda People's Defence Force, review a psychological operations plan during training with the 346th Tactical Psychological Operations Company (Airborne) who are deployed to the Combined Joint Task Force-Horn of Africa, at the Uganda Senior Command and Staff College in Jinja, Uganda, Aug. 14, 2017. As a subordinate unit of U.S. Africa Command, CJTF-HOA uses the primary tool of military-to-military programs and operations, coordinated with the U.S. Department of State, to assist African nations strengthen their defense capabilities and build partnerships. (U.S. Air National Guard photo by Tech. Sgt. Andria Allmond)
Komar said the conventional force was beginning to model some of its reforms after the SOF community, specifically with the creation of security force advise and assist brigades.
At the same time, he said the days of deconflicting between SOF and conventional forces were largely over. Instead, the Army has embraced and integration between the two types of units.
In addition to ongoing operations and recent case studies, the panelists discussed ways the special operations community was preparing for future fights.
Tovo said each special operations specialty has different skillsets, but complement one another.
Whether serving as a crisis response force or working alongside State Department personnel, special operations forces are able to provide unique perspectives and insight.
"When bad things happen in any part of the world and we've got SOF there," he said. "… We provide the nation a suite of tools applicable across the full range of military operations."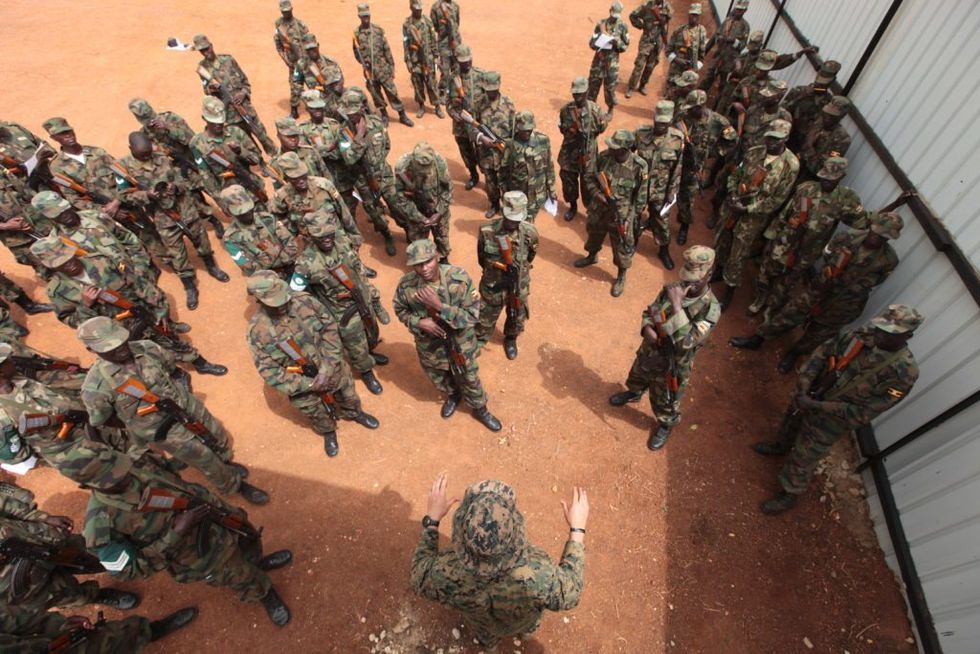 A force reconnaissance Marine goes over threat detection methods with a group of Ugandan soldiers, Feb. 28. Special Purpose Marine Air Ground Task Force 12 sent a small team of Marines into Uganda, Feb. 3, to train Ugandan forces for the fight against al-Shabaab in Somalia and the hunt for Joseph Kony and the Lord's resistance army.
Aragon said the campaign against the LRA was the most effective psychological operations campaign in Africa to date.
She said the groundwork was laid in 2011, when a team of just four psyops soldiers from Fort Bragg deployed to the continent.
Aragon said Omona and other members of the LRA lived in dense jungle and worked for an unhinged leader. Most, like Omona himself, were former child soldiers abducted from their homes years ago.
"He's susceptible," she said. And so were others within the LRA.
The goal was to use radio, leaflets and area loudspeakers to reach disaffected members of the group.
Key to those efforts were buy-in from the Ugandan government, which offered amnesty for defectors, she said.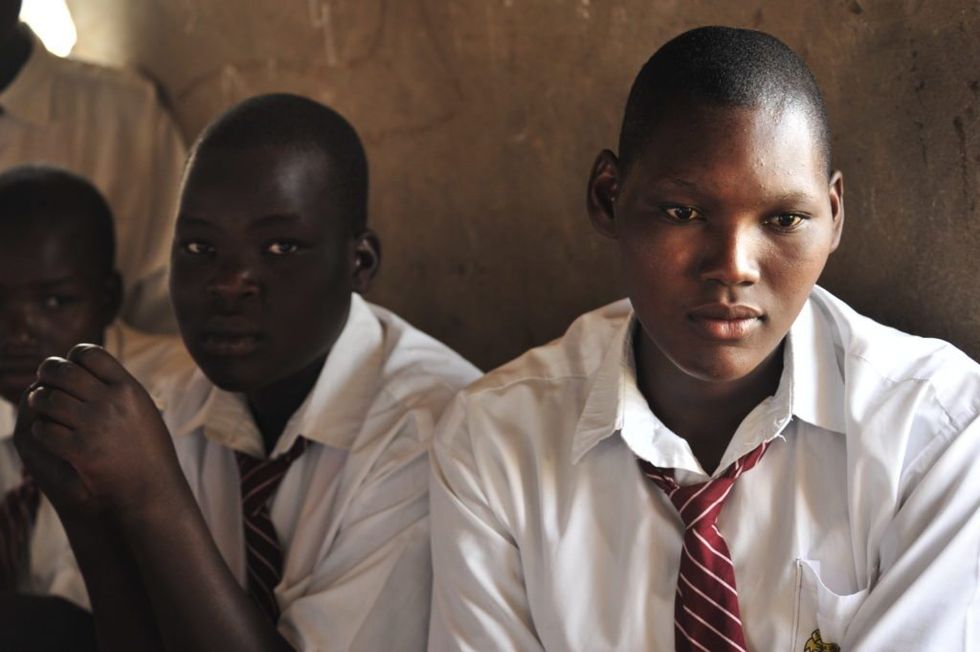 Students sit in a classroom during a music a rehearsal before a dedication ceremony at St. Theresa secondary school in Lira, Uganda, Feb. 23. Service members from the Combined Joint Task Force - Horn of Africa attended the ceremony, marking the the completion of a $500,000 project funded by CJTF-HOA. The project provided two new student dormitories to house 300 students, a staff house, new latrines, three water-harvesting tanks, and new solar panels for a computer laboratory.
Early successes gave the psyops team additional weaponry – the voices and stories of former LRA members who could speak to the fair treatment they received.
The first mass defection came in 2013, Aragon said, when 19 combatants defected.
Omona's name came up in latter conversations, identified through a nonprofit group dedicated to the reintegration of former child soldiers in Africa called Pathways to Peace.
Omona had been kidnapped by the LRA when he was 12. Twenty-three years later, he was personally in charge of Kony's communications.
Aragon said soldiers enlisted the aid of Omona's family. His defection helped the soldiers end their mission against the LRA earlier this year.
But for the next fight, potentially against a more advanced enemy force, Aragon said officials must begin their efforts now.
"We cannot wait until the deployment to find the next Michael Omona," she said. "We have to be doing that persistently if we are to be ready and relevant."