The Seventh Fleet may have a severe readiness problem, according to a government watchdog.
---
The warfare training certifications for eight out of eleven US Navy destroyers and cruisers based in Japan, home to the US Seventh Fleet, expired as of June, according to CNN, which cites an unpublished report from the Government Accountability Office. The certificates were for mobility and seamanship, air warfare, and undersea warfare.
For a number of these ships, the training certificates expired as seven sailors died aboard the USS Fitzgerald and another 10 perished on board the USS John McCain after massive merchant vessels struck the ships.
The fatal collisions are part of a string of serious incidents that have occurred over the past year. Both of the collisions are under investigation.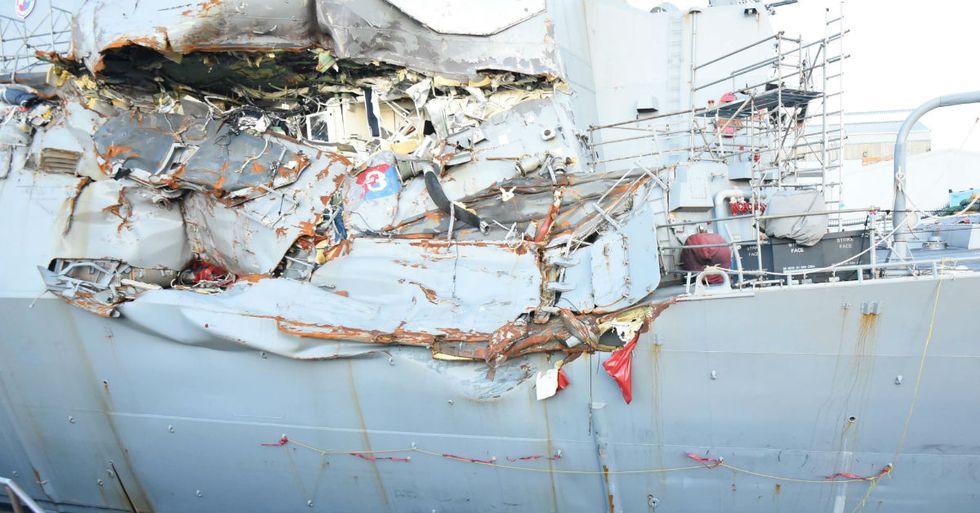 USS Fitzgerald (DDG 62) sits in Dry Dock after sustaining significant damage. Navy photo by Mass Communication Specialist 1st Class Leonard Adams.
The Philippine-flagged container vessel ACX Crystal slammed into the side of the Arleigh Burke-class guided missile destroyer USS Fitzgerald before dawn June 17 in waters off Japan. Two months later, on Aug. 21, the oil tanker Alnic MC collided with the Arleigh Burke-class guided missile destroyer USS John McCain near Singapore. Ten sailors were killed in the second incident, bringing the number of American sailors killed in the two accidents up to 17.
In the wake of the most recent collision, the Navy decided to relieve Vice Admiral Joseph Aucoin, commander of the Seventh Fleet, of his command due to a lack of confidence in his leadership.
The Seventh Fleet handles most naval operations in the Pacific, from pressuring North Korea to freedom-of-navigation operations in the South China Sea. The USS John McCain had actually just completed a freedom-of-navigation operation just prior to the collision.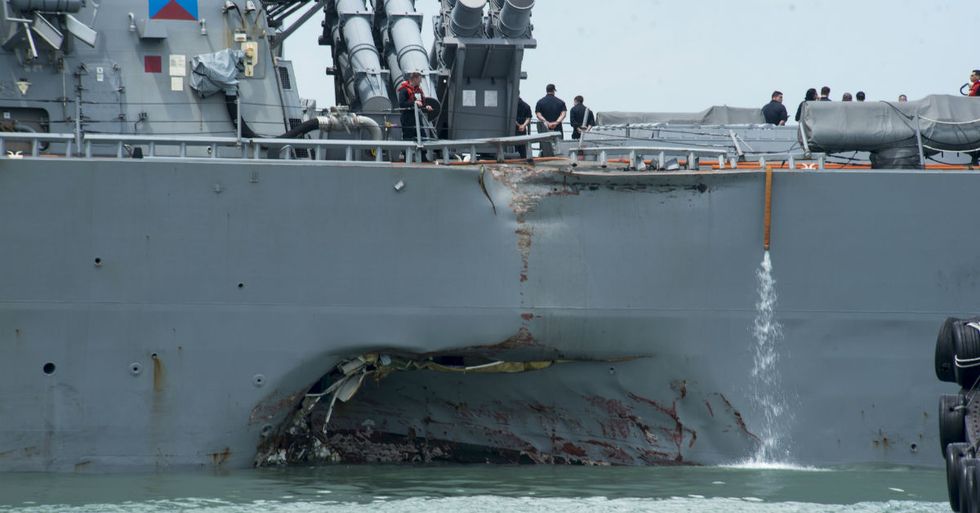 Damage to the portside is visible as the Guided-missile destroyer USS John S. McCain. Photo by US 7th Fleet Public Affairs.
Preliminary reports on the incident involving the USS Fitzgerald attributed the crash to poor seamanship. While the incidents are still under investigation, there have long been readiness concerns as the size of the fleet decreased while the number of ships deployed remained constant, with the length of deployments increasing.
"The Navy has had to shorten, eliminate, or defer training and maintenance periods to support these high deployment rates," John Pendleton, director of the GAO defense capabilities and management, said in his written testimony, according to CNN.
"Navy officials told us that US-based crews are completely qualified and certified prior to deploying from their US homeports, with few exceptions," he added. "In contrast, the high operational tempo of ships homeported overseas had resulted in what Navy personnel called a 'train on the margins' approach, a shorthand way to say there was no dedicated training time set aside for the ships so crews trained while underway or in the limited time between underway periods."