This is a moment when words matter.
All of us want answers. Within our hands we hold the gateway to all sorts of answers to every question we could think to ask, and even some questions better left unasked.
Can I gently implore you to resist the urge to spend the day on search engines or scrolling madly through social media as the source of information?
---
Here is the most important point you need to know today:
This is a dynamic situation.
Facts are evolving daily. Leaders are assessing every situation, every nuance and every facet of this public health situation, hourly.
Consequently, the biggest challenge they face is communicating in a timely manner with as much information as possible, without overstating the concerns and without underestimating the challenge.
If you feel an information delay, do not fill the vacuum with conjecture and hyperbole.
Do not add to the swirl.
Do not repeat as fact something offered as opinion.
Do not accept information from non-credible sources.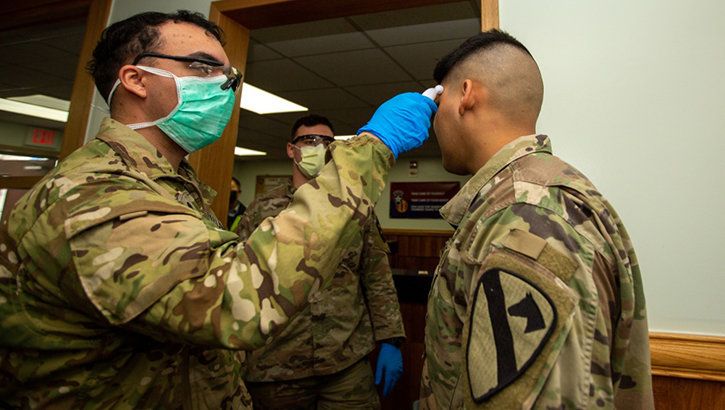 Stick to the facts you know, from sources you trust.
Community Chat pages are not credible sources.
Private Facebook groups administered by private citizens with no official government or health training are not credible sources.
For our military families: Your first and most credible source of information will be official guidance offered through the chain of command - from the SECDEF to the Chief of Staff for your branch of service to MAJCOM to Installation leadership to unit commanders, etc.
It takes time for clear public affairs guidance to be written, approved and disseminated.
As someone who's been on that side of things in the White House, Department of Homeland Security and the Department of State, trust me when I say: you want ACCURATE information. Be patient.
Trust leadership at all levels of government and your military chain of command to move as swiftly as possible.
As someone married to a senior leader on an Air Force base, I promise you - your leadership knows you want information. Their spouses are probably telling them all the questions they need to answer. Believe me, they know and they are working it. Trust them.
Earlier this week I got a message from a friend on base. Her kids go to school with my kids. Neighborhood conversation caused her to wonder about how the news headlines would impact her family specifically.
I suspect there are many spouses and families with similar questions today: spring break travel plans, pending PCS, active duty members overseas and family members stationed abroad.
Rather than participate in the conjecture or begin worrying about how to plan for all the contingencies, my friend sent me a quick text, asking if I knew how her family situation might be affected.
She texted, "I know better than to simply survey my neighbors about what they've heard. I'd rather ask someone I trust, who I know can find out what's true and what's just rumor."
You better believe I messaged her right back.
"I don't know, but I'll find out."
My very next message was to find out.
In the interim, I told her, "I asked leadership. I suspect the initial answer will be something along the lines of: it's a dynamic situation and we won't know specific answers for specific cases until closer to that time. But I'll get you an 'official' answer as soon as possible."
This is my message for you today, too.
If you have specific questions for specific cases, ask credible sources, like those listed below — not social media. When the answer is incomplete, be patient and trust your leadership.
Look for branch specific and unit specific guidance issued by official public affairs sources. When in doubt, ask your supervisors and let them know you're willing to wait for official answers. Then trust them to do their job and get you accurate, actionable information.
At a state and local level, official guidance will be offered by official, sanctioned government websites: Governors, Mayors, state and local public health officials. Those individuals and services will likely be pulling their information from this official CDC
resource page for state, local, territorial and tribal health departments
.