The vehicle is built with a more capable, larger chassis, designed as an initial step toward outgunning Russian weapons
---
The Army is starting formal production of a new Self-Propelled Howitzer variant engineered for faster movement, better structural protection, improved drive-train ability, new suspension and advanced networking tech, service and industry developers said.
The new vehicle is built with a more capable, larger chassis, designed as an initial step toward building a next-generation cannon able to outgun existing Russian weapons.
As part of a longer-term plan to leverage the new larger chassis built into the Army's new M109A7 variant, the Army's Armament Research, Development, and Engineering Center is beginning work on a new cannon able to hit enemies out to 70 kilometers, senior Army developers said.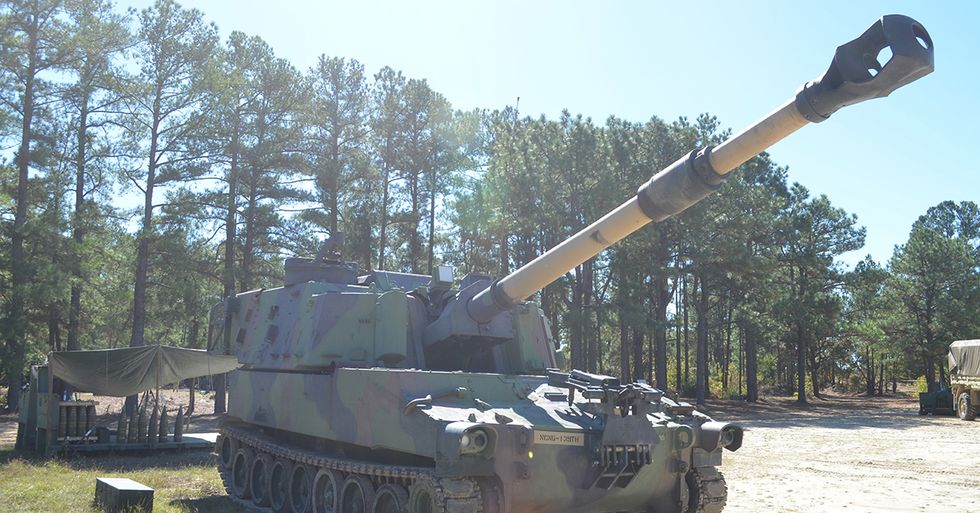 Paladin self-propelled Howitzers from 2nd Armored Brigade Combat Team, 1st Infantry Division, out of Fort Riley, Kansas, are lined up on the port of Gdansk, Poland, Sept. 14, 2017, as part of the staging to move the brigade to various locations throughout Eastern Europe in support of Atlantic Resolve. (U.S. Army photo by Sgt. 1st Class Jacob A. McDonald, 21st Theater Sustainment Command)
The Army is also now working with the Pentagon's Strategic Capabilities Office to explore additional innovations for the Howitzer platform.
Army Howitzers are now firing a super high-speed, high-tech, electromagnetic Hyper Velocity Projectile, initially developed as a Navy weapon, an effort to fast-track increasing lethal and effective weapons to war zones and key strategic locations, Pentagon officials said.
While initially conceived of and developed for the Navy's emerging Rail Gun Weapon, the Pentagon and Army are now firing the Hyper Velocity Projectile from an Army Howitzer in order to potential harness near-term weapons ability, increase the scope, lethality, and rangeability to accelerate combat deployment of the lethal, high-speed round.
The railgun uses an electromagnetic current to fire a kinetic energy warhead up to 100 miles at speeds greater than 5,000 miles an hour, a speed at least three times as fast as existing weapons.
Firing from an Army Howitzer, the hypervelocity projectile can fire at high speeds toward enemy targets to include buildings, force concentrations, weapons systems, drones, aircraft, vehicle bunkers and even incoming enemy missiles and artillery rounds.
"We can defend against an incoming salvo with a bullet. That is very much a focus getting ready for the future," Dr. William Roper, Director of the Pentagon's once-secret Strategic Capabilities Office, told Scout Warrior among a small group of reporters last year.