The Army will release a new combat "FM 3.0 Operations" doctrine designed to better position the service for the prospect of large-scale, mechanized, force-on-force warfare against technologically advanced near-peer rivals – such as Russia or China - able to substantially challenge US military technological superiority.
---
Senior Army leaders involved in ongoing analysis of current and future threats, as they pertain to a fast-changing operational land-combat environment, explained that changing global circumstances, inspired the need for the Army to craft new doctrinal specifics.
The new "Operations" doctrine, to be unveiled in a matter of days at the Association of the United States Army Annual Convention, is intended as a supplement or adjustment to the Army's current "FM 3.0 Full Spectrum" Field Manual, a doctrine which first emerged more than several years ago.
Authors of the new doctrine explain that while many elements of the Army's previous "Full Spectrum" doctrine are retained, updated and expounded upon in the new doctrine -- FM 3.0 Full Spectrum was written when the Russians had not attacked Ukraine, the Army was fully immersed in war in Afghanistan and the current tensions in the South China Sea had not yet emerged to the extent they do today, Col. Rich Creed, Combined Arms Director Ft. Leavenworth, told Scout Warrior in an exclusive interview.
"The Army needs to be prepared for large-scale combat operations against potential near-peer capabilities within a regional context. The operational scenario is different now. We are retaining lessons and experiences from prior doctrine, but we need to address the tactics and procedures conducted by large-scale units to conduct land combat," Creed said. "We update doctrine when the situation requires it."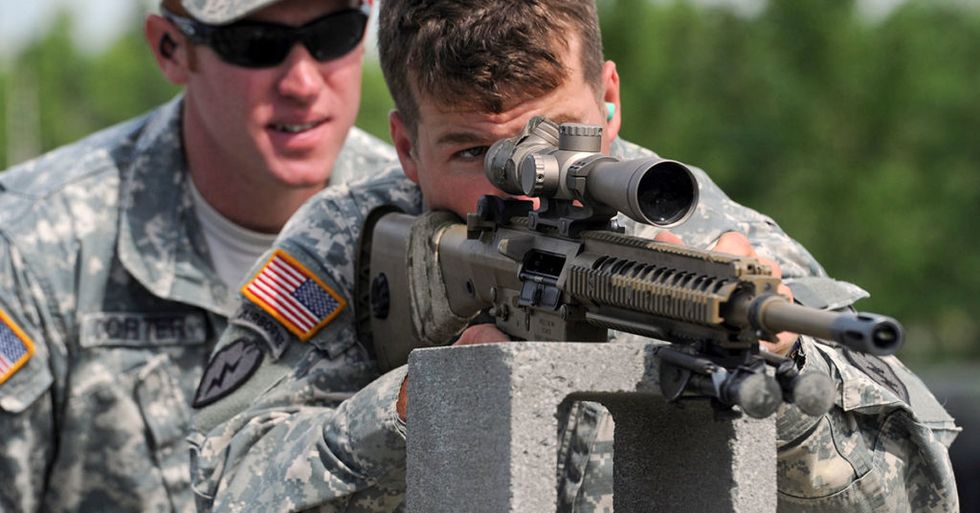 Spc. Anthony Tramonte, assigned to Headquarters and Headquarters Company, 3rd Battalion (Airborne), 509th Infantry Regiment of the 4th Brigade Combat Team (Airborne), 25th Infantry Division, a native of Peachtree City, Ga., lines up a target as Army Staff Sgt. Kevin Corter, an instructor with the U.S. Army Sniper School and a native of Casa Grande, Ariz., coaches him during the final day of M110 Semi-Automatic Sniper System (SASS) qualifications at Joint Base Elmendorf-Richardson's Grezelka Range, July 10, 2013. The brigade's soldiers are attending the U.S. Army Mobile Sniper School, a five-week course with graded marksmanship on the M24 Sniper System, M110 SASS, and the M107 .50-Caliber Long Range Sniper Rifle. Students are also trained and graded in range estimation, target detection, stalking techniques, and written exams. Upon successful completion, all students will receive a diploma and those soldiers holding an infantry and/or special forces military occupational specialty will receive a B4 additional skill identifier. (U.S. Air Force photo/Justin Connaher)
Creed explained the new doctrine adjustments represent the natural evolution from the Army's Unified Land Operations concept articulated in 2011-2012 as well as a Cold-War strategy known as "Air-Land" battle designed to defend Western Europe using initial air attacks in tandem with conventional ground force assault.
"Air Land Battle was devised to address a specific threat large-scale land combat on the European continent - large forces and it was a bipolar world. We live in a multi-polar world now. We may still be the lone superpower but there are other forces in the world that have improved significantly. We don't have the luxury of focusing on one kind of threat or one kind of operation," Creed said.
Air Land Battle, not surprisingly, envisioned massive US Army ground assaults accross the Fulda Gap in Europe heavily supported by large-scale coordinated air power.
One very senior US Army official told Scout Warrior that the new "operations" doctrine was quite necessary given the extent to which potential adversaries have studied US military techniques and technologies first used during Desert Storm in the early 1990s.
"Desert Storm showed the world Air-Land battle. We unleashed something they had envisioned or heard about. They have studied our military," the senior official said.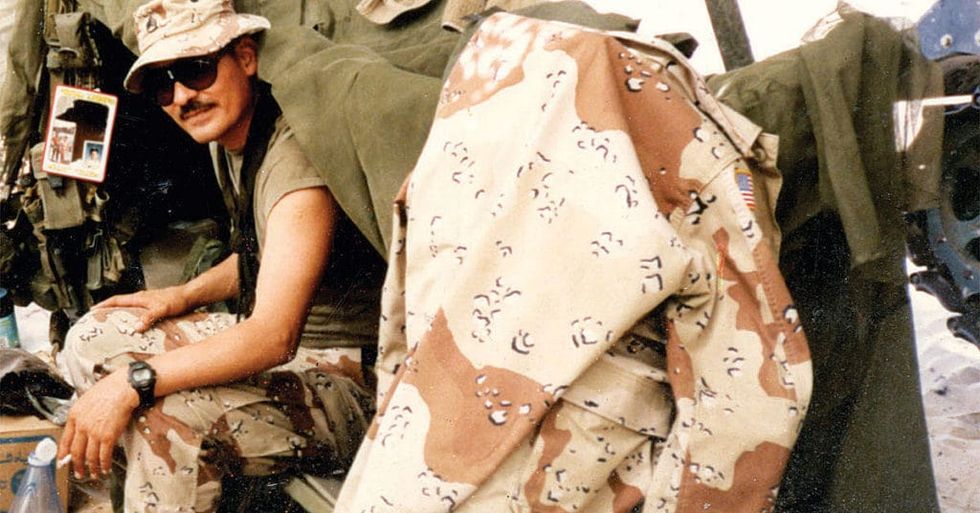 Daniel Cisneros enjoys breakfast in Saudi Arabia during Operation Desert Storm in 1990. (Photo courtesy of Daniel Cisneros via Flickr)
Creed added that the new doctrine is indeed cognizant of both future and current threats to US security, including North Korea, Iran, Russia and China.
While the emerging "operations" doctrine adaptation does recognize that insurgent and terrorist threats from groups of state and non-state actors will likely persist for decades into the future, the new manual focuses intently upon preparedness for a fast-developing high-tech combat environment against a major adversary.
Advanced adversaries with aircraft carriers, stealth aircraft, next-generation tanks, emerging hypersonic weapons, drones, long-range sensors and precision targeting technology present the US military with a need to adjust doctrine to properly respond to a fast-changing threat landscape.
For instance, Russia and China both claim to be developing stealth 5th generation fighters, electronic warfare and more evolved air defenses able to target aircraft on a wider range of frequencies at much farther distances. Long-range, precision-guided anti-ship missiles, such as the Chinese DF-21D, are able to target US carriers at ranges up to 900 miles, presenting threat scenarios making it much harder for US platforms to operate in certain areas and sufficiently project power.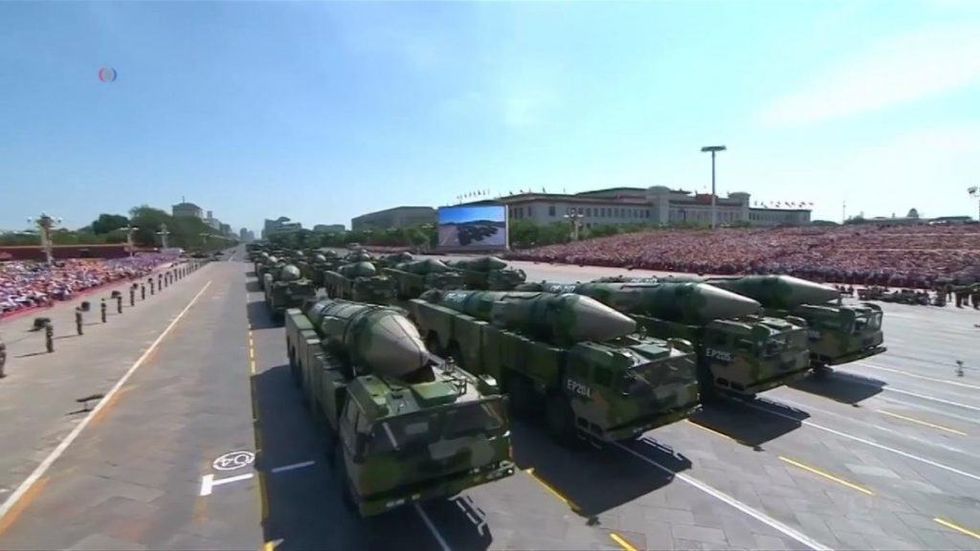 US Air Force photo
Another example of multi-domain warfare includes the Army's ongoing effort to test and prepare for maritime warfare scenarios such as the value of using land-based rockets to attack and destroy enemy ships. The Army is currently working with the Pentagon's Strategic Capabilities Office on upgrades to ATACM missile sensors to enable the weapon to successfully attack moving ships at sea.
This concept is especially important given that potential adversaries are becoming more adept at being able to disrupt or de-synchronize US military joint operations.
This involves greater global proliferation of jamming tactics, advanced sensors, cyberattacks and long-range precision weaponry.
While naturally focused upon what would be needed in a massive, full-scale landwar scenario - the new doctrine also explores contingencies, scenarios and strategies needed to assess circumstances short of armed combat, Creed explained.