Coast Guard crews have been busy freeing up tugs stuck in the icy Hudson River.
---
The Coast Guard used an ice-breaking vessel to free a tug the morning of Jan. 2 that had been stuck in the ice overnight near Kingston. The ice-breaking tug freed another vessel Dec. 31 near Saugerties.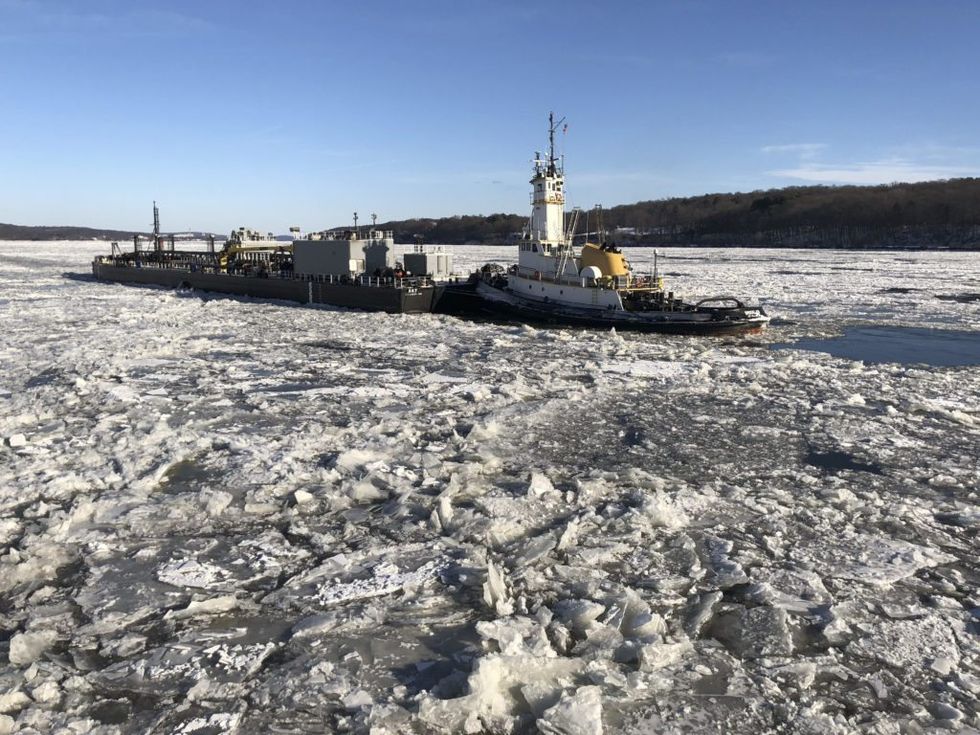 Coast Guard Cutter Penobscot Bay helps break free tug Brooklyn from the ice on the Hudson River near Saugerties, New York, December, 31 2017. Coast Guard ice-breaking tugs from New Jersey and New York are positioned along the river and are assisting vessels transiting areas where thick ice is present. (U.S. Coast Guard photo courtesy of Coast Guard Cutter Penobscot Bay)
Temperatures have dropped below zero along the river recently, complicating commercial shipping between New York City and Albany. Of the heating oil used in the U.S., 85% is consumed in the Northeast, and 90% of that is delivered by barge, the Coast Guard said in a release announcing the start of ice-breaking season in mid-December.
Operation Reliable Energy for Northeast Winters is the region-wide effort launched by the Coast Guard to ensure communities in the area have supplies and resources throughout the winter.
The Coast Guard has ice-breaking tugs — including 140-foot seagoing icebreaking tugs and 65-foot small harbor tugs — positioned along the river to help vessels where the river ice is thick. Coast Guard crews also have the service's aircraft and buoy tenders on hand for operations.