Marine Corps System Command today gave defense industry representatives a glimpse of the service's new equipment wish list that includes lighter, more flexible body armor, more comfortable individual equipment and rifle barrels with built-in suppressors.
---
Col. Michael Manning, who oversees weapons and equipment programs for MCSC, told industry that Marine equipment is still not integrated as much as it could be.
It used to be that the Marine Corps selected weapons, accessories and equipment and just expected Marines to carry it, Manning told an audience at Modern Day Marine 2017.
"We said 'you know what, if it adds 10 more pounds, so be it. Get over it,'" Manning said. "It's time for all of you to help me stop getting over it. Ounces equal pounds, pounds equal pain.
"When you can throw it on top of an already 70- ton tank, then that is one thing. When you throw it on top of a 200 pound marine, it's completely another."
The U.S. Military has come a long way in the development of individual body armor in the past 20 years, Manning said.
"We have come a long way in the past five years, when it comes to technologies that can defeat multiple rounds," he said.
But ceramic rifle plates have not changed that much, Manning said.
"We have dropped ounces off of everything we carry, but we haven't dropped weight on ceramic plates," Manning said. "There are other technologies out there. Maybe we don't have to defeat threat whatever multiple times. Maybe it's only a one or two hit in this caliber."
Ceramic plates are also too rigid, Manning said.
"Our current plates — you can't shape them; you can't mold them to the individual Marine and we all know that," Manning said. "Let's get to the next step. Let's figure out how to mold them."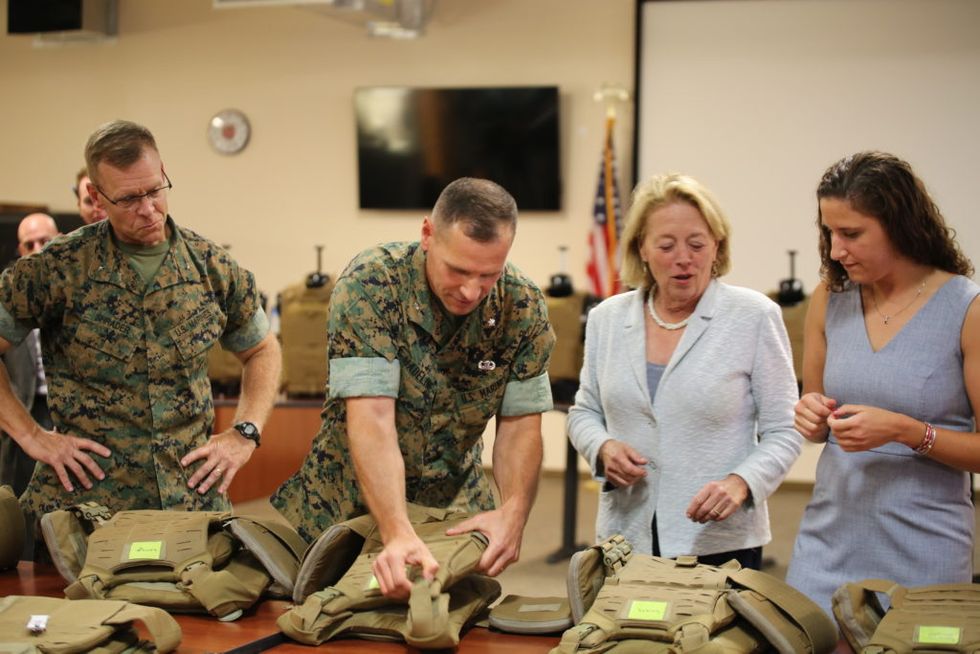 Massachusetts Congresswoman Niki Tsongas joins Marine Corps Systems Command acquisition experts aboard Marine Corps Base Quantico, Virginia, July 11, for a sneak peek at the latest gear for the 21st Century Marine. In a series of ongoing efforts, the Corps and the Army are collaborating to develop, test and deliver ever-better capabilities for Marines and Soldiers. From left: Brig. Gen. Joseph Shrader, MCSC commander; Lt. Col. Chris Madeline, program manager for Infantry Combat Equipment; Rep. Tsongas; and Mackie Jordan, an engineer in PM ICE. (U.S. Marine Corps photo by Emily Greene)
The Marine Corps also wants better knee and elbow pads, Manning said.
"The issue is not that we don't have them out there; the issue is Marines won't wear it if it's not comfortable or it falls off or it's a pain to get over top of everything they are already wearing," Manning said.
"They fall off, they slide around, so we tear ourselves apart."
Marines are also working on a Squad Common Optic.
"In the last 10 years we have done a lot of technology improvements, but what we haven't done is merge all of those improvements into singular optics," Manning said.
"So now we have infantry squads that are carrying multiple optics. We need to merge thermal, we need to merge I-squared, we need to merge all those technologies together" without adding extra weight.
The current technology for individual weapon suppressors also needs improving, Manning said, explaining that Marines need built-in suppressors.
"Get rid of the suppressor on the end of the barrel … so now when we have a 14.5 inch barrel or a 16 inch barrel, you just added four or five inches and I am right back to 20 inches," Manning said.
"There are a couple out there now that integrate with the weapons themselves, that is really where we want to go."