The US Navy made history on March 5, 2018, by putting to sea, for the first time ever, an aircraft carrier with F-35B jets.
---
And by deploying them in the Pacific, it's a message China and North Korea are sure to hear loud and clear.
The US Marine Corps's Fighter Attack Squadron 121 deployed aboard the USS Wasp, a smaller-deck aircraft carrier that used to operate harrier jump jets and helicopters before getting special modifications to field the F-35.
"This is a historic deployment," said Col. Tye R. Wallace, 31st MEU Commanding Officer in a US Navy press release. "The F-35B is the most capable aircraft ever to support a Marine rifleman on the ground."
The deployment marks the culmination of years of planning. Since its inception, the F-35 has been designed with the idea of accommodating short takeoff, vertical landing variants. Initially, the design compromises forced by the massive tail fan and unique capabilities caused complications, compromises, and long and expensive delays.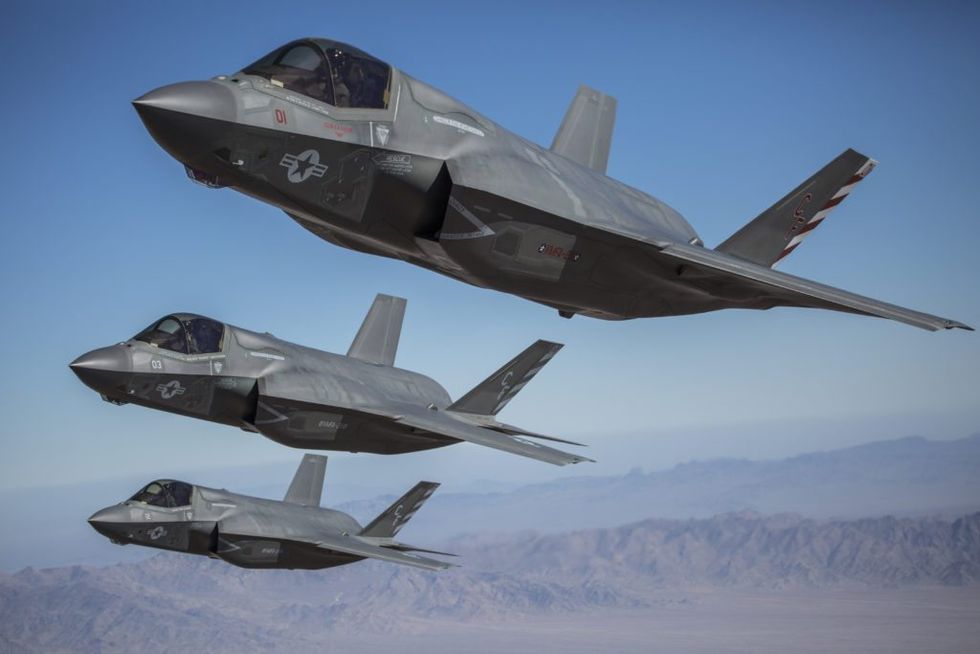 F-35B Lightning II aircraft assigned to Marine Fighter Attack Squadron (VMFA) 211, Marine Aircraft Group (MAG) 13, 3rd Marine Aircraft Wing (MAW). (U.S. Marine Corps photo by Lance Cpl. Becky Calhoun)
But the US has still beaten China, Russia, and the entire world to the punch with a navalized stealth fighter that can fight for air superiority, pull off precision strikes, penetrate enemy airspaces, and coordinate with the two US Navy guided-missile destroyers to guide ship-fired missiles to targets ashore.
The squadron aboard the Wasp has also trained heavily on a new set of tactics meant to keep the US dominant in the Pacific region. Leveraging the short-takeoff, vertical landing ability of the F-35B, the pilots and maintainers drilled on setting up improvised refuel and reloading points, and how to quickly restock the jet for battle, much like mechanics performing pit stops during NASCAR races.
Additionally, the F-35B has the option of equipping a gun and opening it up as a close-air-support platform to support Marines making a beach landing.
The result is a stealth fighter/bomber/reconnaissance jet well-suited to the Asia-Pacific region, which US adversaries, like China and North Korea, will be sure to recognize.
US competition in the region and around the world put on notice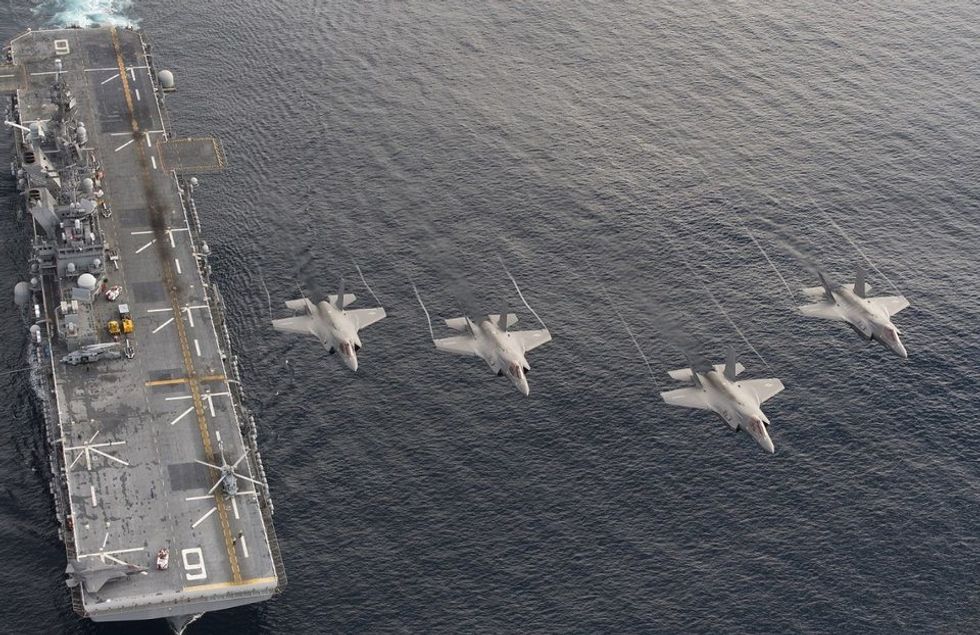 Four F-35B Lightning II aircraft perform a flyover above the amphibious assault ship USS America (LHA 6) during the Lightning Carrier Proof of Concept Demonstration. (US Navy photo by Andy Wolfe)
"You're about to put, for the first time ever, fifth-generation fighters on a ship at sea and put it into a highly contested area that is fraught with geopolitical risk and controversy and tensions," retired US Marine Corps Lt. Col. David Berke, a former F-35B squadron commander, previously told Business Insider.
"The implications of a fifth-generation airplane being in [the Pacific] is impossible to overstate," he added. "They're going to provide capability that nobody knows exists yet."
As Beijing pushes on with its massive land grab in the South China Sea by militarizing artificial islands, intruding in territorial waters of its neighbors, and performing increasingly aggressive fighter jet drills around the Pacific, the F-35B deployment gives the US an advantage in terms of air power at sea.
China has struggled to field its own stealth jets that many see as an answer to US air power in the region.
North Korea, not a powerful nation in terms of air power, will now feel the added pressure of stealth jets it cannot track sitting near its shores in Okinawa or on deployment around the region.
Here's a video of the F-35B landing vertically on the Wasp at sea:
Milestone for #NavyTheNationNeeds with a historic first: #F35B lands on #USSWasp, launching era of increased #USNavy-@USMC sea-based capabilities in Indo--Asian-Pacific - https://t.co/ba1ajyAZTQ pic.twitter.com/WMmSPHtMv5

— U.S. Navy (@USNavy) March 5, 2018