The Trump administration has agreed to delay joint military exercises with South Korea until after the Pyeongchang Winter Olympics next month, the Pentagon said Jan. 4.
---
A Pentagon spokesman, Col. Rob Manning, said President Donald Trump agreed to the delay in consultation with South Korean President Moon Jae-in.
"The Department of Defense supports the President's decision and what is in the best interest of the ROK-U.S. alliance," Manning said, referring to the U.S. defense treaty with the Republic of Korea.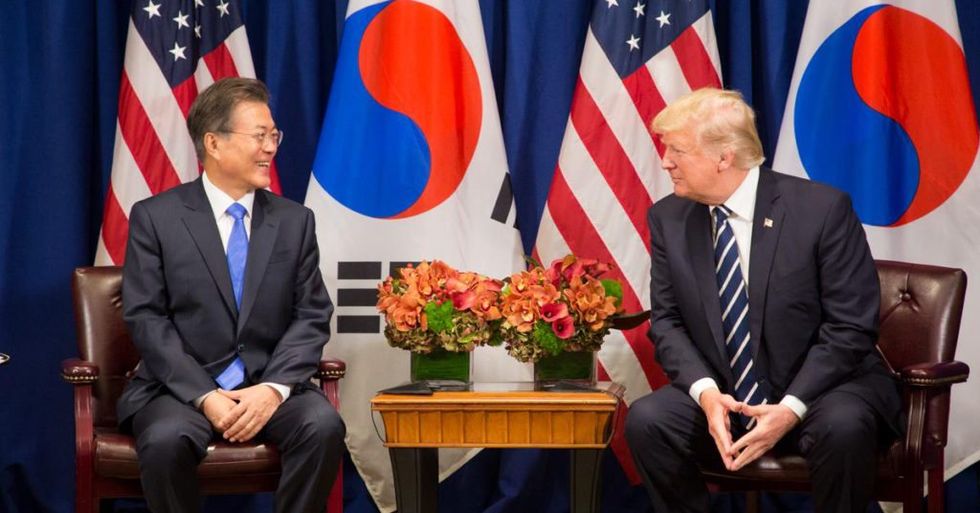 President Donald J. Trump and President Moon Jae-in of the Republic of Korea at the United Nations General Assembly (Official White House Photo by Shealah Craighead)
The decision pushes back a set of annual military exercises known as Foal Eagle, which normally are held between February and April. Foal Eagle is a series of exercises designed to test the readiness of the two countries' militaries. North Korea routinely objects to such maneuvers as a rehearsal for an invasion.
The Jan. 4 decision came as North Korean leader Kim Jong Un reopened a key cross-border communication channel with South Korea for the first time in nearly two years.
In a tweet early Jan. 4, Trump claimed his tough stance on nuclear weapons on the Korean Peninsula is helping push North Korea and South Korea to talk.
Trump tweeted, "Does anybody really believe that talks and dialogue would be going on between North and South Korea right now if I wasn't firm, strong, and willing to commit our total 'might' against the North."
Earlier this week, Trump seemed open to the possibility of an inter-Korean dialogue after North Korean leader Kim Jong Un made a rare overture toward South Korea in a New Year's address. But Trump's ambassador to the United Nations insisted that talks won't be meaningful unless the North is getting rid of its nuclear weapons.
The overture about talks came after Trump and Kim traded more bellicose claims about their nuclear weapons.
In his New Year's address, Kim repeated fiery nuclear threats against the U.S. Kim said he has a "nuclear button" on his office desk and warned that "the whole territory of the U.S. is within the range of our nuclear strike."
Trump mocked that assertion Tuesday evening, tweeting: "Will someone from his depleted and food starved regime please inform him that I too have a Nuclear Button, but it is a much bigger & more powerful one than his, and my Button works!"