The Air Force has been struggling for years to correct its pilot shortage, but it has also been dealing with a protracted shortfall of maintainers — the airmen who keep planes flightworthy.
---
Although the Force has significantly reduced its maintainer shortage, it now faces the daunting task of training the new recruits up to the levels of knowledge and experience the Force needs. That takes considerable time.
Air Force Chief of Staff Gen. David Goldfein said, in Nov. 2017, that the lack of maintainers was having a noticeable effect on air operations.
Whereas in years past, a pilot would have multiple maintainers on hand for aircraft prep, takeoff, and landing, now, Goldfein said, pilots often have to "taxi slow, because the same single-crew chief that you met has to ... drive to the end of the runway to pull the pins and arm the weapons."
"Then, you sit on the runway before you take off and you wait, because that crew chief has to go jump on a C-17 with his tools to fly ahead to meet you at the other end," he added. "This is the level of numbers that we're dealing with."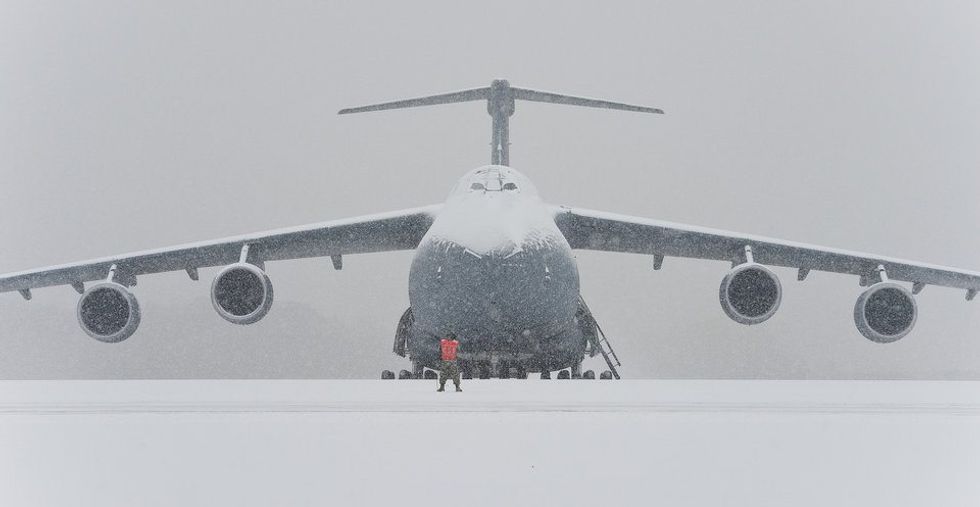 An aircraft maintainer on the flight line in front of a snow-covered C-5M Super Galaxy, at Dover Air Force Base, Delaware, January 6, 2015. (US Air Force)
The maintainer shortage has been a problem for some time and was exacerbated by the drawdown in 2014, which grew the shortage by 1,200 airmen. At the end of fiscal year 2015, the force was short some 4,000 maintainers.
The shortages fell especially hard on the most experienced airmen — 1,900 maintainers at the 5- and 7-skill levels were absent. Maintainers at that level work on the Air Force's advanced aircraft, like the F-35, and those with the most experience were left working 50- to 60-hour weeks to keep aircraft in flying shape.
The Air Force tries to keep deployed units at full strength, meaning the personnel shortage was felt acutely among squadrons in the US.
The force rolled out a number of enticements to keep airmen on the flight line. By the end of fiscal year 2016, that shortage shrunk to 3,400 maintainers. By the end of fiscal year 2017, the official tally was down to 400.
"So we've been getting well" in terms of maintainers, Air Force Secretary Heather Wilson said at a Heritage Foundation event last week.
Wilson said in mid-February 2018 that the shortage had fallen to 200 maintainers— though Air Force spokeswoman Erika Yepsen told Business Insider the number can change throughout the year based on the force's personnel numbers and needs.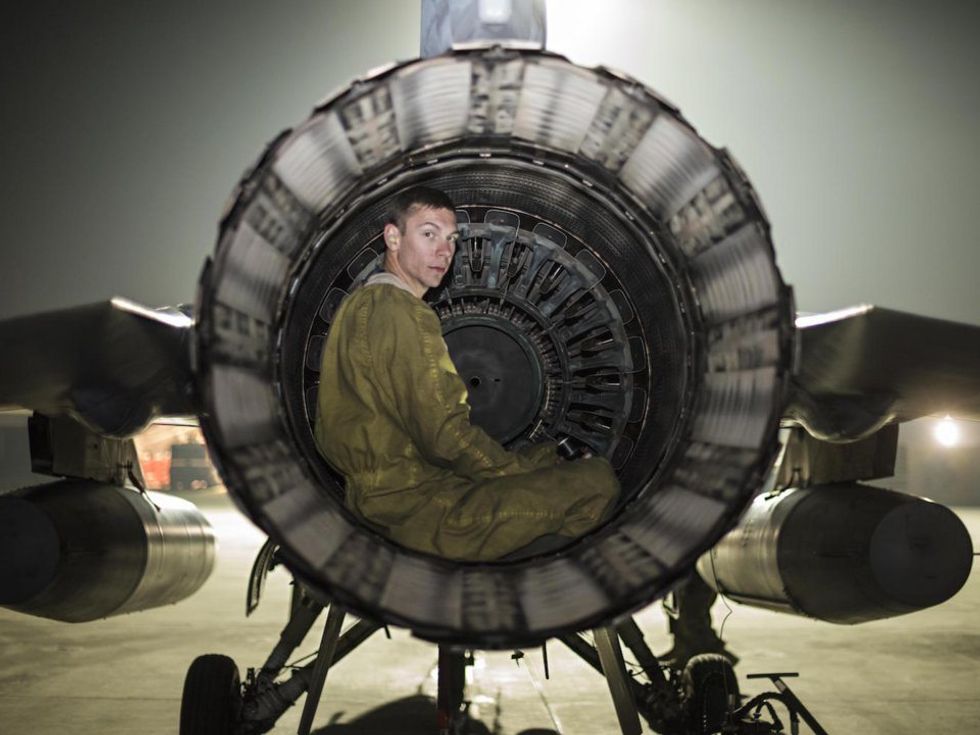 Senior Airman Daniel Lasal performs a post-flight inspection on an F-16 at Bagram Airfield, Afghanistan, November 15, 2016. (US Air Force by Staff Sgt. Katherine Spessa)
Wilson added at the Heritage Foundation that simply adding airmen won't solve the problem created by shedding experienced maintainers.
New, 3-skill level maintainers usually take five to seven years to get fully experienced.
"You go from being an apprentice to a craftsman to a master craftsman," Wilson said. "So, we have a deficit in those craftsmen, and so we're looking at different ways to be able to accelerate the learning of those young maintainers."
"There's only so much you can do to really learn and master your craft, but we're almost well in terms of numbers, really now it's about seasoning that force and getting them to the level of being craftsmen," she added.
To help accelerate training, the Air Force is going to the boneyard — the aircraft storage facility at Davis-Monthan Air Force Base in Arizona. The boneyard (there is more than one) provides long-term storage for mothballed or unused aircraft — the force has scavenged parts from there to keep its largest plane, the C5 Galaxy, in the air.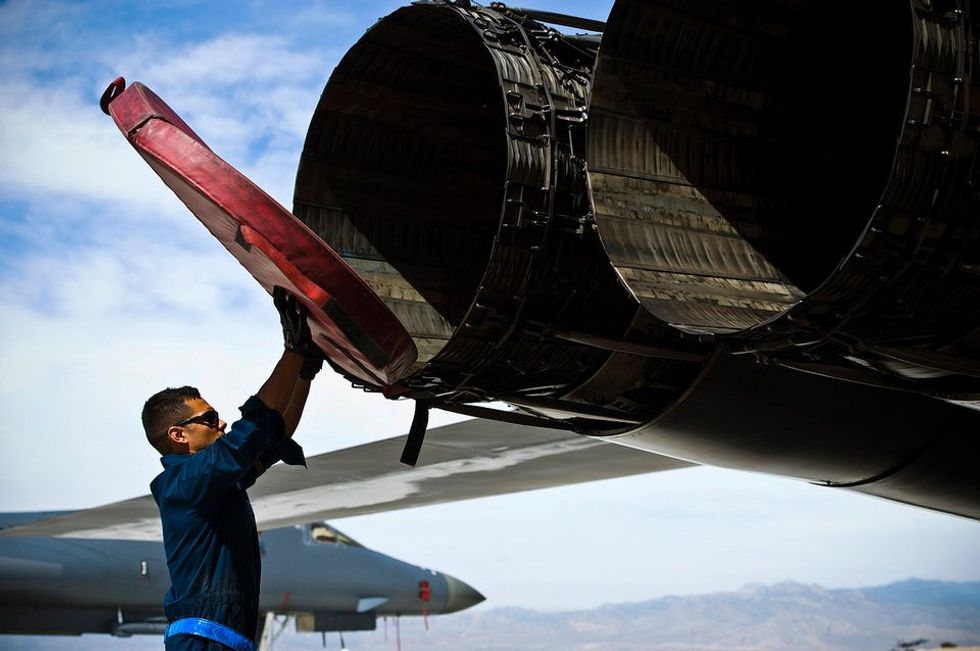 Staff Sgt. Kevin Colon removes exhaust covers from a B-1B Lancer at Nellis Air Force Base, Nevada, May 21, 2013. (U.S. Air Force)
According to Air Force Times, the force will start pulling F-15s and F-16s from the facility to provide training aircraft for the new maintainers and weapons-loaders. Those planes won't fly, but they will act as high-tech guinea pigs for aircrews training to work on active combat aircraft. This will also keep the Air Force from having to take active aircraft out of service for training.
The Air Force has also brought in civilian contractors to take over some responsibilities — like washing aircraft and instruction — to free up time for maintainers to train.
"Every jet that I can relieve and put back on a flying schedule instead of being a ground instructional trainer, that has second- and third-order return on investment," Col. Michael Lawrence, head of the Air Force's maintenance division, told Air Force Times in December 2017.
"When you move jets from one place to another in a maintenance group complex, that drives a level of effort," Lawrence added. "When we can park a jet down there on a permanent basis, that is a training asset."