On Oct. 6, Marvel made a huge announcement on Twitter, and fans are not happy.
---
Marvel Entertainment is joining forces with Northrop Grumman, an American global aerospace and defense technology company, and the world's fifth-largest defense contractor.
We don't know much yet, but it looks like there will be a promotional comic featuring the Avengers and "Northrop Grumman Elite Nexus," or N.G.E.N.
Marvel and @northropgrumman join forces! Come check out the #MarvelNYCC booth tomorrow at 3pm EST. pic.twitter.com/pb5V1tj19L

— Marvel Entertainment (@Marvel) October 6, 2017
The arms manufacturer generates over 20 billion dollars in revenue a year. Marvel Entertainment didn't reveal anything more about the partnership, and to learn more the company encouraged fans to head to their New York Comic Con booth on Saturday afternoon.
The partnership comes as a surprise to many Marvel fans. Tony Stark/Iron Man, one of Marvel's most popular characters, stops selling weapons (his family's long-time business) because he realizes he's not saving lives, he's destroying them. For sensitivity reasons following the Las Vegas shootings, Marvel pulled its NYCC panel for "The Punisher," and canceled screenings of the first two episodes.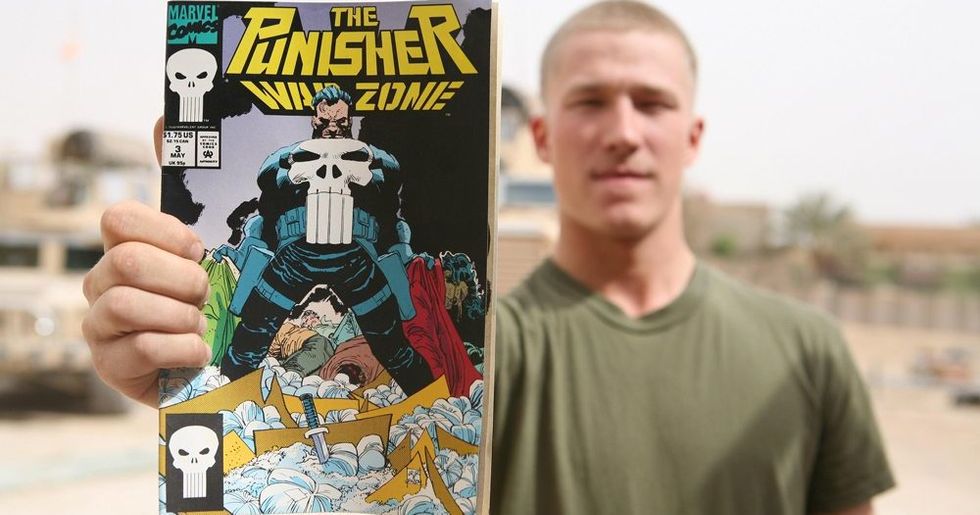 Lance Cpl. Brandon M. Barnes, 21, a team leader from Fairbanks, Ala., assigned to I Company, 3rd Battalion, 4th Marine Regiment, Regimental Combat Team 5, holds out one of the comic books that Marines pass out to Iraqi children at in Hit, Iraq, April 10. Barnes' uncle and mom sent him packages with comic books in them. Barnes decided to hand out the comics he doesn't read to the kids in the city. Before Marines give them away, he scans the comics for any pictures that may be offensive to the Iraqi people. (Photo/Cpl. Erik Villagran)
Many lauded Marvel's decision to cancel The Punisher screenings, but fans don't seem pleased with the new Northrop Grumman partnership, and some took to Twitter to express their opinions on the matter:
Hey y'all remember how Tony Stark stopped selling weapons because he realized he was contributing to global human misery?

— Ghoulfrey🦇 Macabre (@geoffamarshall) October 6, 2017
This sucks and is a super disturbing partnership. You're partnering with war mongering weapon merchants that are villains in your movies.

— It's KFG (@KungFu_Grip) October 6, 2017
can you literally not

— twiter user (@jonnyricers) October 6, 2017
this is depressing - way to partner with war profiteers

— ManInTheIronedShirt (@caylenb) October 6, 2017
— Mike The Scalekeeper (@FizzVsTheWorld) October 6, 2017
The full details of the partnership are unknown, but more should be revealed on Saturday at NYCC.