The US Navy on Sept. 23 will christen the USS Tripoli (LHA-7), its latest America-class amphibious assault ship that will pack Osprey helicopters, F-35 fighters, and thousands of Marines for rapid deployment from sea to shore.
---
Lynne Mabus, the wife of former Secretary of the Navy Ray Mabus, will break the ceremonial bottle of wine across the bow of the 844-foot warship during a ceremony at Huntington Ingalls Industries in Pascagoula, Mississippi.
Once it hits the fleet around 2018, the Tripoli will join the USS America (LHA-6) on the high seas, with the pair of ships packing unique capabilities among the expected total 11 ships of this class. Besides their power-plant and technology upgrades, the Tripoli and America will not have a well deck for launching small boats filled with Marines to the shore.
Instead, the ships are "optimized for aviation capability" — giving them larger hangar decks to store more aircraft, enhanced aircraft-maintenance facilities, more storage for onboard jet fuel, and more high-tech intelligence, surveillance, and reconnaissance capabilities.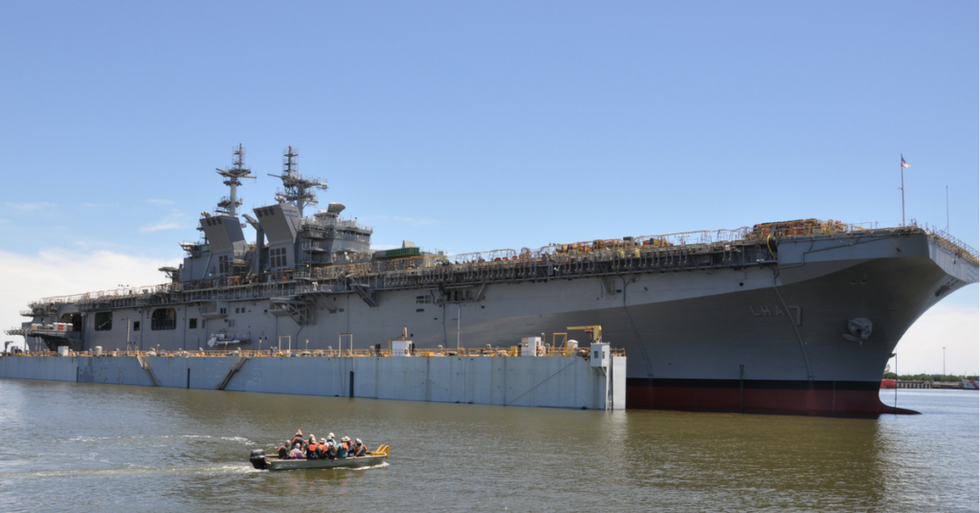 The future USS Tripoli (LHA 7) is launched at Huntington Ingalls Industries. Tripoli was successfully launched after the dry-dock was flooded to allow it to float off for the first time. Tripoli incorporates an enlarged hangar deck, enhanced maintenance facilities, increased fuel capacity and additional storerooms to provide the fleet with a platform optimized for aviation capabilities. The ship is planned to be christened in 2017 with delivery planned for late 2018. (U.S. Navy photo/Released)
"The idea is rapid mobility air assault," Capt. Michael Baze told US Naval Institute News. "So the thinking with me and my Marines right now is, lighter companies, people that can move quickly via the (MV-22) Osprey and the (CH-53Es)."
The Tripoli will also be the first LHA "fully ready to integrate the entire future air combat element of the Marine Corps," including the F-35B, capable of short takeoffs and vertical landings.
With its aviation-focused capability to deploy Marines, the Tripoli and America allow more standoff from potential hotspot areas.
"I don't have to worry about force protection for my ship as much because I don't have to get two and three miles off the beach to deploy my Marines" on small boats, Baze said. "The truth is, I'm over 100 miles right now — we could deploy the Marines from here."
This will be the third Navy ship to bear the name Tripoli, which commemorates the 1805 Battle of Derna, in which US Marines defeated the Barbary pirates in Libya. The victory is also memorialized in the "Marines' Hymn" with the line "from the halls of Montezuma to the shores of Tripoli."
The Tripoli will be able to hit a speed of about 20 knots, with an approximate displacement of 45,000 tons.