An Argentinian submarine is missing at sea.
---
The ARA San Juan, with 44 crew members on board, disappeared on Nov. 15, about 270 miles off the southern tip of South America.
NASA has been trying to help find the 216-foot sub from the sky. And now the U.S. Navy is sending support to locate and rescue the ship from the sea.
The U.S. Southern Command said Nov. 19 it's sending a Submarine Rescue Chamber, designed during WWII, which can reach a submarine submerged up to 850 feet, and bring up to six people at a time back to the surface. A Pressurized Rescue Module, which can rescue up to 16 people at a time, and a Remotely Operated Vehicle are also on their way.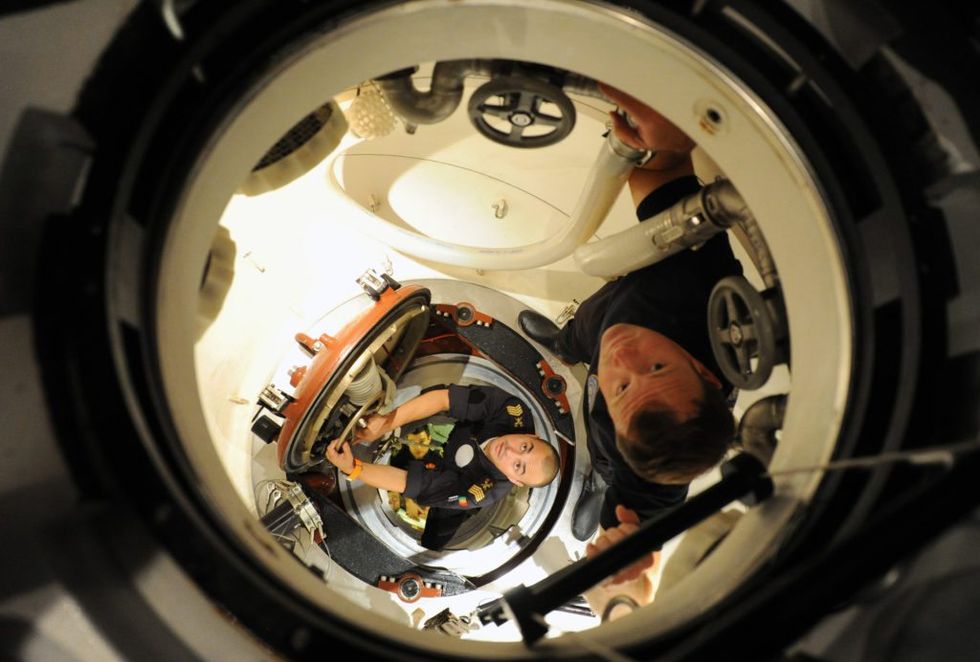 Personnel assigned to the Portuguese navy submarine SKS Tridente climb down to their submarine after mating with the U.S. Submarine Rescue Diving and Recompression System's Pressurized Rescue Module, Falcon, during the NATO exercise Bold Monarch 2011. Bold Monarch is the world's largest submarine rescue exercise with participants and observers from more than 25 countries. The 12-day exercise supports interoperability between submarine rescue units. (Image DVIDS)
On Nov. 18, the missing crewmembers tried to make seven satellite calls, Argentine defense minister Oscar Aguad said. But stormy weather in the southern Atlantic likely blocked the calls from going through.
Argentine navy spokesman Enrique Balbi said the crew should have enough food and water aboard, in order to wait out the choppy seas and 20-foot waves until they are found, according to Reuters.
The working theory is that an electrical outage knocked out the ship's communications. Submarines are supposed to surface if that happens.
The families of the crewmembers are anxiously awaiting news of the missing submarine.
"Yesterday's news was something of a respite for us, to know that there is life," Claudio Rodriguez, whose brother is on the San Juan, told local TV channel A24 Sunday morning.