Auburn superstar is expected to be a Top 10 NFL Draft pick. He's also an Army brat.
While the NFL Draft this year might look a little different courtesy of the pandemic, the level of talent, anticipation and excitement we've come to expect remains the same, even if it will be done from the basement of current NFL commissioner, Roger Goodell. (But first, let's raise a quick toast to this moment of gratitude we're all experiencing just from having something sports-related to talk about again). And in this year's NFL Virtual Draft, there's no one we're more excited to watch than Army brat Derrick Brown.
---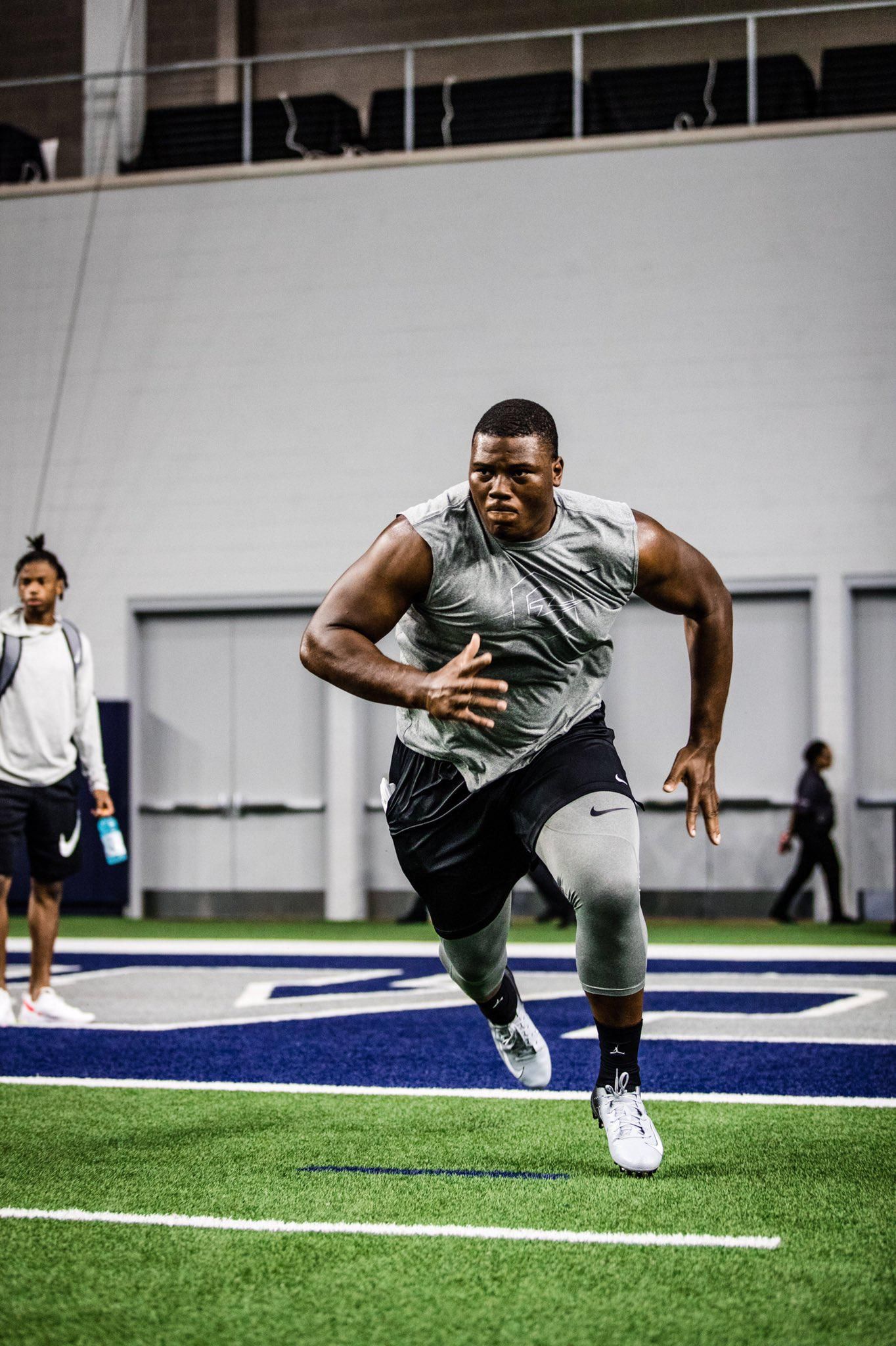 Sure, this is the first (and hopefully only) time the NFL is hosting a virtual draft but we've played in enough fantasy football leagues to know that at the end of the day, it doesn't really matter where you pick your team from (in this case it might be in a coach's family room or kitchen). It's all about who ends up on your roster before that first kick off.
There is so much talent in this year's pool. Of course you've got Heisman Trophy winner and LSU standout Joe Burrow, who passed for over 5,600 yards with 60 touchdowns - the most TDs in a single season in NCAA history. No one will be a bit surprised if he goes first to the Bengals -- really, the bigger shock would be if he
wasn't
the number one pick. Ohio State juniors Chase Young and Jeff Okudah are two of the best defensive prospects this year. In fact, you've got a lot of great juniors this year:
Tua Tagovailoa
out of Alabama, Clemson's
Isaiah Simmons
, Tristan Wirfs from Iowa. All excellent picks.
All things considered -- talent, integrity, character and commitment -- Auburn's Derrick Brown is our top pick to watch. At 6'5" and 317 pounds, he looks like a Marvel superhero, and on the field he definitely acts like one. His football credentials stand on their own: U.S. Army All-American Bowl Defensive Player of the Year. Georgia Sports Writers Association Player of the Year as a high school senior with 106 tackles, 42 for loss, and 12 sacks at Lanier High. Played in all 13 games as a true freshman (11 tackles, 1.5 for loss) and then became a full-time starter for the Tigers in 2017 (56 tackles, nine tackles for loss, 3.5 sacks, two forced fumbles in 14 games). SEC coaches voted him second-team all-conference in 2018, when he started all 13 games, compiling 48 tackles, 10.5 tackles for loss, 4.5 sacks and two pass breakups from the middle of Auburn's defense. First-team Associated Press All-American, first-team All-SEC honors and finalist for the Chuck Bednarik Award and Outland Trophy after posting 55 tackles, tying for the team lead with 12.5 tackles for loss, collecting four sacks and four pass breakups and causing two fumbles.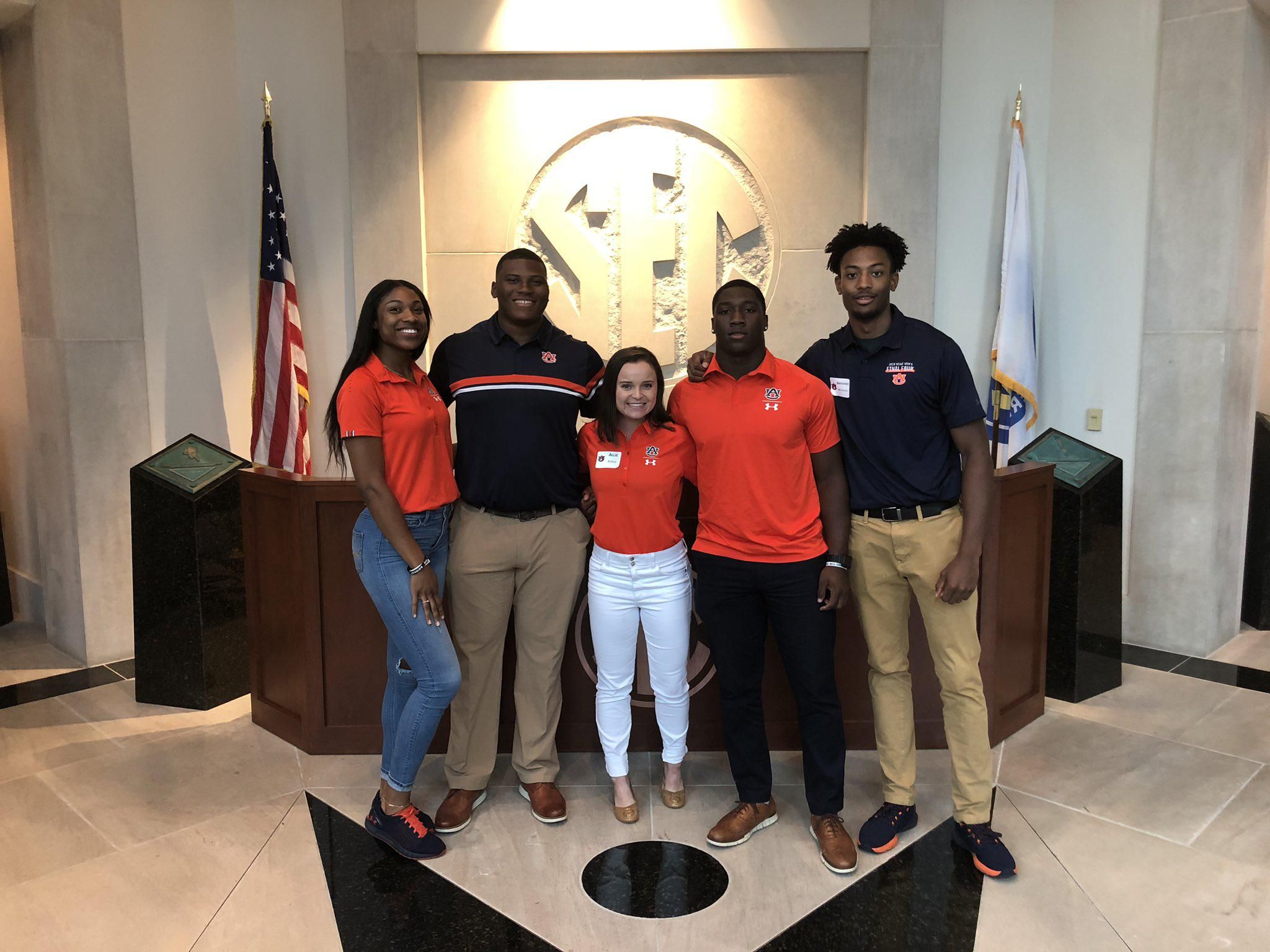 Brown with the SEC's Student Leadership Council.
Derrick Brown - Twitter
Simply put: Brown is a beast.
But there's so much more to him than just football. Brown is also a servant leader, being selected to the SEC's Student Leadership Council in 2017. Most impressively, Brown won the 2019 Lott IMPACT Trophy, which goes to the defensive player who has the biggest IMPACT (Integrity, Maturity, Performance, Academics, Community and Tenacity).
Sure, Brown honed those skills on the field, but it started at home. Brown's father served in the Army as a paratrooper before becoming a Law Enforcement Officer.
See the impact his father's service had on him here in a video produced by USAA:
Good luck, Derrick! Military families everywhere are cheering for you.