Tactical
March 21, 2018 12:07:43 EST
How many carriers does the United States Navy have? Well, between the ten Nimitz-class nuclear-powered aircraft carriers and the freshly commissioned USS Gerald R. Ford (CVN 78), the first of her class, you might think the answer is 11 — but you'd be underestimating. There are nine other ships in the fleet that can serve as carriers in a pinch.
---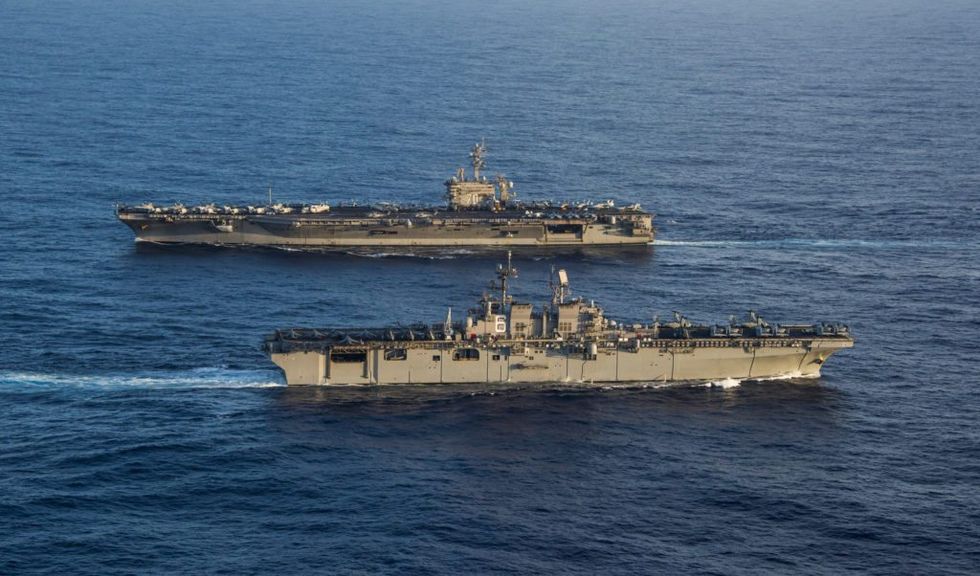 While USS Carl Vinson (CVN 70) may be what people imagine when they think of aircraft carriers, USS America (LHA 6) would be no slouch in an emergency. (U.S. Navy Photo by Mass Communication Specialist 2nd Class Sean M. Castellano)
Those are the eight Wasp-class amphibious assault ships and the single America-class vessel in service. Their primary role, currently, is to carry about a battalion's worth of Marines and attachments, usually in conjunction with an amphibious transport dock, like USS San Antonio (LPD 17), and a landing ship dock, like USS Whidbey Island (LSD 41). But these massive ships are actually much more versatile.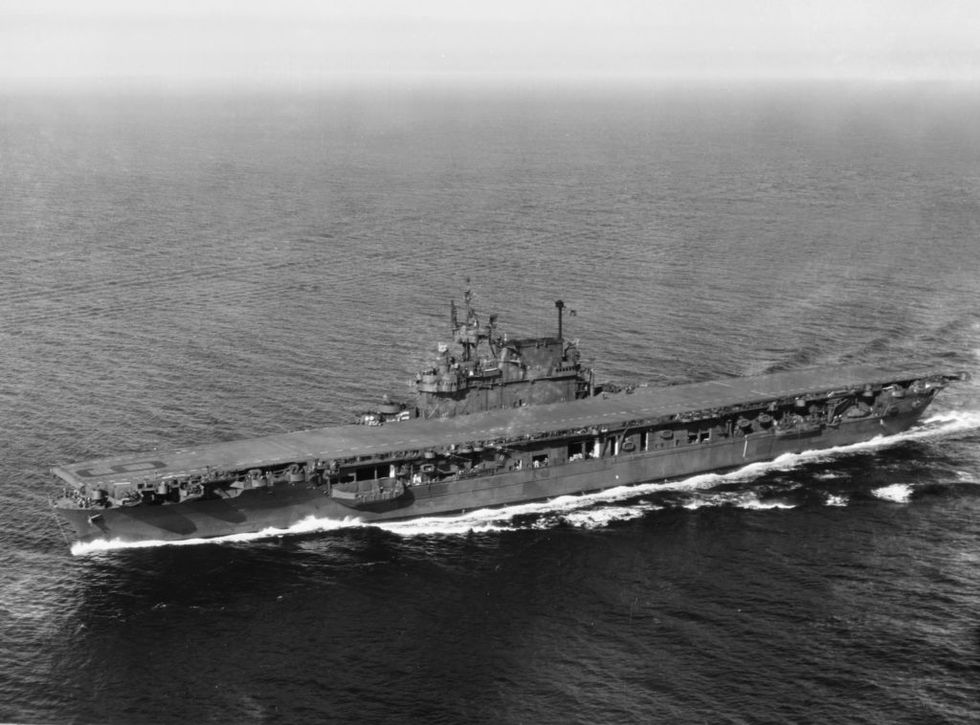 Take a look at the United States Navy's greatest warship of World War II, USS Enterprise (CV 6). What modern ship does she look like? (US Navy photo)
Just look at a ship like USS America. What does she look like? Well, there's a flat deck all the way down the ship and an island on the right. In fact, if you were to take a look at perhaps the greatest U.S. Navy ship of World War II, the aircraft carrier USS Enterprise (CV 6), you may notice a striking similarity.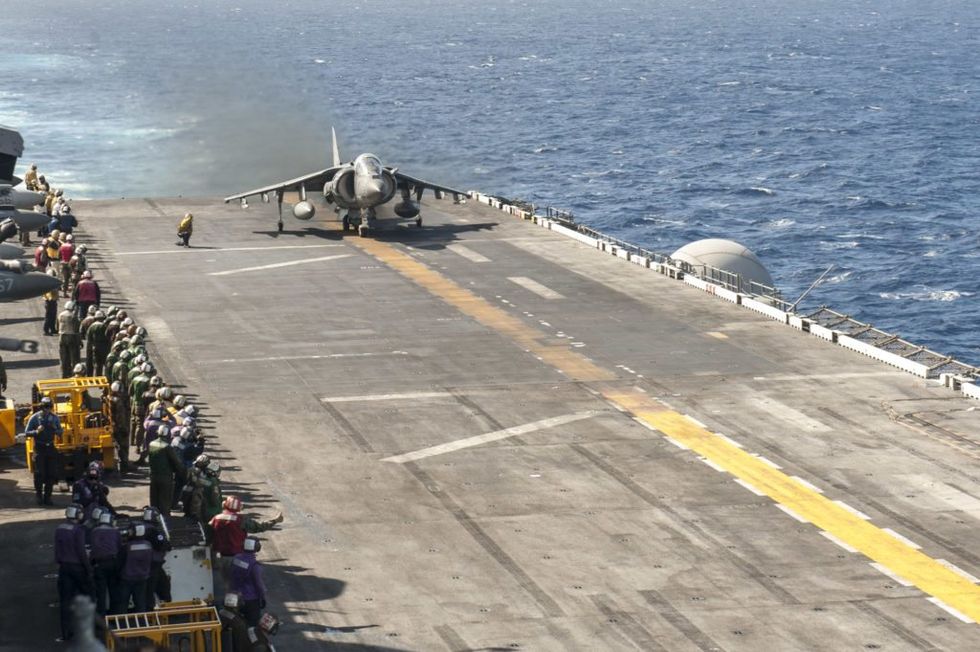 The AV-8B Harrier is a key part of the Air Combat Element of a Marine Expeditionary Unit, but never forget it is a V/STOL multi-role fighter. (U.S. Navy photo by Mass Communication Specialist 3rd Class Vance Hand)
Today, USS America, as well as her Wasp-class predecessors, haul around the Air Combat Element of a Marine Expeditionary Unit. In Tom Clancy's 1996 book, Marine: A Guided Tour of a Marine Expeditionary Unit, the 26th Marine Expeditionary Unit was equipped with six AV-8B Harriers, twelve CH-46 Sea Knight helicopters, eight CH-53E Sea Stallion helicopters, eight AH-1W Cobras, and three UH-1N Hueys for a deployment. That is a total of 37 aircraft.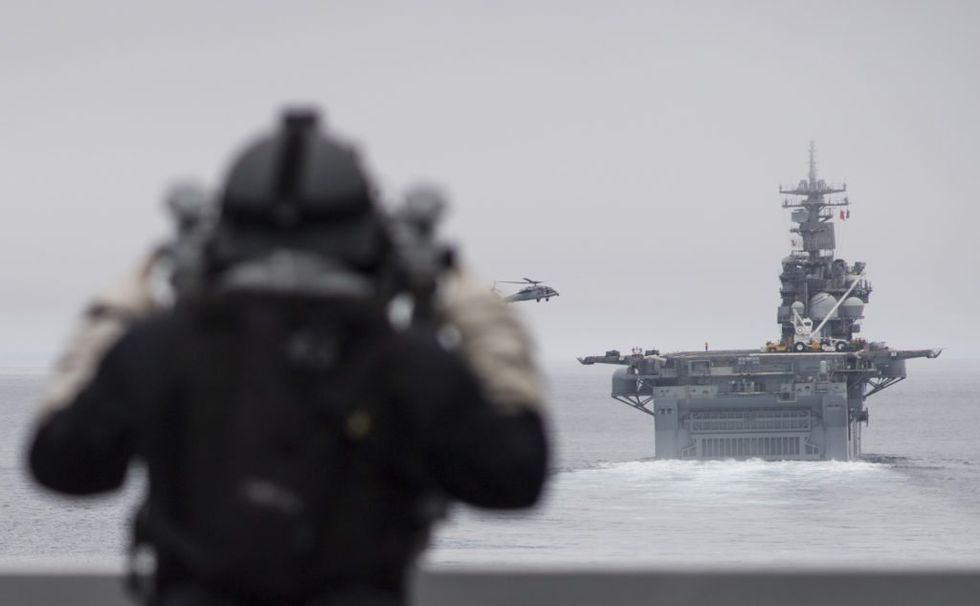 Looking at USS Essex (LHD 2) from behind, her resemblance to World War II aircraft carriers is undeniable. (U.S. Navy photo by Mass Communication Specialist 3rd Class Ryan M. Breeden)
But imagine for a moment that you were able to mess around with the numbers a little. First, let's offload all of the helicopters. Instead, let's put an entire squadron of 15 Harriers on board, or offload the six Harriers in favor of a squadron of 16 F-35B Lightnings. Next, let's add about a dozen of the Navy's MH-60R Seahawk helicopters. And presto, you now have an air group on board that is outclassed only by the air groups on the French Charles de Gaulle and the U.S. Navy's Nimitz- and Ford-classes of carriers.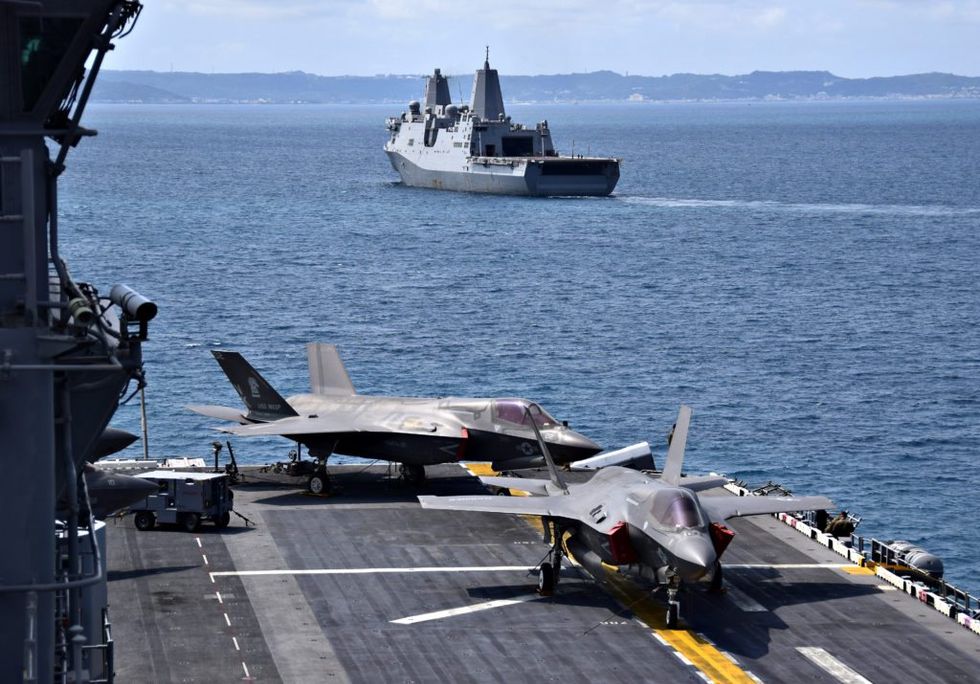 The F-35Bs lined up for takeoff on USS Wasp (LHD 1) are potent. Imagine if Wasp was hauling a full squadron of them. (U.S. Navy photo by Mass Communication Specialist 1st Class Daniel Barker)
Because the America and the Wasp were designed to haul Marines around, they're not going to perform as well as a full-scale carrier. They'll also have a much more limited capacity than their larger counterparts. But they could fill in somewhere in a pinch. In essence, they are "backup carriers" and you never know when having those backups might save America's butt.
Related Articles Around the Web