Tactical
September 22, 2017 06:34:05 EST
The fact that there are some private air forces out there flying fighters to train American (and other) pilots may be a surprise. But did you know that there's also a company that built its own tanker fleet?
---
Omega Air Refueling has been around for nearly 20 years and claims to be the only company that does commercial aerial refueling. The company was formed in 1999 as a subsidiary of Flight International prior to becoming independent in 2004, and has flown over 5,000 refueling missions since its formation.
According to company reps at the 2017 AirSpaceCyber expo at National Harbor, Maryland, those 5,000 missions have included over 21,000 refueling "plugs" involving over 12 million gallons of fuel.

The Omega 707 tanker. (Omega Air Refueling photo)
The first plane the company acquired was a Boeing 707-300 that used to fly for Pan Am. Since then, it acquired two other 707s (losing one in a 2012 crash), and a DC-10. The company has not only provided commercial aerial refueling services to the United States Navy, but it also has helped Australian and British forces make long-range deployments.
Omega's KDC-10. (Omega Air Refueling photo)
All of Omega's tankers use the probe-and-drogue system of refueling. The 707s and the DC-10 trail drogues at the end of hoses. Planes equipped with a refueling probe then fly in, and plug the probe into the drogue to refuel. This can lead to close calls, like some that WATM reported on.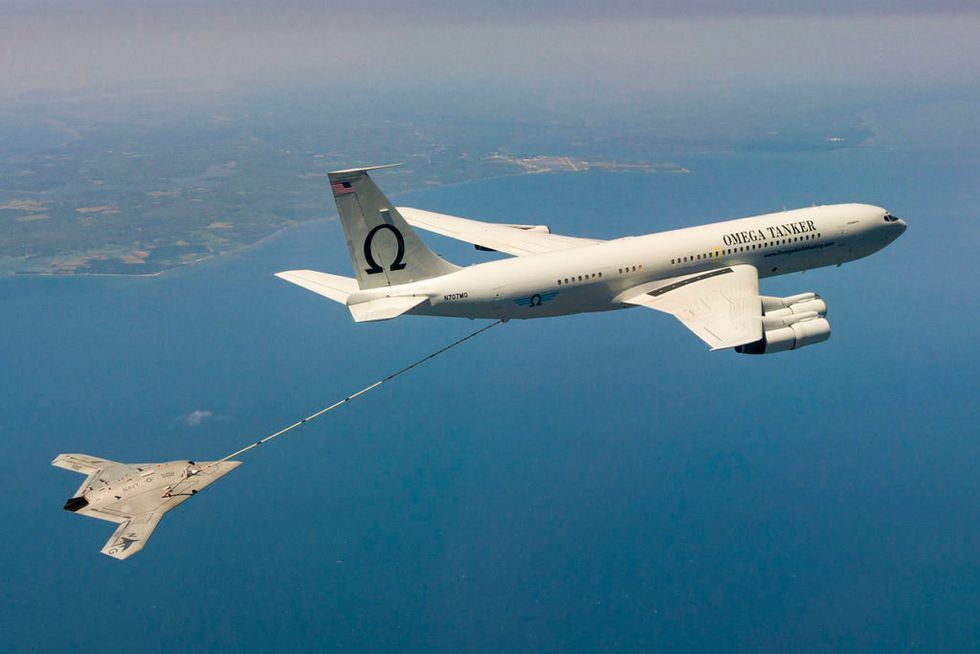 An Omega 707 refuels the X-47B over the Atlantic Ocean. (US Navy photo)
The company's planes were used to help certify the Navy's X-47 unmanned combat air vehicle for mid-air refueling. In 2010, Omega helped to fill in when Airbus missed a deadline to deliver KC-30s to the Royal Australian Air Force (the company also turned to the United States Air Force).

A plane comes in to refuel from Omega's KDC-10. Note the drogue at the end of the fuel hose. (Omega Air Refueling photo)
Ironically, while the company was founded to help support the Navy and Marine Corps, many of its tanker pilots come from the United States Air Force, which operates KC-135 and KC-10 tankers.