Articles
June 05, 2017 16:45:44 EST
The stars are aligning and it's looking more and more like the Army is working to outfit many of its soldiers with a battle rifle in a heavier caliber than the current M4.
---
Late last month, the service released a request to industry asking which companies could supply the service with a commercially-available rifle chambered in the 7.62x51mm NATO round, a move that many saw coming after rumblings emerged that the Army was concerned about enemy rifles targeting U.S. troops at greater ranges than they could shoot back.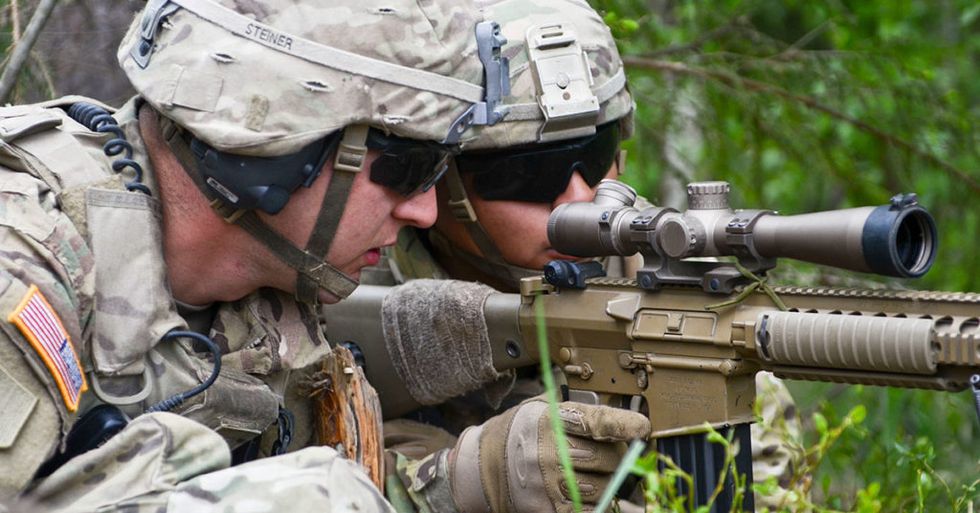 Spc. Artemio Veneracion (back), an infantryman with Eagle Troop, 2nd Squadron, 2nd Cavalry Regiment, informs his team leader, Sgt. Ryan Steiner, that he has acquired his target with his M110 Semi-automatic Sniper System (SASS) during a Squad Training Exercise (STX) at Tapa Training Area in Estonia, May 26, 2016. (U.S. Army photo by Staff Sgt. Steven M. Colvin)
It now seems that fear has shifted in favor of fielding a rifle that can fire a newly developed round that is capable of penetrating advanced Russian body armor — armor defense planners feel is more available to enemies like ISIS and terrorist organizations.
In late May, the Army released a so-called "Request for Information" to see if industry could provide the service with up to 10,000 of what it's calling the "Interim Combat Service Rifle."
Chambered in 7.62x51, the rifle must have a barrel length of 16 or 20 inches, have an accessory rail and have a minimum magazine capacity of 20 rounds, among other specifications.
The rifle must be a Commercial Off The Shelf system readily available for purchase today," the Army says, signaling that it's not interested in a multi-year development effort. "Modified or customized systems are not being considered."
But what's particularly interesting is that the ICSR must have full auto capability, harkening back to the days of the 30-06 Browning Automatic Rifle or the full-auto M14. Analysts recognize that few manufacturers have full-auto-capable 7.62 rifles in their portfolio, with H&K (which makes the HK-417) and perhaps FN (with its Mk-17 SCAR) being some of the only options out there.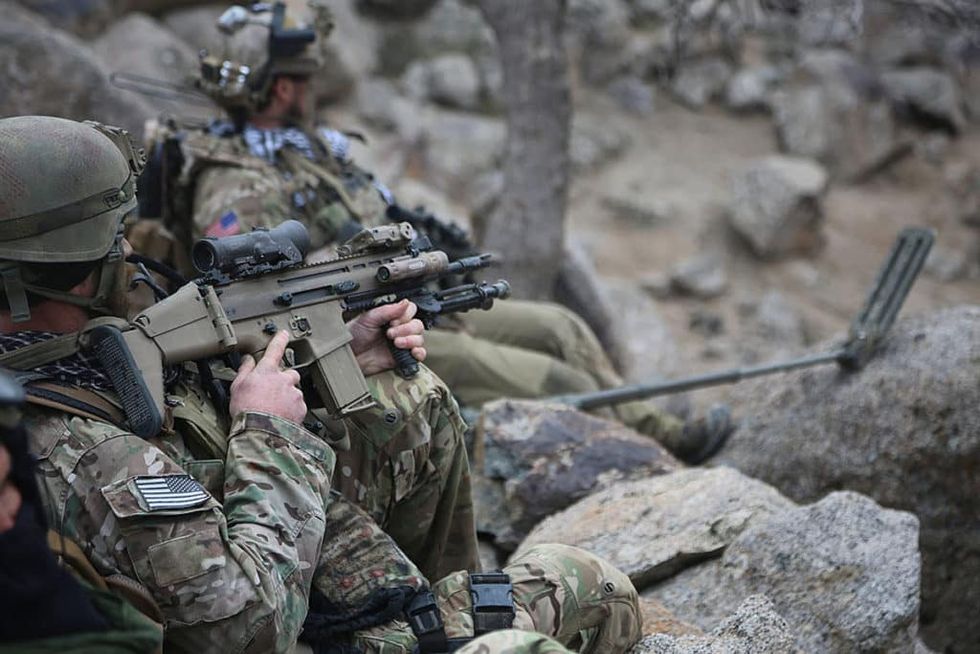 A Special Forces soldier takes a rest during a patrol in Afghanistan. The Army is considering outfitting its front-line troops with a 7.62 battle rifle like this Mk17 SCAR-H. (Photo from US Army Special Operations Command)
While the Army is already buying the Compact Semi-Auto Sniper System from H&K, that's not manufactured with a full-auto option.
Under Chief of Staff Gen. Mark Milley, the Army is focusing on near-peer threats like China and Russia and starting to develop equipment and strategies to meet a technologically-advanced enemy with better weapons and survival systems. Milley also has openly complained about the service's hidebound acquisition system that took years and millions of dollars to adopt a new pistol that's already on the commercial market — and he's now got a Pentagon leadership that backs him up, analysts say.
"The U.S. military currently finds itself at the nexus of a US small arms renaissance," Soldier Systems Daily wrote. "Requirements exist. Solutions, although not perfect, exist. And most of all, political will exists to resource the acquisitions."