February 05, 2018 16:19:44 EST
Britain's royals are guarded by the best London's Metropolitan Police have to offer — a special unit known as Protection Command. These officers, trained as armed bodyguards for the royal family, can often be seen escorting the Queen, Prince Philip, and other members of the family with steely gazes in blacked-out Land Rovers.
---
However, especially in this day and age of modern terrorism, there will likely be situations in which Protection Command finds itself hard-pressed to deal with appropriately on their own. That's when the British Army steps up to the plate with the most elite soldiers they have to offer — the men of the Special Air Service, the oldest active special missions unit in the world.
Should the unthinkable happen where Protection Command's agents find themselves overrun and outgunned in a fight against terrorists, hostage-takers, or other hostiles, the SAS is prepared to mobilize at a moment's notice, arriving on-site, locked and loaded to end the situation decisively.
Though the British military and those charged with guarding the royals don't particularly see such an incident happening anytime soon (or at all, for that matter), the British Army still rigidly maintains that informing and demonstrating their procedures to members of the royal family is an extremely important step in keeping them safe.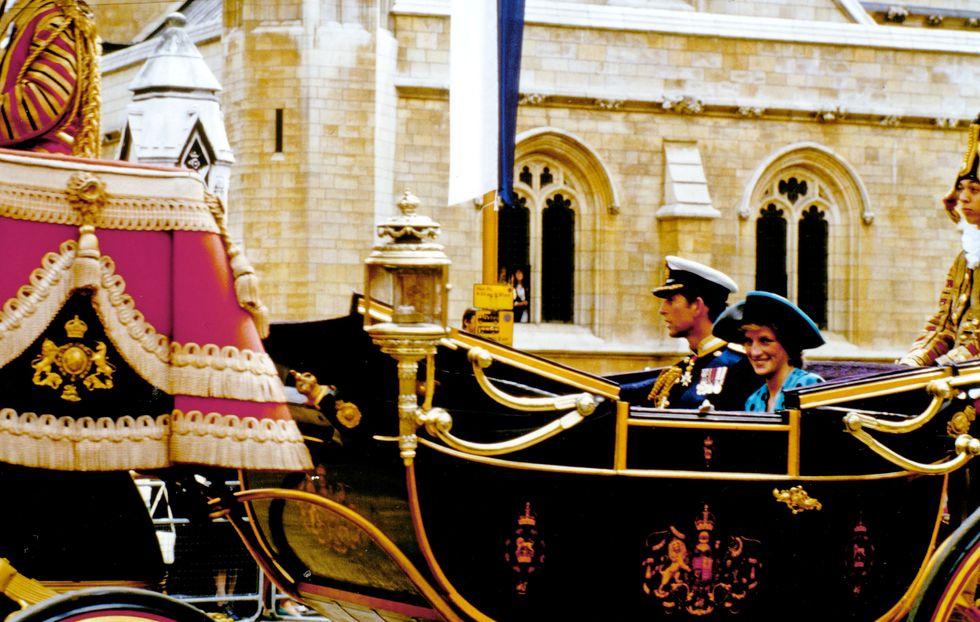 Prince Charles and Princess Diana shortly after their wedding in 1986 (Image from Wikimedia Commons)
To that end, royals are brought up to Stirling Lines, Hereford, the home of 22 Special Air Service Regiment, and given a crash course in special operations and counter-terrorism... at least in the ways it would directly relate to them. Donning black coveralls with "His" and "Hers" stenciled on the back, each royal couple gets an unparalleled look into the SAS's operational capabilities and strengths.
The royals, especially the younger ones, are given a lot of leniency in terms of their personal transportation. This means that they can fly commercial (generally on British Airways) and drive their own vehicles with an escort or a small protection team always nearby. However, should a vehicular ambush occur, the SAS teaches princes, princesses, duchesses, and dukes alike how to drive tactically, using their cars as battering rams to escape the area to safety while larger protective teams are scrambled to pick them up.
Of particular note was the time Prince Charles and Princess Diana underwent their training course and a hot fragment from a stun grenade landed in Diana's hair, singeing it. The new princess had her hair trimmed immediately after, so that members of the press would be completely unaware.
Interestingly enough, vehicular ambushes are among the more tame scenarios the royals are put through when they train with the SAS at Stirling Lines. The fun really begins when young royal couples are sent to the Killing House for an up close and personal look at the SAS in action.
The Killing House is a legendary facility in the special operations community, where SAS candidates and active troopers all train on entering and clearing buildings full of terrorists and hostages. The building is replete with rubber-coated walls, large fans to ventilate smoke, fire suppression systems, and closed-circuit cameras that monitor all the action and record them for debriefing and review.
Metal targets with scorch marks and indents represent enemies to be terminated with extreme prejudice. None of the training that goes on in the Killing House is hypothetical with troopers yelling "bang!" or firing blanks to simulate combat. Instead, the SAS uses live ammunition and sometimes, live hostages, to make every training evolution as realistic as possible.
Occasionally, these live hostages happen to have blue blood in them.
(somethunder86 | YouTube)
That's right — the royals are brought into the Killing House and told to sit down on chairs or couches, as though being held captive by hostage-takers. SAS operators then storm the House with stun grenades, quickly shooting and killing all enemy combatants without harming the hostages.
Prince Charles famously scribbled a personal note during his training course, saying, "Should this demonstration go wrong I, the undersigned Prince of Wales, will not commit B Squadron 22 Special Air Service Regiment to the Tower of London. Charles."
The note still sits framed at Hereford to this very day.
According to former members of the SAS, the royals generally handle the shock and awe of the Killing House take-down well, though they're understandably stunned at first by the brutal noises and the explosions that occur during the assault.
The younger royals aren't exempt from these specialized protection courses. Actress Meghan Markle recently had to undergo such training due to her engagement to Prince Harry. Kate Middleton and Prince William were also put through a similar course run by the SAS.
All in all, the members of the British royal family can breathe a sigh of relief, knowing that their nation's best are an alert away from coming to the rescue, should the need ever arise.