Some of the best and greatest actors once served in the military. After they left the service, they came out to Hollywood with a hope and a dream — just like everyone else in LA. But what these veterans had that so many others didn't was a will to fight hard for the roles they wanted. If you look back at many of the great, veteran actors, you'll also notice a trend: They all played iconic villains.
From James Earl Jones' performance as Darth Vader to Adam Driver's as Kylo Ren, from Mr. T as Clubber Lang in Rocky III to Rob Riggle as the drug-dealing coach in 21 Jump Street, the list goes on. Hell, you could even classify Dorothy from Golden Girls as an antagonistic main character if you wanted to (which I totally do). If you didn't know, Bea Arthur was a Marine and one of the first female Marine reservists.
I'm not going to lie. All In The Family would have been so much better if Maude went around and knife-handed the stupid out of Archie.
Now, this isn't to say that veterans aren't capable of portraying outstanding protagonists — just look at the biggest stars of the Hollywood Golden Age: Former Navy communications officer Lt. JG Kirk Douglas and Army Air Corps radio operator Staff Sgt. Charlton Heston come to mind.
---
In fact, all the actors from the infamous three-way standoff in The Good, The Bad, and The Ugly served in the U.S. military: Clint Eastwood (Army) as Blondie, Eli Wallach (Army) as Tuco, and Lee Van Cleef (Navy) as Angel Eyes.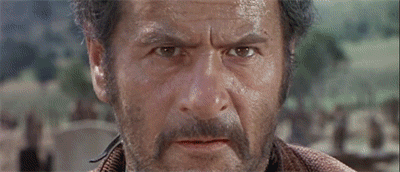 This entire scene is between actors who are veterans.
Van Cleef made a name for himself by playing the antagonists in many films, from westerns to sci-fi flicks (including a role as Commissioner Hauk in Escape From New York). Another actor who made an entire career out of playing villains was Christopher Lee (RAF), who was a bad ass in his own right — even if other people exaggerated his stories. Even the comic-book epitome of villainy, The Joker, was first portrayed by Chief Boatswain's Mate Cesar Romero.

If anyone wants to sh*t talk the Coast Guard, just remember: The Joker was a coastie (Then again, that may give the haters more ammo. Do what you will with that information).
Veterans make fantastic actors after they leave the service and when they put their heart and soul into portraying the "bad guy," you can feel it.
Great movie villains are deep. They must convey power and complexity. They shouldn't ever come off as the old "mustache-twirling" baddie. Veterans who become actors know how to balance this and give fantastic performances.