Veterans
November 27, 2017 17:08:30 EST
#GivingTuesday is the global day of giving following Thanksgiving and the increasingly popular shopping events Black Friday and Cyber Monday. #GivingTuesday kicks off the time of year when individuals and companies focus on giving.
---
This year, it falls on Tuesday, Nov. 28, and the Bill & Melinda Gates Foundation is taking things up a notch by matching up to $2 million in donations raised on Facebook for U.S. nonprofits (the matching starts at 8AM Eastern — so set your alarms and hit donate early!). Facebook is joining in by waiving its fees for donations made to nonprofits on Facebook this #GivingTuesday.
(Also, the hashtag is a thing, in case you can't tell; the whole point is to spread the word — and the charitable giving.)
For details on how to donate to your favorite organizations, click here.
Want to know some of our favorite organizations? We thought so. In no particular order:
8. GWOT Memorial Foundation
The Global War on Terror Memorial Foundation
is 
THE
 Congressionally designated nonprofit whose mission is to provide the organizing, fundraising, and coordinating efforts to build a memorial on the National Mall in Washington D.C. to honor our fallen warriors, U.S. service members, their families, and all those who supported our nation's longest war.
Here's their Facebook Page: https://www.facebook.com/gwotmf/
7. Semper Fi Fund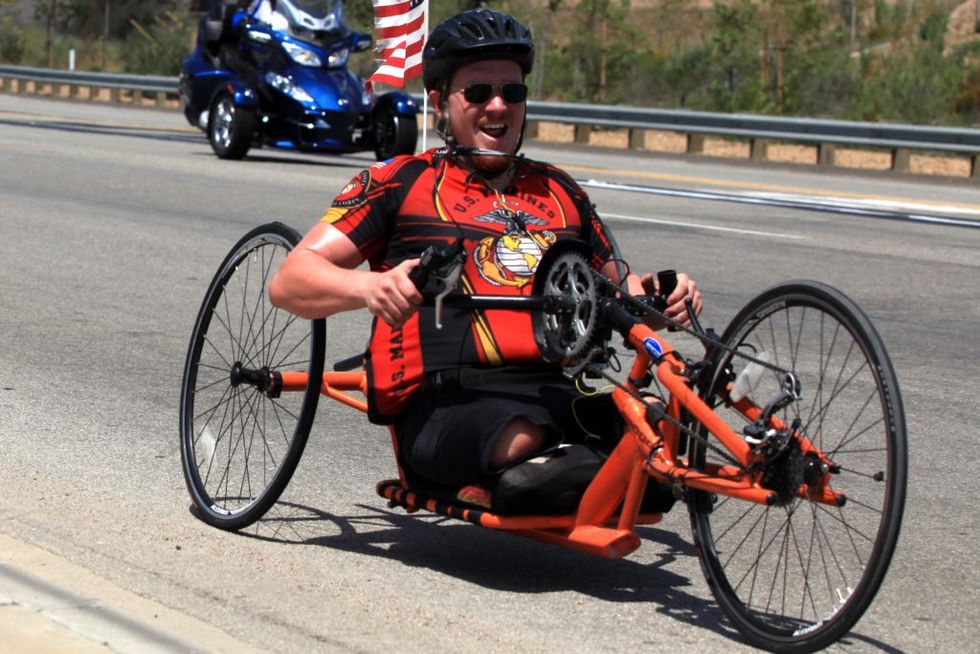 Former Lance Cpl. Ben Maenza smiles as he and his team blaze down a Camp Pendleton road during the Ride for Hereos t fundraising cycling trip for the Semper Fi Fund, Aug. 9. The trip from Florida to California took nearly 3,000 miles to accomplish. The cyclists have earned more than $75,000 for the Semper Fi Fund. (U.S. Marine Corps photo by Cpl. Damien Gutierrez)
Semper Fi Fund provides immediate financial assistance and lifetime support to post 9/11 combat wounded, critically ill and catastrophically injured members of all branches of the U.S. Armed Forces and their families. They deliver the resources they need during recovery and transition back to their communities, working to ensure no one is left behind.
Here's their Facebook page: https://www.facebook.com/semperfifund/
6. The Mission Continues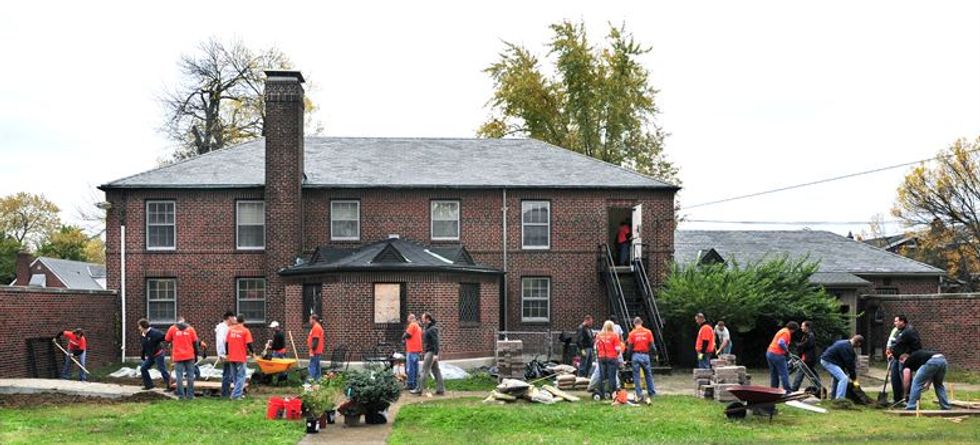 Volunteers rehabilitate a donated church building into a technology training and resource center for veterans allowing them a place to transition from military into civilian life. The new facility will provide veterans with instruction and skills training to preparing them for employment. The campaign launched by Home Depot and the Mission Continues, was created to enhance the lives of U.S. military veterans and to highlight the needs and opportunities they face. (U.S. Air Force photo/Staff Sgt. Stephenie Wade)
The Mission Continues empowers veterans who are adjusting to life at home to find purpose through community impact. They deploy veterans on new missions in their communities, so that their actions will inspire future generations to serve.
Here's their Facebook page: https://www.facebook.com/themissioncontinues/
5. Team Rubicon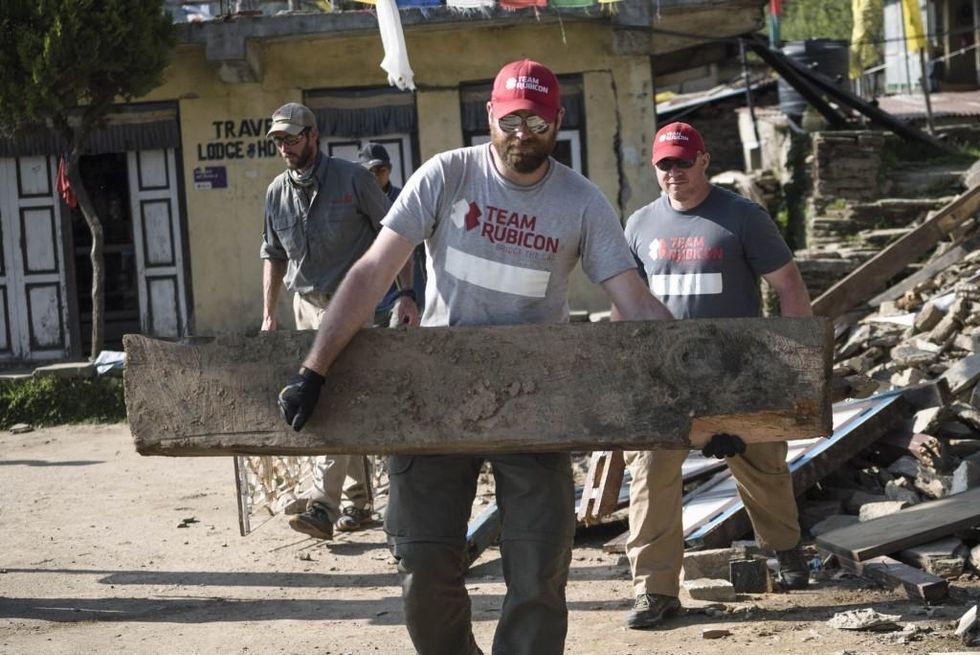 Former British Army gunner Christopher Lyon cleans up a local playground in Shermathang, Sinduhupalchok.
(Team Rubicon photo)

Team Rubicon unites the skills and experiences of military veterans with first responders to rapidly deploy emergency response teams.
Here's their Facebook page: https://www.facebook.com/teamrubicon/
4. Pin-Ups for Vets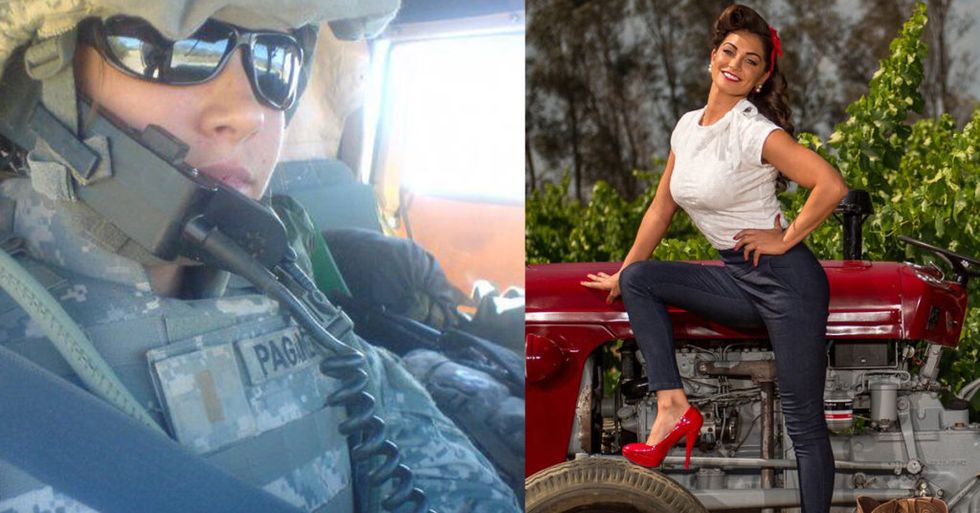 2nd Lt. Paganetti and Allison Paganetti in the 2018 Pin-Ups for Vets fundraising Calendar.
Pin-Ups For Vets raises funds to improve Veterans' healthcare, donates funds to VA hospitals for medical equipment and program expansion, improves quality of life for ill Veterans across the United States through personal bedside visits to deliver gifts, promotes volunteerism at Veterans Hospitals, supports homeless Veterans with clothing and calendar gifts delivered to shelters, boosts morale for military wives and female Veterans with makeovers and clothing, and boosts morale for deployed troops through delivery of care packages.
Here's their Facebook page: https://www.facebook.com/pinupsforvets/
3. The Sam Simon Foundation

The Sam Simon Foundation launched its Service Dog program in response to the growing need of veterans coping with PTSD as a result of the Iraq/Afghanistan conflict. A Service Dog is not a cure for PTSD, but whose skills and companionship can be an aid for managing the symptoms and promoting well-being.
The Sam Simon Foundation provides Service Dogs trained for veterans diagnosed with PTSD. Other tasks they may train for include assistance with hearing loss, TBI (traumatic brain injury), and moderate physical limitations due to injury.
Here's their Facebook page: https://www.facebook.com/SamSimonFoundationAssistanceDogs/
2. Operation Supply Drop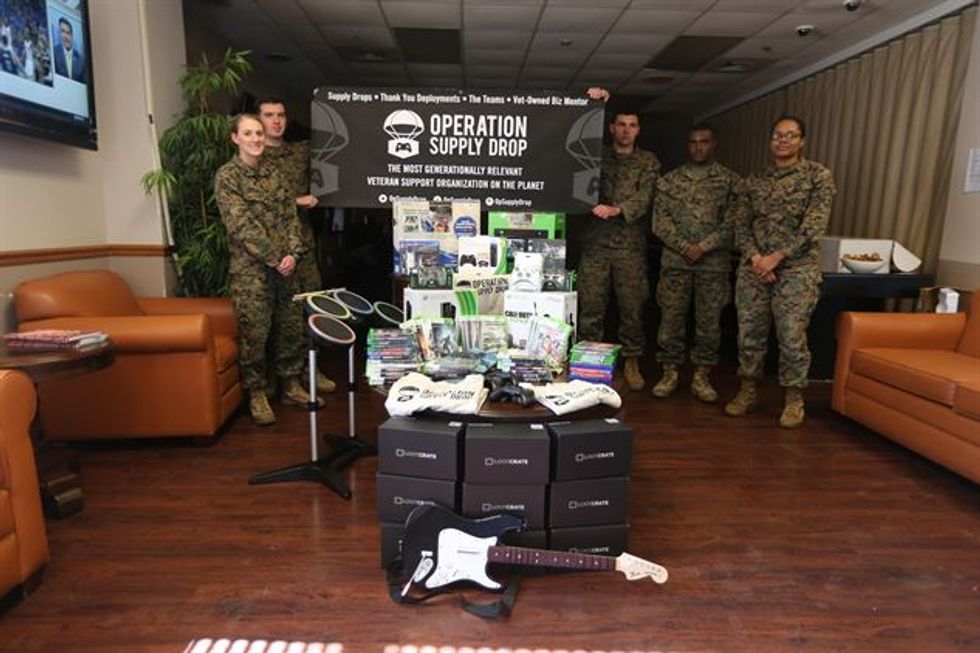 Operation Supply Drop presented donated video games for Marines at the Central Area Recreation Center on Marine Corps Base Camp Lejeune. (U.S. Marine Corps photo by Cpl. Mark Watola)
Operation Supply Drop addresses Mental Health, Homelessness, and Employment for Veterans and their families accompanied by a global structure encouraging community service and commitment towards one another.
Here's their Facebook page: https://www.facebook.com/WeAreOSD/
1. Fisher House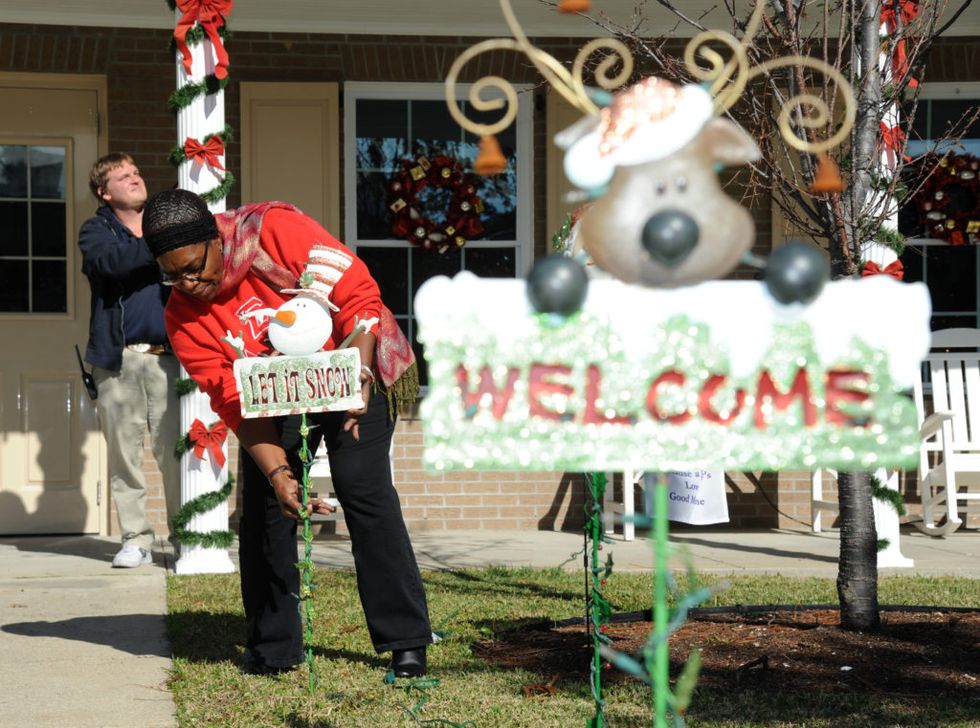 Mike Helle and Chris Cannedy, local Biloxi business employees, decorate the Fisher House for Christmas Dec. 12, 2013, at Keesler Air Force Base, Miss. Every year a local business volunteers to decorate the house. The Fisher House Foundation is best known for a network of comfort homes where military and veterans' families can stay at no cost while a loved one is receiving treatment. (U.S. Air Force photo by Kemberly Groue)
Fisher Houses provide military families housing close to a loved one during hospitalization for an illness, disease or injury.
Here's their Facebook page: https://www.facebook.com/FisherHouse/ 
Related Articles Around the Web