Veterans
November 10, 2017 22:35:34 EST
Many veterans have a unique perspective on the state of the world — with continued deployment tempos to foreign countries (especially those impacted by conflict), our veterans are exposed to life outside the continental United States. They also work alongside our allies and build relationships with them.
---
On Veterans Day 2017, Human Rights First's Veterans for American Ideals project is launching the #WhatIFoughtFor campaign to tell the stories of U.S. veterans with deeply personal and profound connections with refugees.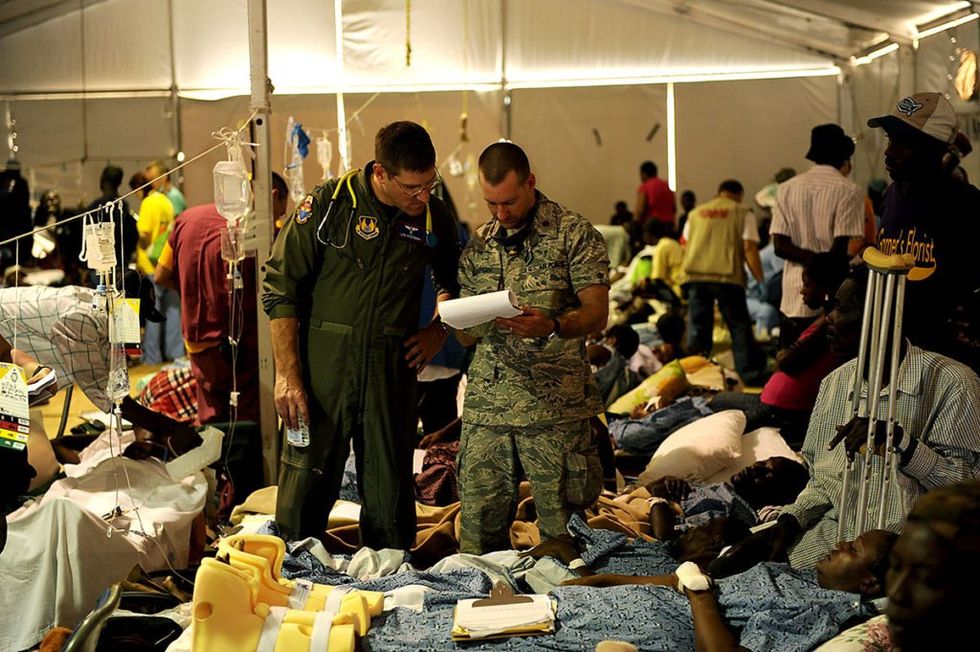 U.S. Air Force Colonel Len Profenna, left, chief of internal medicine, and Major Nathan Piovesan, a general surgeon from the 96th Medical Group, screen earthquake victims in the University of Miami medical tent Jan. 25, 2010, at the Toussaint Louverture International Airport in Port-au-Prince, Haiti. The doctors are screening 27 patients to be medically evacuated to the United States following a 7-magnitude earthquake that hit the city on Jan. 12, 2010. (DoD photo by Master Sgt. Jeremy Lock, U.S. Air Force)
Veterans have seen firsthand the devastation of war. According to #WhatIFoughtFor, "many of them have worked in communities around the world that have suffered from violence and oppression. They have even fought alongside many of these individuals as allies during wartime. They understand why refugees flee their homes, and that refugees want the same safety and opportunity for their families that we do."
As a result, many veterans believe that commitment extends beyond their military service. Veterans for American Ideals is one such organization, and their mission is to stand with refugees, to tell their stories, and to help the American people make educated and informed decisions about America's relationship with refugees.
According to their website, "Veterans for American Ideals is a nonpartisan group of military veterans who share the belief that America is strongest when its policies and actions match its ideals. After taking off the uniform, we seek to continue serving our country by advocating policies that are consistent with the ideals that motivated us to serve in the first place: freedom, diversity, equality, and justice. It is those same ideals that make the United States a beacon to the world's refugees."
The campaign chronicles seven stories of family, friendship, brotherhood, and camaraderie between U.S. veterans and refugees. You can find more information about the Nov. 11, 2017 launch on Facebook or Twitter. 
Check out the trailer for the campaign below: