Veterans
November 02, 2017 17:32:20 EST
After being lost for 66 years on a battlefield a world away, Sgt. Philip James Iyotte returned home to South Dakota last week. In so doing, the Army veteran killed so long ago in the Korean Conflict brought with him the tears of a nation melded with the happiness of his homecoming.
---
As a young man, Iyotte was given the Lakota name Akicita Isnala Najin, meaning "Soldier Who Stands Alone." But in two days of observances on Oct. 24 and 25, Iyotte was feted as a proud warrior who paid the ultimate sacrifice so that his countrymen could live in peace. And he will never again stand alone.
Just 20 years old when he enlisted in the Army in 1950, Iyotte was assigned to the 21st Infantry Regiment of the 24th Infantry Division and soon was deployed to the Korean theater. Seriously injured in battle by fragments from an enemy missile on Sept. 2, 1950, Iyotte was hospitalized for treatment but returned to his regiment in just 19 days.
Then, on Feb. 9, 1951, while in the heat of battle yet again near Seoul, Iyotte and several of his fellow soldiers were captured by Chinese forces and marched to a prisoner of war camp. Shot in the stomach by his captors and suffering from gangrene, Iyotte could not join two of his fellow Native American POWs in their flight for freedom. Instead, the young warrior sang them a Lakota honor song before their successful escape.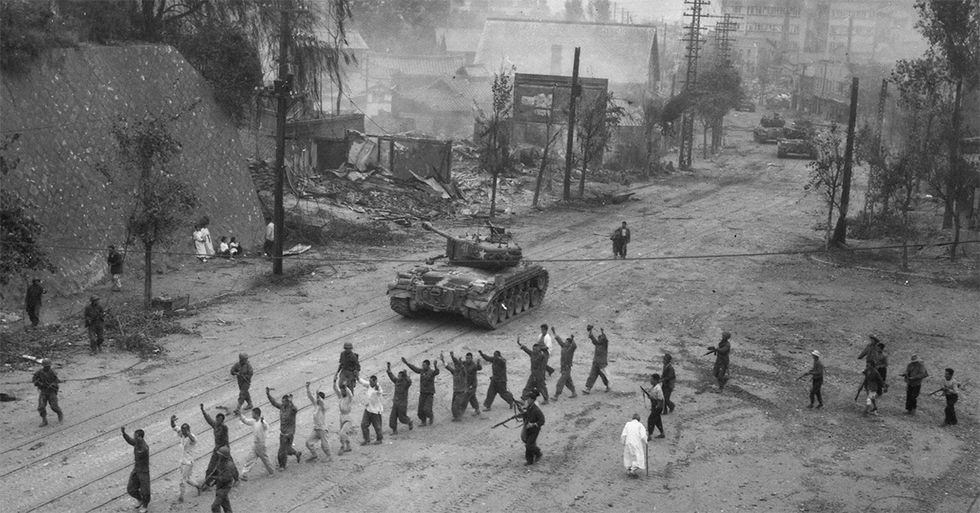 American M26 Pershing tanks in downtown Seoul, South Korea, in the Second Battle of Seoul during the Korean War. In the foreground, United Nations troops round up North Korean prisoners-of-war. Photo from the Naval Historical Center.
Then, the Lakota warrior disappeared for more than six decades, leaving behind anguished parents and 13 siblings who knew not what had become of their fearless son and eldest brother.
Waiting game
In the years since the last word of the Lakota warrior filtered down to rural South Dakota, the Iyotte family never gave up hope for the warrior who mysteriously disappeared at the hands of his Chinese captors. They maintained contact with the Army and attended meetings conducted by the Army's Past Conflict Repatriations Branch, also known as the Army Casualty Office. And they provided DNA samples and contacted their state's congressional delegation asking for assistance in finding their lost sergeant.
Eva Iyotte, 63, the youngest child of the large family, wasn't even born when her oldest brother disappeared into the Chinese POW camp. But as she grew up, revering a soldier she had never met, Eva promised her father on his deathbed that she would work to bring her brother home.
In August, the Army informed the family that Sgt. Iyotte's remains had been identified with the assistance of Chinese officials. In short order, the serviceman's remains were transported to Hawaii before being transferred to his South Dakota homeland.
Grand procession
On Oct. 24, Eva and her 40-year-old daughter, Dera, made the trek from their White River residence to a funeral home in Rapid City to retrieve the serviceman's remains and begin two days of observances in honor of Sgt. Iyotte and his service to a grateful nation.
But what they encountered left them in wonderment. And what Sgt. Iyotte's return created over the ensuing two days united Native nations, veterans of all colors and stripes, and a handful of remote reservation communities that dot western South Dakota.
"When we arrived at Kirk Funeral Home, there were probably 75 people waiting, including the Black Hills Chapter of the American Legion Motorcycle Riders, two honor guards, including Chauncey Eagle Horn and the Rosebud Legion Post honor guard, and the Oglala Sioux Tribe veteran's group," Dera said. "It was so amazing."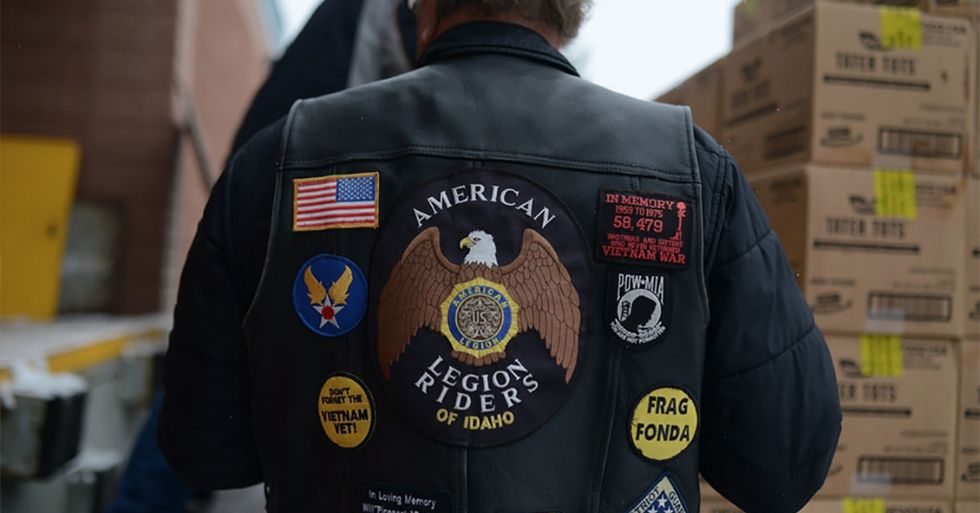 Photo courtesy of the American Legion Riders.
Promptly at 10 a.m., the procession left Rapid City with an escort from the South Dakota Highway Patrol and stopped in Interior to top off the bikes, before being met at the reservation border by an escort from the Oglala Sioux Tribal Police. Along the way, the procession grew to two miles in length. At Wanblee and a stop at the Eagle Nest College Center, virtually the entire town and tribal elders greeted the procession, before Richard Moves Camp offered prayers and the Eagle Nest singers sang a Korean honor song.
"It was a riveting moment, and we were so overwhelmed with love," Dera recalled last week. "I could not believe how much love our people poured out to Philip. It was the most beautiful moment of my life, the whole day."
"This was a man they never met, but a warrior, a hero," she added. "They came out en masse to greet him. I loved the unity and happiness he brought to the whole state of South Dakota."
As the procession departed Wanblee, Dera and Eva began noticing rural residents standing along the highway at the end of their driveways, many waving, others with their hand over their heart. Veterans stood alone on that endless highway, several in their uniforms, saluting the fallen soldier.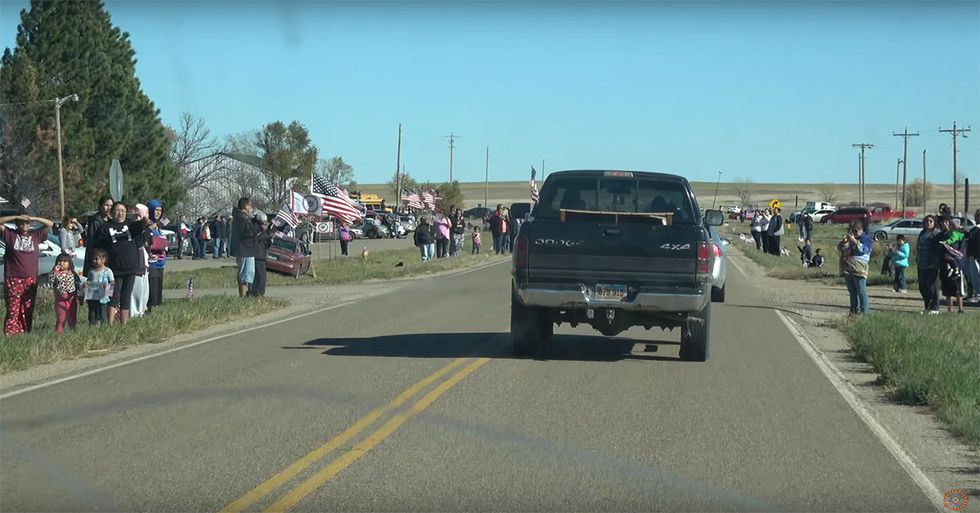 A member of the Honor Guard presents a folded American flag to Eva Iyotte, the lone surviving sibling of Sgt. Philip Iyotte. Photo courtesy of South Dakota Department of Tribal Relations.
Wrapped in a buffalo robe, handmade moccasins with porcupine quillwork at his feet, and enough wasna (pemmican with crushed berries and buffalo jerky) "to last him long enough on his final journey to the new camp where he will find his relatives," Sgt.Philip James Iyotte was laid to rest, ending a 66-year odyssey that took him from the rolling plains of South Dakota to a Korean battlefield and back home again.
As the graveside ceremony concluded, the serviceman's nephews and grandsons began covering his casket with sacred soil. As they did, two bald eagles soared on the updrafts overhead, as if acknowledging the return of a young man taken too soon and a warrior never to be forgotten.
"That's how we knew Philip was home," Dera said.