WATCH
November 16, 2017 09:08:09 EST
If you hear of something getting "slimed," you might be thinking about the green slime that has been a standby of Nickeloeon for decades. Well, if you're talking to grunts, the word "slimed" can be something much more sinister.
---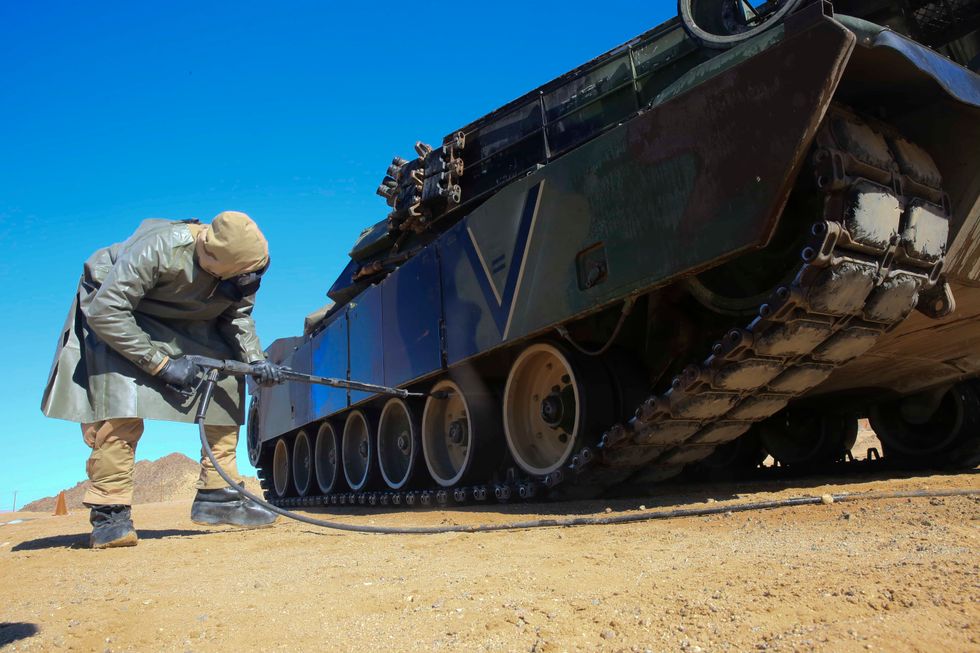 Lance Cpl. Michael Pleminski, tank maintainer, 1st Tank Battalion, decontaminates an M1A1 Abrams Main Battle Tank during 1st Tanks' operational decontamination training on Bearmat Hill, March 10, 2016. 1st Tanks held the exercise to sharpen its skills decontaminating tanks, tactical vehicles, and personnel who are exposed to Chemical, Biological, Radiological and Nuclear contaminants. (Official Marine Corps photo by Cpl. Julio McGraw)
To wit, when military personnel talk about something being "slimed," it means that somebody's used chemical, biological, or nuclear weapons and the vehicle or gear have been contaminated. Or, in the vernacular, the situation – or quite possibly, the entire world – has gone to hell in the proverbial handbasket.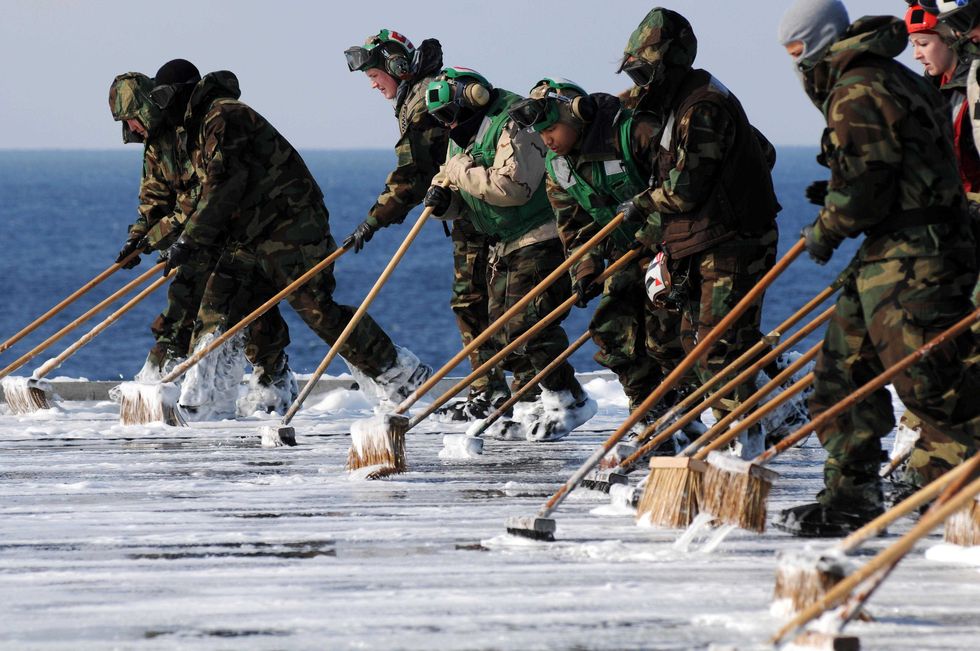 Sailors scrub the flight deck aboard the aircraft carrier USS Ronald Reagan following a countermeasure wash down to decontaminate the flight deck while the ship is operating off the coast of Japan. Sailors scrubbed the external surfaces on the flight deck and island superstructure to remove potential radiation contamination. Ronald Reagan is operating off the coast of Japan providing humanitarian assistance as directed in support of Operation Tomodachi.
Okay, state of the world aside, there is a more immediate problem. Now those vehicles and gear need to be decontaminated. The Mission Oriented Protective Posture gear, including that chemical suit, has saved your life – if you got it on in time. But you can't stay in that hot, uncomfortable suit forever. But some chemical weapons can last a long time. Mustard gas is particularly persistent, and was used in an ISIS attack on American troops in September 2016.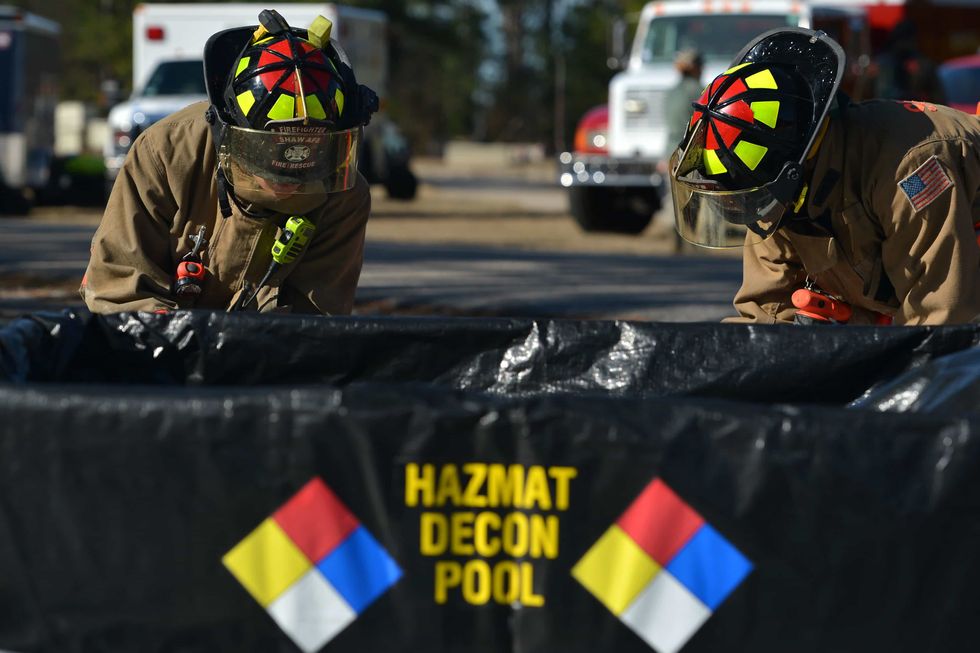 U.S. Airmen assigned to the 20th Civil Engineer Squadron fire department assemble a hazardous material decontamination (HAZMAT) pool during training at Shaw Air Force Base, S.C., Jan. 19, 2017. During the joint simulated chemical spill training, fire fighters established cordons and assembled HAZMAT pools for their wingmen, explosive ordnance disposal and bioenvironmental Airmen, who needed to be decontaminated before departure from the training site. (U.S. Air Force photo by Airman 1st Class Christopher Maldonado)
So, you need to decontaminate the stuff that got slimed. Now, according to the Organization for the Prohibition of Chemical Weapons, one of the most effective tools is to use water and detergent with perborates. It also helps if the water is hot. The equipment is then washed down.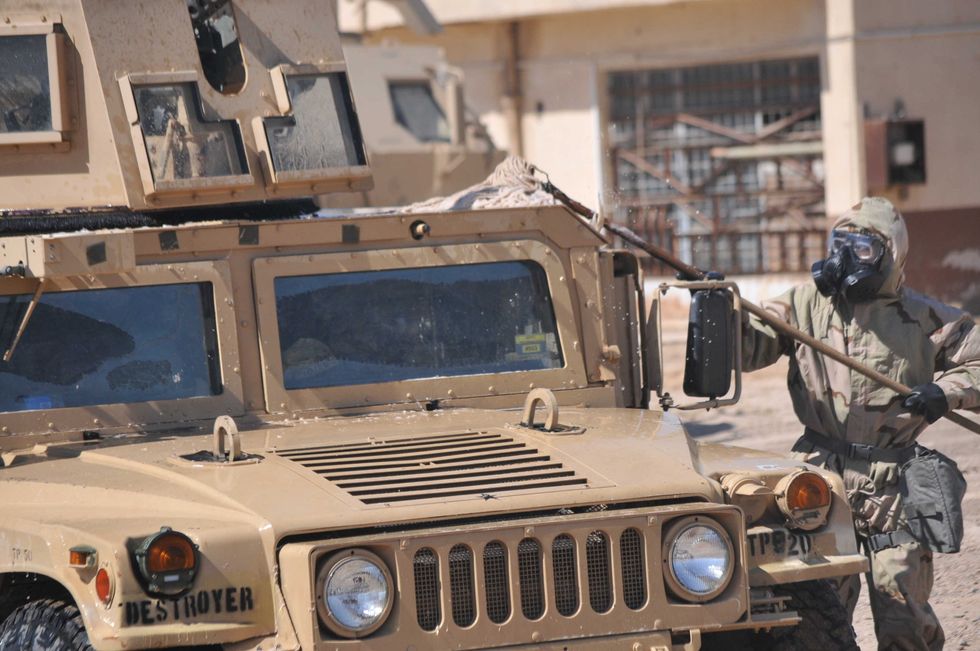 A U.S. Soldier with the 76th Army Reserve Operational Response Command decontaminates a vehicle after a simulated chemical weapons attack during a base defense drill in Camp Taji, Iraq, July 23, 2016. (U.S. Army photo by 1st Lt. Daniel Johnson/Released)
You can see some Marines practice their decontamination drills on the chassis of an old helicopter in the video below. Note the protective gear.